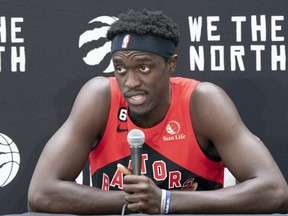 If we're talking about the Raptors' Pascal Siakam as a Top 5 player at the end of the season, we ought to credit the team's new development coach Rico Hines, who goes back a ways with the Raptors star. USA TODAY SPORTS
VICTORIA — You could make the argument that the Raptors' biggest off-season acquisition was development coach Rico Hines.
Not everyone would agree with you.
From our newsroom to your inbox at noon, the latest headlines, stories, opinion and photos from the Toronto Sun.
By clicking on the sign up button you consent to receive the above newsletter from Postmedia Network Inc. You may unsubscribe any time by clicking on the unsubscribe link at the bottom of our emails. Postmedia Network Inc. | 365 Bloor Street East, Toronto, Ontario, M4W 3L4 | 416-383-2300
Thanks for signing up!
A welcome email is on its way. If you don't see it, please check your junk folder.
The next issue of Your Midday Sun will soon be in your inbox.
Obviously, Otto Porter Jr. and Juancho Hernangomez — to name just two other new arrivals might have something to say about that — but the point is Hines' arrival had so many built-in advantages for the team before he even stepped foot into a Raptors' team practice, that he already had a huge lead on the field.
For starters — and anyone who isn't aware of this just hasn't been paying attention — he is the personal off-season coach of Raptors' forward Pascal Siakam, the focal point of the Raptors offence. The nights he isn't taking the most shots of any Raptor will be few and far between, assuming he stays healthy this season.
Hines, who previously worked in Sacramento, is also the man in charge of the NBA summer staple runs at UCLA.
It wasn't a coincidence that this past summer, the first summer he came under the Raptors employ, more Raptors than ever before took part in those runs.
The runs are also where Siakam first joined the NBA elite class reserved for those players able to score and impact the game the way only the very best can.
Siakam did this in 2018 alongside Fred VanVleet, Norm Powell, and OG Anunoby, but it was Siakam that was getting all the attention from the upper echelon of the league for his near-impossible-to-defend spins into the paint for easy buckets.
Hines and Siakam go all the way back to New Mexico State where Siakam was more of a hidden gem than the player legitimately looking to break into the Top 5 players in the league this season.
Siakam made that bold assertion on media day but was noticeably less aggressive with that when it was brought up again on Thursday, a few days into Raptors training camp.
"I don't think I need to explain myself, I said what I said," he replied, effectively cutting off any further discussion on the subject.
But even if it's not something Siakam wants people focused on, it is something he strives for. Even his teammates are talking about it in terms of what they can do to help make it happen.
Hines, who knows Siakam's game as well as anyone in the world, has a rapport with the Raptors' go-to scorer that no one else can claim. For that reason alone, it just makes sense to have him on staff.
"Like obviously he's someone that I'm really close to and having just that voice and he's always someone that could just like get you going no matter what, just with his voice, his presence. And obviously he knows the game," Siakam said.
"So, having him (around) every single day, yeah, it's a blessing to be honest, like it feels like summer every day. So, it's good."
Siakam isn't the only one that will benefit obviously.
As much as every mention of Rico Hines in Toronto over the past half dozen years has likely been related to Siakam in one way or another, Hines has been helping develop talent in the league since his own says at UCLA came to an end.
He has worked with Don Nelson and been mentored by Tim Grgurich, who was one of the original development guys in the NBA.
And like Siakam, easily his greatest developmental triumph to grace Toronto's roster, he has done it primarily through hard work.
"When I said 24-7, 365 I meant that," Hines said Thursday when asked to describe his workday. "It never stops,' he said. "I haven't taken a vacation. I can't tell you the last time I took a vacation. It's always all summer. This summer I had a chance to go to Rwanda and do some great things with those people out there and it was awesome. I took two days at the end to kind of vacation, then I came straight from Rwanda to here.
"It's just who I am, and I believe in it and I'm very thankful and grateful for it," he said.
Now fully focused on the Raptors, Hines was asked why he believes there's still another level for Siakam to get to having been All NBA (third team) a year ago and already a two-time All-Star.
"He's always been a nice guy," Hines began. "And now he's becoming a little bit meaner. You know what I mean? And that's good.
We want them to continue to grow in that aspect. You know, because that's what it takes for you to be, you know, one of the elites."
Hines was asked if being more selfish was a prerequisite to taking that next step.
"I think it's more of being like a tough m-fer," Hines said. Selfish? He doesn't have a selfish bone in his body, so he'll never be that, but just being addicted to being great and being that tough m-fer for what we just talked about and I think he's trying to be that."
Hines presence will clearly help, but in the end, it will come down to how badly Siakam wants it and how hard he's willing to work to get it.
On that front, Hines says it won't even be a contest.
"I've worked with a lot of people and he's right up there as far as the hardest workers I've ever been (around) and that's a credit to him and who he is as a person and to his family," Hines said.
"He has an infectious personality; he wants to be great. He wants to squeeze every part of ability that he has. He wants to get it out.
You know what I mean? And, you know, we're all here to just help him out."
If in fact we are talking about Siakam as a top 5 player in this league at the end of the year, Hines will deserve at least a piece of that credit.