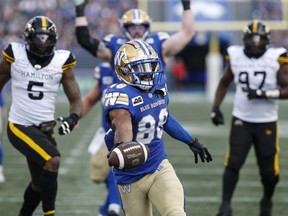 Winnipeg Blue Bombers' Rasheed Bailey (88) crosses the line for the touchdown against the Hamilton Tiger-Cats during first half CFL action in Winnipeg Friday, June 9, 2023.

Photo by John Woods

/

THE CANADIAN PRESS
WINNIPEG — Zach Collaros threw for 189 yards and three touchdowns in the first quarter and the Winnipeg Blue Bombers held off a late Hamilton surge to defeat the Tiger-Cats 42-31 in the first game of the season for both teams Friday.
Winnipeg's defence also contributed to a pivotal first quarter by forcing two turnovers for two touchdowns in front of 29,057 roaring fans at IG Field.
One turnover was an interception thrown by quarterback Bo Levi Mitchell, who was Hamilton's big-name acquisition in off-season free agency.
The other was a fumble by running back James Butler, who was another major off-season signing for Hamilton.
Collaros finished 21-of-32 passing for 354 yards and a trio of touchdowns.
Mitchell went 18-of-34 for 187 yards with two interceptions and one touchdown throw.
Bombers receiver Nic Demski scored a touchdown and finished the night with 113 yards on six catches.
Rasheed Bailey, Drew Wolitarsky and Brady Oliveira also scored touchdowns for Winnipeg.
Blue Bombers kicker Sergio Castillo made field goals from 32, 19, 18 and 50 yards and hit all four converts. The Tiger-Cats gave up a safety.
Butler scored a rushing touchdown, Tim White had a touchdown catch and defensive backs Carthell Flowers-Lloyd and Chris Edwards converted turnovers into majors for Hamilton.
Winnipeg led 29-4 at halftime, but Hamilton scored four touchdowns to narrow the gap and trail 39-31 in the fourth quarter.
The Tiger-Cats blocked a punt by Jamieson Sheahan that was recovered in the end zone by Flowers-Lloyd early in the third quarter. Hamilton's two-point convert attempt failed.
White caught Mitchell's 10-yard pass at the back of the end zone at 12:28 of the quarter with a good point after.
Blue Bombers returner Janarion Grant then fumbled the kickoff.
Hamilton converted the recovery into a two-yard TD run by Butler at 5:56, followed by a successful two-point convert to trail by eight points.
Tiger-Cats kicker Seth Small booted a 31-yard field goal and kicked a convert. Bailey Flint added a punt single.
The hosts led 21-4 after the first quarter, although Hamilton was first to score points with Small's field goal on the game's opening drive at 3:24.
The Tiger-Cats appeared to gain momentum when Winnipeg's first possession ended with a Demski fumble, but a quick turnover snuffed it out.
Demerio Houston picked off Mitchell to give Winnipeg the ball on its own 31-yard line.
Collaros then tossed a 40-yard completion to Carlton Agudosi — who replaced suspended Kenny Lawler in the game lineup– and ended the drive with a 17-yard throw to Demski in the corner of the end zone at 7:49.
Hamilton picked up a punt single to trail by three points, but Winnipeg scored on the next drive capped by Bailey's 10-yard touchdown catch.
Hamilton's Butler then fumbled and Houston's recovery helped set up Wolitarsky's 30-yard TD catch as time expired in the first quarter.
Castillo booted a 32-yard field goal at 8:10 of the second quarter, the Tiger-Cats gave up a safety and Castillo was good again on a 19-yarder to give Winnipeg a 25-point lead at halftime.
The second half didn't start well for Hamilton.
Bombers defensive end Willie Jefferson sacked Mitchell to force a fumble that was recovered by Deatrick Nichols.
After Flowers-Lloyd and White scored, Oliveira's three-yard run for a major gave Winnipeg a 39-17 lead heading into the fourth.
Edwards and Butler scored just 49 seconds apart, but Castillo hit a 50-yarder to widen Winnipeg's lead.
NOTES: The Bombers have won seven of their last nine season-openers . . . Hamilton is 2-16 in its first game of the season since 2005 … Winnipeg-born Demski played in his 100th game.
This report by The Canadian Press was first published June 9, 2023.