Dear Diary: 'I think next year I'm going to have to earmark a couple billion dollars towards an Office of Managing Expectations'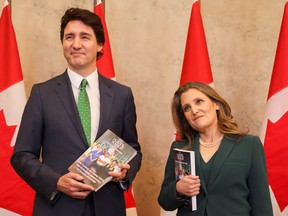 'I'm afraid people just need to buck up and start taking responsibility for their own problems.' The climate-focused 2023 federal budget is proudly cradled by Prime Minister Justin Trudeau and Finance Minister Chrystia Freeland.
Photo by Patrick Doyle/Reuters
Finance Minister Chrystia Freeland released the Liberals' 2023 federal budget this week. After several years of budgets dominated by the exigencies of COVID-19, this one is arguably the most accurate reflection to date of the government's id: It's high deficit, high tax and utterly packed with climate change subsidies while ignoring all the boring stuff like national defence, public safety or fixing the housing crisis.
In Dear Diary, the National Post satirically re-imagines a week in the life of a newsmaker. This week, Tristin Hopper takes a journey inside the thoughts of the 2023 budget.
Monday
The most foundational obstacle on any journey to inner peace is learning to let go; shedding the attachments and distractions that serve only to divert from one's true spiritual potential.
I admit I have been a slave to the expectations of others. How often have I obsessed on living up to the perceptions of someone else, to the exclusion of my own serenity and happiness? "The housing supply is facing a critical shortage." "Structural debt is unsustainable." "Staying the course on elevated spending will only exacerbate inflation."
Noise, all of it: I am no longer bound by the confines of what others say is possible. True flourishing starts from within.
Tuesday
Partisan naysayers will inevitably focus on my $40 billion deficit. But to these disingenuous appraisals, I contend that any cursory examination of the evidence reveals me to be a totem of budgetary responsibility, if not the most fiscally responsible budget since Confederation.
According to the Geneva-based Fiscal Responsibility Institute, Canada ranks number one on their latest index of Social Budgetary Effectiveness. Yes, debt-to-GDP is rising, but the trend disappears entirely when factoring in the oft-ignored metric of "unrealized supplementary GDP." According to our models, the policies set forth in this budget will contribute to an eventual cumulative increase in national revenue of between $11 and $15 quintillion.
Wednesday
Nobody would be batting an eye at a few extra zeros of accumulated debt if this was a time of war. When fascists threatened the peace of Europe, did we have opposition bean counters crying foul about "debt servicing charges"? So what if I told you that if Canada does not take decisive wholesale action against emissions, by 2050 not even a lizard will be able to survive in the scorched, treeless hellscape of what was once Planet Earth?
With this in mind, would you still be raising hackles about the Climate Veterans Initiative, a 10-year plan to redirect veteran supports that might otherwise be spent on fossil fuels? The Climate Income Bursary, a 10 per cent increase to MP salaries better positioning them to pursue low-emissions lifestyles? Or the $600 million Office of Climate Firearms Policy, a bureau tasked with pursuing climatologically focused restrictions on firearms acquisition?
Thursday
The creation of any masterpiece will inevitably face the petty intrusions of daily life; Beethoven still had to take bathroom breaks while crafting his Ninth Symphony.
So my pages do include a few necessary sops to political expediency. The rabble is consumed with some new moral panic about Chinese electoral interference? Here's $15 million for an Office to Counter Electoral Interference. The media is ginning up manufactured outrage over alleged ethics violations by cabinet ministers? Behold; $67 million I earmarked for a Special Rapporteur on Ethics Oversight. Canadian cities are facing a sudden spate of random stabbings? Meet the Canadian Carnage Benefit, a one-time $500 rebate administered by the Canada Revenue Agency to help lower-income households cope with the effects of indiscriminate violence.
Friday
I think next year I'm going to have to earmark a couple billion dollars towards an Office of Managing Expectations. The problem with this country is that people expect too much from their federal budget. I'm just a series of directives on how to spend federal revenue. At the end of the day, I can't provide you shelter, make your groceries affordable, reduce airport delays or even measurably reduce your chances of getting stabbed on the bus.
All I can do is use immense fiscal bursaries to fix global climatological problems to which Canada is a marginal contributor. Beyond that, I'm afraid people just need to buck up and start taking responsibility for their own problems. Government isn't everything.
'Where's Pierre Trudeau? Is Pierre here?' Joe Biden Dear Diary

Peek at more from the Dear Diary series