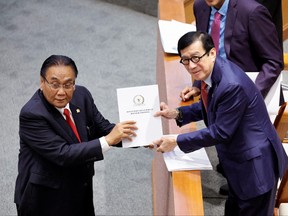 Yasonna Laoly, Indonesian Minister of Law and Human Rights, receives the new criminal code report from Bambang Wuryanto, head of the parliamentary commission overseeing the revision, during a parliamentary plenary meeting in Jakarta, Indonesia, Dec. 6, 2022.

Photo by Willy Kurniawan

/

REUTERS
JAKARTA — Indonesia's parliament on Tuesday approved a criminal code that bans sex outside marriage with a punishment of up to one year in jail, part of a raft of legal changes that critics say undermine civil liberties in the world's third-largest democracy.
The controversial new laws, which apply to Indonesians and foreigners alike, also include a ban on insulting the president or state institutions and expressing views counter to state ideology.
As the Canadian national soccer teams head to their respective FIFA World Cups, Derek Van Diest is on the scene to cover all the action. Expect expert insights and analysis in your inbox daily throughout the tournaments, and weekly on Thursdays for the rest of the season.
By clicking on the sign up button you consent to receive the above newsletter from Postmedia Network Inc. You may unsubscribe any time by clicking on the unsubscribe link at the bottom of our emails. Postmedia Network Inc. | 365 Bloor Street East, Toronto, Ontario, M4W 3L4 | 416-383-2300
Thanks for signing up!
A welcome email is on its way. If you don't see it, please check your junk folder.
The next issue of Corner Kicks with Derek Van Diest will soon be in your inbox.
Legislators hailed the passage of the criminal code that the Southeast Asian nation has been discussing revising since declaring independence from the Dutch.
"The old code belongs to Dutch heritage… and is no longer relevant now," Bambang Wuryanto, head of the parliamentary commission in charge of revising the code told lawmakers.
The approval comes even as business groups warned it could harm Indonesia's image as a tourism and investment destination.
Indonesia, the world's largest Muslim-majority nation, has seen a rise in religious conservatism in recent years with legal experts suggesting the new laws around morality, and a separate article on customary law will reinforce discriminatory and sharia-inspired bylaws at the local level.
Opponents of the bill have highlighted articles they say are socially regressive, will curb free speech and represent a "huge setback" in ensuring the retention of democratic freedoms after the fall of authoritarian leader Suharto in 1998.