The U.S. Treasury sanctioned the "morality police" on Thursday for what it described as the group's violence against women and violation of the rights of peaceful protesters
Author of the article:
Bloomberg News
Patrick Sykes and Golnar Motevalli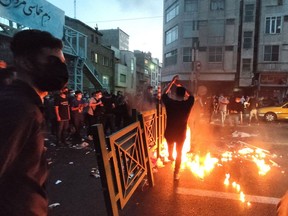 Demonstrators during a protest in Tehran for Mahsa Amini on September 21. Source: AFP/Getty Images

Photo by -

/

Photographer: -/AFP
The number of people killed in Iranian protests that were sparked by the death of a woman in police custody rose to 41 including demonstrators and police, state TV reported.
The elite Islamic Revolutionary Guard Corps issued a statement describing the unrest as a "conspiracy" in which protesters had been organized and armed by the "enemy," usually a reference to the US and Israel. The US imposed new sanctions in response to the government's actions.
Sign up to receive the daily top stories from the National Post, a division of Postmedia Network Inc.
By clicking on the sign up button you consent to receive the above newsletter from Postmedia Network Inc. You may unsubscribe any time by clicking on the unsubscribe link at the bottom of our emails. Postmedia Network Inc. | 365 Bloor Street East, Toronto, Ontario, M4W 3L4 | 416-383-2300
Thanks for signing up!
A welcome email is on its way. If you don't see it, please check your junk folder.
The next issue of NP Posted will soon be in your inbox.
Demonstrations started last Friday following the death of 22-year-old Mahsa Amini, a young woman who fell into a coma after Tehran's so-called "morality police" arrested her for allegedly flouting Islamic dress codes.
Protests have been reported in scores of towns and cities including the capital Tehran as well as Karaj, Shiraz, Tabriz, Kerman, Kish Island, Yazd, Neyshapur, Esfahan and Mashhad. It's the most widespread unrest in Iran since November 2019 when authorities shut down the internet and, rights groups say, killed hundreds of people.
Iranians see widespread internet blackout amid mass protests

Terry Glavin: Mahsa Amini's death epitomizes the depravity of Iran's theocratic regime
The "morality police" units have long been highly unpopular, but the protests are the first major rebuke of their actions. However that doesn't mean the establishment is about to be swept aside, with security forces retaining a strong grip on the country as they seek to protect the clerical establishment. Women have played a prominent role in the protests, waving and burning their veils. Some have publicly cut their hair as furious crowds called for the fall of Supreme Leader Ayatollah Ali Khamenei.
The protests are the largest to sweep the country since demonstrations over fuel prices in 2019, when Reuters reported 1,500 people were killed in a crackdown on protesters – the bloodiest confrontation in the Islamic Republic's history.
The US Treasury sanctioned the "morality police" on Thursday for what it described as the group's violence against women and violation of the rights of peaceful protesters.
Treasury also sanctioned seven senior leaders of Iran's military, intelligence and law enforcement units, saying these entities use violence to suppress peaceful protests.
Footage of the protests posted to social media over the past few days has shown unarmed demonstrators turning on uniformed police and anti-riot officers wielding tasers or handguns as well as members of the plain-clothed Basij, who are also known to carry weapons. None of the videos can be verified by Bloomberg.
Women of Iran-Saghez removed their headscarves in protest against the murder of Mahsa Amini 22 Yr old woman by hijab police and chanting:

death to dictator!

Removing hijab is a punishable crime in Iran. We call on women and men around the world to show solidarity. #مهسا_امینی pic.twitter.com/ActEYqOr1Q

— Masih Alinejad 🏳️ (@AlinejadMasih)

September 17, 2022
The militias, which are under the command of the Islamic Revolutionary Guard Corps, are deployed in order to infiltrate public gatherings and violently disperse protests. They are known to video tape and photograph protesters and passersby in order to later target them for harassment and arrest.
"The rising death toll is an alarming indication of just how ruthless the authorities' assault on human life has been under the darkness of the internet shutdown," Amnesty said.
State television showed footage purporting to show calm had returned to many parts of the capital Tehran late on Friday.
"But in some western and northern areas of Tehran and certain provinces rioters destroyed public property," it said, carrying footage of protesters setting fire to garbage bins and a car, marching, and throwing rocks.
The activist Twitter account 1500tasvir carried videos of protests near Tehran university on Saturday. Riot police were seen clashing with protesters and arresting some.
Videos posted on social media showed continued protests in Sanandaj, capital of Kurdistan province, late on Saturday, despite a heavy police presence. Reuters could not verify the videos.
Internet disruptions were widely reported in Iran last night with mobile internet access down in Tehran and slow speeds reported on broadband connections. Internet watchdog Netblocks said on Wednesday that access to Instagram, a hugely popular platform in Iran, has also been restricted.
Iran's President Ebrahim Raisi is currently attending the United Nations General Assembly in New York where his trip has been overshadowed by the violence at home.
Additional reporting from Reuters