The Proud Boys didn't kill anyone, but their jail terms are fit for murder and manslaughter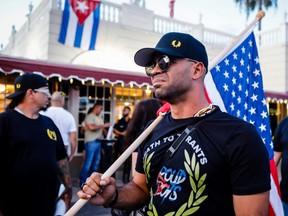 Henry "Enrique" Tarrio, leader of The Proud Boys, holds an US flags during a protest showing support for Cubans demonstrating against their government, in Miami, Florida, on July 16, 2021. Enrique Tarrio, the former leader of the far-right Proud Boys militia, was sentenced to 22 years in prison on September 5, 2023, the stiffest sentence handed out so far for the 2021 attack on the US Capitol.
Photo by EVA MARIE UZCATEGUI/AFP via Getty Images
The only thing that gets prosecutors angrier than challenging the authority of the government for which they work is then insisting on your right to a jury trial.
That's how members of the "western chauvinist" Proud Boys, and leader Enrique Tarrio in particular, ended up with sentences suitable for murderers after their participation in the Jan. 6 Capitol riot.
"On January 6th, 2021, the United States Capitol was attacked, 140 law enforcement officers defending those inside were assaulted and the peaceful transfer of power to a newly elected government — a cornerstone of our democracy — was interrupted," United States Attorney General Merrick B. Garland huffed on Sept. 5.
"Over the past week, four members of the Proud Boys received sentences that reflect the danger their crimes pose to our democracy. Today, the leader of the Proud Boys, Enrique Tarrio, learned that the consequence of conspiring to oppose by force the lawful transfer of presidential power is 22 years in federal prison."
The Trump-supporting Proud Boys were upset over the outcome of the 2020 presidential election to the point of participating in the Jan. 6 protest against certifying Joe Biden's victory. But the sentences the Proud Boy leaders received for their role in the protest that turned into a riot and an invasion of the Capitol were stiff for crimes that don't involve standing over a cooling body.
A factsheet by the Washington, D.C. Sentencing Commission contains a list of average sentences for each type of homicide from 2014 to 2018: "Murder I: 37.7 years; Murder II: 18.5 years; Voluntary Manslaughter: 9.5 years; Involuntary Manslaughter: 4 years." Proud Boys leader Joe Biggs was sentenced to 17 years and Enrique Tarrio to 22 years behind bars. Tarrio received more years than the average second-degree murderer even though he was in Baltimore on Jan. 6, having been ordered out of Washington, D.C. subsequent to a Jan. 4 arrest.
The political nature of the prosecution of Tarrio and company offers important insights into the treatment of the rioters. Attorney General Garland spoke of "the danger their crimes pose to our democracy." The prosecutor asked for terrorism enhancements to their sentences. And the defendants were convicted not for the acts of violence and property damage you'd expect of participants in a riot, but "for seditious conspiracy and other charges related to the breach of the U.S. Capitol on Jan. 6, 2021," according to the U.S. Department of Justice.
"Seditious conspiracy" is a crime invented by the understandably insecure United States government in the wake of the Civil War. It's intended for those who "conspire to overthrow, put down or to destroy by force the Government of the United States" or otherwise forcefully challenge its authority. But calling the Jan. 6 riot such a conspiracy is a stretch.
"The FBI has found scant evidence that the Jan. 6 attack on the U.S. Capitol was the result of an organized plot to overturn the presidential election result," Reuters noted in August 2021. "FBI investigators did find that cells of protesters, including followers of the far-right Oath Keepers and Proud Boys groups, had aimed to break into the Capitol. But they found no evidence that the groups had serious plans about what to do if they made it inside."
The Proud Boys were a bunch of meatheads throwing a temper tantrum over political disappointment. They were obnoxious, violent and potentially dangerous, but not a threat to the authority of the U.S. government. Nor did prosecutors make a solid case at trial.
"The sedition trial sprawled over the course of more than three months and was characterized by frequent delays, frayed relations between the defense and prosecution and several decisions by the presiding judge, Timothy J. Kelly, that tested the boundaries of conspiracy law," reported Alan Feuer and Zach Montague for The New York Times after the convictions of Enrique Tarrio and three other Proud Boys.
"Judge Kelly's rulings allowed prosecutors to introduce damning evidence about the violent behavior and aggressive language of members of the Proud Boys who had only limited connections to the five defendants. The rulings also permitted jurors to convict on conspiracy even if they found there was no plan to disrupt the certification of the election, but merely an unspoken agreement to do so."
Unless the Proud Boys communicated by telepathy, an "unspoken agreement" isn't much of a seditious conspiracy. It should be noted that, while rioters aren't always treated as insurrectionists, this isn't the only example of government officials being thin-skinned when their authority is challenged. Protesters opposed to a new police training center in Atlanta, Ga. face domestic terrorism charges after clashing with cops in March, as well as allegations of racketeering usually reserved for mobsters.
But lèse-majesté doesn't fully explain excessive sentences. We also have to consider prosecutors' and judges' revulsion at being asked to give criminal suspects a chance to defend themselves.
"Over the last 50 years, trial by jury has declined at an ever-increasing rate to the point that this institution now occurs in less than three per cent of state and federal criminal cases," the National Association of Criminal Defense Lawyers warned in a 2018 report. "Guilty pleas have replaced trials for a very simple reason: individuals who choose to exercise their Sixth Amendment right to trial face exponentially higher sentences if they invoke the right to trial and lose."
"In cases where (Jan. 6) defendants did plead guilty and expressed remorse, the judges were much more likely to go easy on them, and when you do that in general you have a much better outcome than when you plead not guilty and leave yourself to the mercy of a jury and a judge and federal prosecutors," Reason's C.J. Ciaramella commented during a podcast after Tarrio's sentencing. "Our plea-bargaining system is broken and results in a huge penalty if you exercise your constitutional right to go to a trial."
Once again, government suits acted harshly when they were challenged — this time because they were asked to do their jobs rather than as a result of a perceived threat to the authority of their employer.
Tarrio, his fellow Proud Boys, and other participants in Jan. 6 rioting certainly deserve to be held accountable for their crimes. But they should be charged and punished for what they did, not for bruising the egos of haughty officials.
National Post
J.D. Tuccille is a contributing editor for Reason magazine.
Erin Weir: The NDP were wrong to call for the Proud Boys to be labelled as terrorists

Colby Cosh: Two years after Jan. 6, the U.S. attempts to close the door on electoral angst