Naqvi genuinely cares about Ontario's future and has a record of making a difference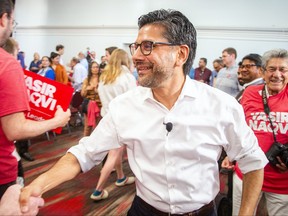 Yasir Naqvi announces he has entered the provincial Liberal leadership race at a campaign launch held at St. Anthony's Banquet & Conference Hall in Ottawa on June 3, 2023.

Photo by Ashley Fraser

/

Postmedia
In the fall of 2002, Premier Mike Harris and his "Common Sense Revolution" were wreaking havoc in Ontario. I told my husband that if things didn't change, I wanted to move our family out of the province.
Article content
Teachers were protesting outside my children's schools, social services were being slashed, cabinet ministers unashamedly instructed the poor to shop for dented tins. Harris was giving away the 407 and exploring public private partnerships in health care. Tragically, budget cuts resulted in a municipal water and public health disaster in Walkerton.
Article content
Instead of leaving, I got mad. And took a run at a provincial seat. Dalton McGuinty won a majority government in 2003, and I spent 11 years at Queen's Park as an MPP and, later, as a cabinet minister.
Sadly, history repeats. Ontario is in a state of turmoil under a Conservative premier whose disrespect for public servants and the public purse is only outpaced by his disregard for the rule of law. Once again, only Ontario Liberals — under a leader whose ethics and motivations are beyond reproach — can lead the opposition and topple this government.
By signing up you consent to receive the above newsletter from Postmedia Network Inc.
Thanks for signing up!
A welcome email is on its way. If you don't see it, please check your junk folder.
The next issue of Your Midday Sun will soon be in your inbox.
Article content
Article content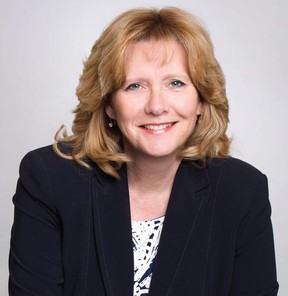 Linda Jeffrey HANDOUT
Yasir Naqvi is that leader. His lived experience, approach to politics and commitment to public service stand him above his fellow leadership contenders and in direct contrast to one. Naqvi has been in the trenches, supporting and strengthening riding associations; he's a team-builder who boosts party morale; he's a campaigner who knows how to win; and he connects with voters left behind by Premier Doug Ford.
Naqvi served as the first visible-minority attorney general of Ontario. But I was most impressed when he served as the minister of community safety and correctional services. At that time, I was mayor of Brampton and serving on the Police Services Board in Peel. We were grappling with the issue of police officers randomly stopping people — overwhelmingly young, racialized men — in street checks. The province had initiated public meetings on how to refine "street checks."
Article content
I attended two of those meetings with Naqvi, someone who understood, firsthand, the fears of my residents. He sat with them and took time to listen and discuss, always guided by this singular statement: "Our No. 1 aim is to ensure that people's rights as guaranteed by the Canadian Charter of Rights and Freedoms and the Ontario Human Rights Code are always protected."
Mississauga's mayor was clearly uncomfortable sitting down and really listening to people's fears and distress, it was easier to stay home and avoid it. It became a pattern I would come to recognize over the next four years. Stay silent and allow others to do the heavy lifting on your behalf and, then, at the eleventh hour step in and take credit.
Recommended from Editorial
LILLEY: Protesters denounce Ford's 'health cuts' as spending goes up

LILLEY: McNaughton stepping away from politics a blow to Ford government
Article content
I've worked closely with both Yasir Naqvi and Bonnie Crombie and, frankly, I think it would be a terrible mistake for Ontario Liberals to choose an individual who has, for decades, accepted donations from the same developers who benefited from the Greenbelt giveaway and whose public musings clearly demonstrate her political instincts and approach are much closely aligned with the Ford Conservatives than Ontario Liberals.
Twenty years ago, I got so mad at the Conservatives that I was prepared to leave the province – instead, I stayed and fought. It's been a decade since I felt compelled to engage fellow Ontario Liberals as to who should lead our party, but we must be clear about the decision in front of us.
Whoever we choose won't have an easy road. They will have to fight for every vote. That's why Naqvi is the leader we need – he genuinely cares about Ontario's future and has a record of making a difference that gives me hope.
Hope that my party will support the only candidate with the integrity to stand up to Ford, and win: Yasir Naqvi.
— Linda Jeffrey is a former Mayor of Brampton and former Ontario Cabinet Minister.
Article content