'People have been after me for a long time because I have been speaking to disaffected young men'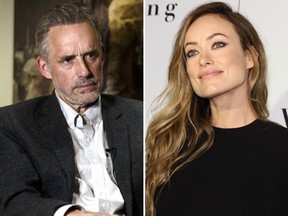 Jordan Peterson and Olivia Wilde are seen in this combination file photo.
Photo by Sun Media/Getty Images
Jordan Peterson was left in tears during an interview with Piers Morgan when the veteran newsman asked the psychologist how he felt when he heard Olivia Wilde called him "a hero to the incel community."
"We based (Chris Pine's) character on this insane man, Jordan Peterson, who is this pseudo-intellectual hero to the incel community," said Wilde in a recent chat with fellow actor-turned-director Maggie Gyllenhaal for Interview Magazine.
From our newsroom to your inbox at noon, the latest headlines, stories, opinion and photos from the Toronto Sun.
By clicking on the sign up button you consent to receive the above newsletter from Postmedia Network Inc. You may unsubscribe any time by clicking on the unsubscribe link at the bottom of our emails. Postmedia Network Inc. | 365 Bloor Street East, Toronto, Ontario, M4W 3L4 | 416-383-2300
Thanks for signing up!
A welcome email is on its way. If you don't see it, please check your junk folder.
The next issue of Your Midday Sun will soon be in your inbox.
In Wilde's Don't Worry Darling, Pine stars opposite Florence Pugh and Harry Styles as the villainous Frank, the charismatic founder of a utopian 1950s community and the man in charge of the mysterious Victory Project.
"(Incels are) basically disenfranchised, mostly white men, who believe they are entitled to sex from women," Wilde said. "And they believe that society has now robbed them — that the idea of feminism is working against nature, and that we must be put back into the correct place."
Peterson, Wilde added, "is someone that legitimizes certain aspects of their movement because he's a former professor, he's an author, he wears a suit, so they feel like this is a real philosophy that should be taken seriously."
Morgan questioned Peterson about the filmmaker's claims that he was a hero to unhappily sexless and misogynistic men.
"The film director Olivia Wilde has a new movie out, which she says is based on you. She says this insane man, this insane man, this pseudo-intellectual hero to the incel community, incel being these weirdo loner men who are despicable in many ways. Is that you? Are you the intellectual hero to these people?" Morgan asked.
"Sure, why not. People have been after me for a long time because I have been speaking to disaffected young men, what a terrible thing to do that is," Peterson replied getting visibly upset.
"I thought the marginalized were supposed to have a voice," he continued, fighting back tears. "It's very difficult to understand how demoralized people are, and certainly many young men are in that category. You get these casual insults, these incels — what do they mean? These men, they don't know how to make themselves attractive to women, who are very picky, and good for them. Women, like, be picky. That's your gift, man. Demand high standards from your men. Fair enough. But all these men who are alienated, it's like they're lonesome and they don't know what to do and everyone piles abuse on them."
"As far as critiques go, that was kind of low-level," Peterson, 60, replied. "Once I got painted as Red Skull — magical super Nazi — that was kind of the end of the insults. There's no place past that."
Peterson said that when he first heard Wilde's comments, he looked at the trailer for Don't Worry Darling. "I thought I would go see that movie," he said, smiling. "It didn't really bother me. My family and I talked about it right away and we were able to respond to it with some degree of humour."
Peterson said that if he had to be played by someone, he hoped they'd be good looking.
"Now, (Pine) has a reputation as quite an attractive man … so that could be worse," said Peterson in a lengthy statement provided to the National Post after Wilde's initial remarks.
"I also hope that Chris Pine at least does the sartorial splendour of my very formal public wardrobe justice as he pillories me in the latest bit of propaganda disseminated by the woke, self-righteous bores and bullies who now dominate Hollywood, and who insist (on) the production of such tripe."
When Morgan asked him about his emotional reaction to Wilde's dig, Peterson once again fought back tears.
"It's something to see, constantly, how many people are dying for a lack of encouraging word, and how easy it is to provide that," he said.
Don't Worry Darling, which is now playing in theatres, was the number one movie at the box office last weekend.
mdaniell@postmedia.com
Jordan Peterson doubles down on slamming trans star Elliot Page

Joe Rogan calls out Jordan Peterson for deadnaming Elliot Page