Talented 20-year-old defenceman opened the scoring with an impressive individual effort and finished game with four shots and seven hits.
Author of the article:
Stu Cowan
•
Montreal Gazette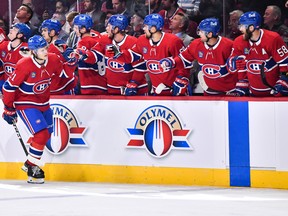 Kaiden Guhle of the Montreal Canadiens celebrates his goal with teammates on the bench against the Winnipeg Jets during the first period at Centre Bell on Thursday, Sept. 29, 2022 in Montreal.

Photo by Minas Panagiotakis

/

Getty Images
It will be a big surprise if Kaiden Guhle isn't in the Canadiens' lineup when they open the NHL regular season on Oct. 12 at the Bell Centre against the Toronto Maple Leafs.
The 20-year-old defenceman came close to making the team last year after being selected in the first round (16th overall) of the 2020 NHL Draft. Guhle was among the final cuts when the Canadiens had to get down to their 23-man roster to start last season.
Since the Montreal Canadiens making the Stanley Cup finals for the first time in 28 years, this newsletter is the dedicated Montreal Canadiens fan's source for exclusive Habs content, insight and analysis.
By clicking on the sign up button you consent to receive the above newsletter from Postmedia Network Inc. You may unsubscribe any time by clicking on the unsubscribe link at the bottom of our emails. Postmedia Network Inc. | 365 Bloor Street East, Toronto, Ontario, M4W 3L4 | 416-383-2300
Thanks for signing up!
A welcome email is on its way. If you don't see it, please check your junk folder.
The next issue of HI/O: Montreal's Road to the Cup will soon be in your inbox.
"We liked Guhle's camp," former Canadiens head coach Dominique Ducharme said after cutting him. "He has shown great skills as a defender who will have a long career (in the NHL) and the personality of a leader in the making. Everything is positive in his case."
It got more positive after Guhle was returned to junior. He was named captain of Team Canada for the world junior championship — which ended up getting shut down because of COVID-19 — and led the Edmonton Oil Kings to the WHL championship, earning the playoff MVP award after posting 8-8-16 totals in 19 postseason games.
Now Guhle is back with the Canadiens and showed early in Thursday night's 4-3 loss to the Winnipeg Jets at the Bell Centre why he looks ready to make the jump to the NHL.
Five minutes into the first period, Guhle picked up the puck just inside the offensive blue line on the right side, skated into the top of the faceoff circle and snapped a quick shot past Jets goalie David Rittich high to the stick side.
It was also a good night for the Canadiens' Brendan Gallagher.
Gallagher scored from in front of the net — where else? — batting in a bouncing puck from his knees on the power play to tie the score 2-2 at 10:08 of the third period. Gallagher then assisted on Cole Caufield's goal — also on the power play — less than two minutes later with the Jets' Kyle Capobianco still serving a double-minor for high-sticking Christian Dvorak.
But the Canadiens couldn't hold the 3-2 lead.
Evan Polei, Cole Maier, Brad Lambert and Nate Schmidt (with 17.5 seconds left on the clock) scored for the Jets as the Canadiens saw their preseason record fall to 0-3. The Canadiens will play their third preseason game in four nights Saturday when they visit the Ottawa Senators (7 p.m., TSN5, RDS, TSN 690 Radio, 98.5 FM).
Before Canadiens fans start to panic too much, there are still five preseason games left and cuts are coming as head coach Martin St. Louis tries to figure out his opening-night roster. Riley Kidney and Joshua Roy were returned to their junior teams after the game.
Canadiens goalie Jake Allen stopped 10 of the 11 shots he faced in the 30:24 he played before being replaced by Cayden Primeau. Allen has now allowed only one goal on 29 shots he has faced in his first two preseason starts while playing just under 60 minutes. Primeau allowed three goals on the 14 shots he faced.
At 6-foot-2 and 203 pounds, Guhle can play a strong defensive game, but he also has offensive skills.
Former assistant GM Trevor Timmins was surprised Guhle was still available when the Canadiens took him with the 16th overall draft pick two years ago. Guhle was ranked eighth among North American skaters by NHL Central Scouting heading into the draft.
Guhle was paired with veteran David Savard for most of training camp last year and they were together again Thursday night against the Jets. Savard, a stay-at-home defenceman, seems like a great partner for Guhle to get his feet wet in the NHL, giving him the freedom to contribute offensively when the opportunity presents itself.
"He was decisive," Savard said about the play Guhle made to score against the Jets. "He just went with the puck and it was a great shot … a hard shot. We skated the last few weeks together and I saw that shot a couple of times, so it was nice to see it in a game.
"I'm just telling him to play his game," Savard added. "He's just got to go out there, play with confidence and do his thing. I'll do my best to always be there and I just want him to just play his game, don't think too much. Just go out there and do your thing and I think if he does that you see what he can do. He plays with confidence and he's going on offence when he sees a chance and he was really good defensively, played physical, his gap was good. So it's fun to see.
"I think he looks like an NHL player. He looks like he's confident and he's physical and he blocks shots. He skates well. He's got every tool in the box that he needs to be an NHL player. It's on him now to show what he can do and I think he did really well tonight."
Rob Ramage was the No. 1 overall pick at the 1979 NHL draft by the Colorado Rockies and played 15 seasons in the league as a defenceman. He is now the Canadiens' director of player development.
"As a former defenceman, I love watching him," Ramage said about Guhle at the start of training camp this season. "He's a leader. He was a pro before he was a pro when he was in junior. He's a foundational guy. He goes about his business, he's all business. He's a competitor."
He now looks ready to play in the NHL.
scowan@postmedia.com
twitter.com/StuCowan1
Stu Cowan: Wideman pays it forward for Canadiens' young blue-liners

Stu Cowan: Canadiens' Jake Allen to play 'stabilizer' role this season