'I wrote White Lives Matter on a shirt is because they do,' rapper said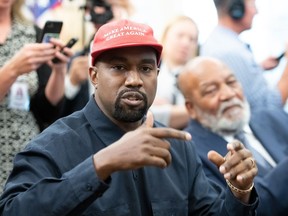 Kanye West.

Photo by Avalon

/

Bang Showbiz
As controversy continued to swirl over the "White Lives Matter" T-shirt he debuted earlier this week in Paris, Kanye West took aim at his critics in an interview with Fox News' Tucker Carlson.
"I wrote 'White Lives Matter' on a shirt is because they do. It's the obvious thing," West said, echoing a social media post he made on Wednesday.
From our newsroom to your inbox at noon, the latest headlines, stories, opinion and photos from the Toronto Sun.
By clicking on the sign up button you consent to receive the above newsletter from Postmedia Network Inc. You may unsubscribe any time by clicking on the unsubscribe link at the bottom of our emails. Postmedia Network Inc. | 365 Bloor Street East, Toronto, Ontario, M4W 3L4 | 416-383-2300
Thanks for signing up!
A welcome email is on its way. If you don't see it, please check your junk folder.
The next issue of Your Midday Sun will soon be in your inbox.
The slogan has been categorized as a "white supremacist phrase" and the rapper faced fierce opposition to the garment, which Black conservative commentator Candace Owens also wore at Paris Fashion Week.
West told Carlson that he found the idea of him wearing it amusing.
"I thought the shirt was a funny shirt," he said. "I thought that the idea of me wearing it was funny."
The Grammy winner went on to tell Carlson he had become a frequent target of left-leaning artists after he publicly embraced former U.S. President Donald Trump by wearing a Make America Great Again hat in public.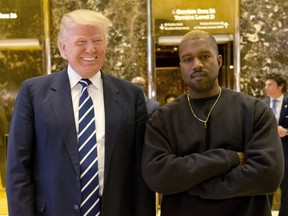 In this Dec. 13, 2016, file photo, President-elect Donald Trump and Kanye West pose for a picture in the lobby of Trump Tower in New York.

Photo by Seth Wenig, File

/

AP Photo
"When Trump was running for office and I liked him and every single person in Hollywood, from my ex-wife to my mother in law, to my manager at that time, to, you know, my so-called friends-slash-handlers around me told me if I said that I liked Trump that my career would be over, that my life would be over," he said. "They said stuff like, 'People get killed for wearing a hat like that.' They threatened my life. They basically said that I would be killed for wearing the hat. I had someone call me last night and said anybody wearing a 'white lives matter' shirt is going to be green-lit. That means they are going to beat them up if I wear it. I'm like, you know, 'OK, green light me then.'"
Elsewhere, West accused his former spouse Kim Kardashian of trying to sway his political opinions. "There was manipulation," he said. "Me not saying I like Trump was a form of manipulation."
West was criticized by Gigi Hadid, Jaden Smith and Vogue editor Gabriella Karefa-Johnson for the T-shirt. Meanwhile, Adidas has put its partnership with the designer "under review."
When Carlson asked West, who also ran for president in 2020, why the fashion piece caused so much controversy, he said it was because he wasn't conforming to ways the media thinks he should act.
"Because the same people that have stripped us of our identity and labelled us as a colour, have told us what it means to be Black," he said.
mdaniell@postmedia.com
Kanye West doubles down on 'White Lives Matter' T-shirts: 'THEY DO'

JIVANI: Kanye West and Danielle Smith defeat cancel culture

Pete Davidson urged Kanye West to 'grow up' in leaked text exchange