FabZone wants to create a space that isn't intimidating for people — from any skill level — who are eager to learn and share their interests.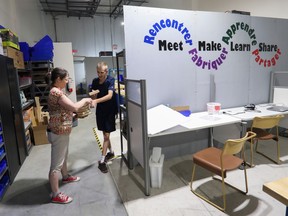 FabZone executive director Katy Johnston and Connor Milburn at the new non-profit shop at Pointe-Claire Plaza. FabZone is funded by West Island Community Shares and others.

Photo by John Kenney

/

Montreal Gazette
With the backing of two major local organizations, there are high hopes for a non-profit makerspace aimed at West Islanders with a penchant for do-it-yourself projects or who are hoping to learn handy skills.
FabZone offers high-tech equipment and manual tools at its recently opened workspace at Pointe-Claire Plaza on St-Jean Blvd. near Highway 20. FabZone staff and volunteers, including schoolteachers, will provide guidance on using the various tools.
Sign up to receive daily headline news from the Montreal Gazette, a division of Postmedia Network Inc.
By clicking on the sign up button you consent to receive the above newsletter from Postmedia Network Inc. You may unsubscribe any time by clicking on the unsubscribe link at the bottom of our emails or any newsletter. Postmedia Network Inc. | 365 Bloor Street East, Toronto, Ontario, M4W 3L4 | 416-383-2300
Thanks for signing up!
A welcome email is on its way. If you don't see it, please check your junk folder.
The next issue of Montreal Gazette Headline News will soon be in your inbox.
"It's all about building community and getting other people to come in and discuss what projects they are working on or to share their knowledge," FabZone executive director Katy Johnston said.
The aim was to set up a space that wasn't intimidating for people — from any skill level — who are eager to learn and share their interests, she said.
The FabZone shop offers its members access to 3D printing, sewing machines, Cricut machines, vinyl cutters, a drill press, such woodworking tools as a sander and a band saw, as well as soldering stations.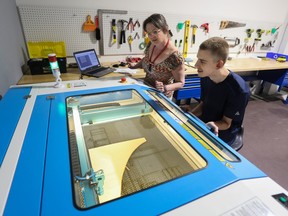 FabZone executive director Katy Johnston and Connor Milburn work with a laser cutter. FabZone in Pointe-Claire provides a combination of training workshops, events and drop-in times where tools and workspace will be available.

Photo by John Kenney

/

Montreal Gazette
It will soon offer classes to teach people how to use the equipment. The classes will be held outside their regular Wednesday to Sunday hours. Workshop space is divided among the different types of equipment or stations being offered.
Laptops are available to be used with the 3D printers, for which Johnston will eventually lead introductory workshops dealing with software and highlighting potential projects, which could include small replacements parts for household items.
"A lot of people don't realize when you get a 3D model, it prints in one piece. You don't have to put it together," she said.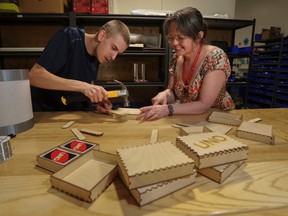 FabZone executive director Katy Johnston and Connor Milburn make card boxes for gifts.

Photo by John Kenney

/

Montreal Gazette
Models for 3D printing can be found online or people can design their own, she said.
The target audience for the sewing machines is wide-ranging. It includes people who like thrifting and want to remake or personalize older or second-hand garments, Johnston said.
"A few men have come in and said they want to hem their own pants. Some people want to make curtains or cushion covers," she said.
Johnston, who has been running a fablab for students at a French high school in LaSalle, said the initial plan was to open FabZone a few years ago, but it was pushed back at the start of the COVID-19 pandemic. The delay provided them an opportunity to rally supporters in the community to prep personal protective equipment, she noted.
FabZone is backed by PME MTL Ouest-de-l'Île, a publicly funded agency that encourages local entrepreneurship, and West Island Community Shares (WICS), an umbrella fundraising organization that helps more than 40 community groups. Its corporate sponsors are Home Depot and Caisse Desjardins de l'Ouest-de-l'Île.
WICS, which funds non-profits ranging from food banks, youth and cancer support groups to the West Island Women's Shelter, decided FabZone fits with their objective to promote green initiatives, since it encourages people to do practical repairs or repurpose material. The social aspect of the workshop also sets an appealing tone, said Danielle Leggett, director of community impact at WICS.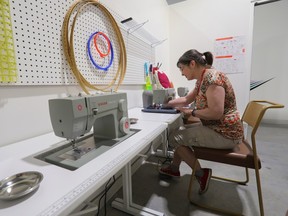 Katy Johnston, executive director of FabZone, prepares sewing machines for a class at FabZone in Pointe-Claire May 28, 2023.

Photo by John Kenney

/

Montreal Gazette
"This makerspace fits really nicely into our green fund," Leggett said. "We like to fund different organizations that benefit the environment with green initiatives. We felt our injection of funds into this fledging organization could help (them) start up. There's a strong appetite for this kind of community organization (that brings) people into a collective space to make use of materials to repair and fix equipment, rather than buying something new or rather than all these things ending up in a dump."
WICS has encouraged its network of organizations to take advantage of FabZone's offerings, such as teen drop-in centre participants taking workshops on how to use power tools. Access to high-calibre sewing machines might appeal to many organizations supported by WICS whose clientele want to expand their skills but might not be able to afford such equipment on their own, Leggett said.
"There's a full range of services and programs offered (at FabZone) that we wanted to support and make this a reality and help build different relationships with our groups," she added.
It's a unique concept being offered in the West Island that will surely encourage people to develop new skills leading to hands-on projects.
FabZone user rates are $30 per month for students (ages 12 and up) or seniors and $45 for adults. Equivalent six-month rates are set at $150 and $225. For more information, visit fabzone.org.
akrambergerwestisland@gmail.com
Kramberger: Micro-grants will help teens leap forward on green issues

Kramberger: West Island Community Shares marking its 25th anniversary

Opinion: How makerspaces help prepare students for the gig economy