West Island mayors want hydro lines buried: "And we should start yesterday."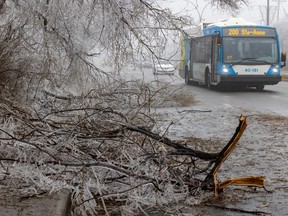 A bus detours around fallen branches that knocked out power in Beaconsfield after an April ice storm. A report in December highlighted a "marked decline" in Hydro's network, its aging assets and shortcomings in maintenance and tree-trimming operations.

Photo by John Mahoney

/

Montreal Gazette
West Island residents and elected officials continue to lobby Hydro-Québec to provide answers and plans to deal with what they call all-too-frequent power outages, which they say are occurring more often due in part to aging infrastructure and the tree canopy.
Beaconsfield city council tabled a resolution Monday recommending Hydro-Québec review its vegetation maintenance cycle and increase the frequency of pruning interventions, particularly in areas dense with mature trees that can break and damage power lines.
Article content
Article content
The city noted major disruptions took place following an ice storm in April and a wind storm in July. But shorter localized power outages occur every month in the city, said Mayor Georges Bourelle, adding this unreliability led him to purchase a generator for his home.
After Beaconsfield tabled a similar resolution in May, city officials met with Hydro representatives.
"As far as I am concerned, they are not doing what needs to be done to really improve the resilience of their distribution network," Bourelle said.
A suggested solution is to bury Hydro's power lines in the West Island one sector at a time.
"They can pick and choose where that should be a priority. But Beaconsfield should be a priority when lines are buried," Bourelle said. "With climate change, we are going to get more and more storms and violent weather. We are highly vulnerable to trees falling and branches breaking."
Hydro must invest to upgrade network efficiency with more urgency, Bourelle said.
Pointe-Claire Mayor Tim Thomas said Hydro should focus on burying power lines and is open to twinning such civic infrastructure projects as plans to overhaul Lakeshore Rd. in Pointe-Claire Village. Hydro can incrementally bury power lines to spread out costs, he said.
By signing up you consent to receive the above newsletter from Postmedia Network Inc.
Thanks for signing up!
A welcome email is on its way. If you don't see it, please check your junk folder.
The next issue of Headline News will soon be in your inbox.
Article content
Article content
"Trees are the salvation for us. They are an ally in global warming. So, I don't think cutting trees (is the optimal solution)," he added. "I think we should start burying hydro lines. And we should start yesterday."
An online petition at Change.org, organized by Pointe-Claire residents Monica Bialski and Sara Cook, demands Hydro take accountability for frequent power outages in the West Island as well as hold a town hall meeting to discuss plans to improve the stability of the power grid.
Bialski's aim is for West Islanders to sign the petition and provide a united front to Hydro officials, but acknowledges equipment failures and outages are provincewide issues. The auditor general of Quebec published a report last December that highlighted the "marked decline" in reliability of Hydro's network, its aging assets and shortcomings in maintenance and tree-trimming operations, she noted.
"We want more money for maintenance and for cutting the trees. We believe this would decrease the number of power outages here in the West Island and possibly in other areas as well," Bialski said, adding burying lines is also desirable.
Article content
"Hydro-Québec higher-ups don't understand how much people are suffering (from outages). Your work and your life are completely disrupted," she said.
Thomas said his city can help facilitate a potential public information meeting with Hydro. "I would love a spokesperson from Hydro to give us their side, give us the constraints. People are less upset when they have things explained to them," he added.
Jacques-Cartier Liberal MNA Greg Kelley, the official opposition critic for energy and natural resources, said he hopes the request by his constituents for a town hall with Hydro experts is forthcoming. He recently had a Hydro-related motion voted down in the National Assembly.
"I will (again) bring up the reality of what's going on in the West Island. But we're not alone. There are examples across the province … other areas where power outages keep happening frequently," Kelley said.
Dollard-des-Ormeaux Mayor Alex Bottausci said while his city met with Hydro representatives in June, he notes three pockets spread across the town of 50,000 seem to have recurring power outages even when there are no severe storms.
"We've asked Hydro to look at these specific three areas and come back to us with a plan of attack, and that's where we last left it," he said. "There's just a little gust of wind — out of power for hours."
There is an ever-increasing need for a dependable Hydro network as trends toward working from home and electric vehicles continue. Tossing out perishable food spoiled during an extended outage is another costly burden facing residents.
Hydro can hopefully address these concerns and provide a plan of attack for problematic West Island sectors by participating in future town halls.
akrambergerwestisland@gmail.com
Related Stories
Hydro-Québec must act with urgency on aging network, experts say

'Get ready': Hydro-Québec about to announce expansion blitz, Legault says
Article content
Article content