Whoever replaces Johnston, they must do the job thoroughly, painstakingly and completely. Politicians must reset too, choosing to work together to protect Canadian democracy.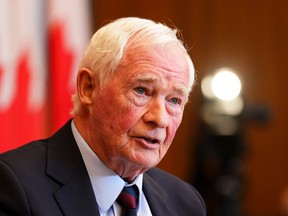 David Johnston stepped down late Friday as Independent Special Rapporteur on Foreign Interference.

Photo by Sean Kirkpatrick

/

The Canadian Press
By the end, David Johnston had lost the support of Parliament, lost the public square, lost his crisis communications firm Navigator, and — most importantly — had totally lost the narrative around the task he had been given: investigating foreign interference in Canadian elections.
The former governor general's appointment as "Independent Special Rapporteur" by Prime Minister Justin Trudeau in March was a manoeuvre intended to take the heat off the Liberals after perceived inaction over allegations of federal election interference in 2019 and 2021 by China. Instead, Johnston's hiring brought things to a full boil.
Questions and criticism immediately arose regarding his suitability, given that Trudeau had once characterized Johnston as a "family friend," and given Johnston's own connections to the Trudeau Foundation. Rather than at least acknowledge the problematic optics, the prime minister scolded those who raised the issue.
Conservative leader Pierre Poilievre did not comport himself much better, dismissing the appointment as a "fake job," and salting the earth among his base to the point that any possibility something useful might have come out of Johnston's process — even one the Opposition leader viewed as flawed — was impossible.
Given the perceptions of his proximity to the prime minister, many political watchers felt Johnston would have no choice but to recommend calling a public inquiry into the issues, if only to demonstrate that, as his title suggested, he was indeed independent. Johnston decided to do the opposite, reasoning such an inquiry was not appropriate, and that public hearings would suffice. The problem was, Parliament had already voted to hold one. Public opinion showed most Canadians with an opinion on the matter were looking for one too.
Last week, Parliament passed a motion asking for Johnston to step down. He said he wasn't going anywhere. But his last days on the job descended into farce. Instead of discussing ways to prevent malicious actors from meddling with our most precious democratic processes, the final headlines focused on the fact that Johnston had first hired, then fired, a crisis communications firm also retained by an MP at the centre of some allegations. More optics problems. More allegations of conflict of interest.
In some ways, it was a sidebar to a sidebar. In others, it was one last reminder to Canadians that the response to very serious accusations had been altogether unserious. On a Friday night, Johnston resigned. A pitiable coda to what had been to this point a long, dedicated career in public service.
Now what? As the news was breaking, one Bloc Québécois MP gave an interview suggesting that whoever is chosen to replace Johnston should be the unanimous choice of all parties. It is likely that will never happen, though in his own resignation letter to the prime minister, Johnston himself suggested Trudeau at least consult the opposition over the choice.
More important than the choosing of who picks up this poisoned chalice, is the job this next person does. Testifying before MPs, Johnston admitted that the conclusions in his preliminary report — that the Chinese government had not coordinated attempts to meddle in Canadian elections — might not have been based on seeing the whole picture.
Indeed, his report had taken into account information from Conservative MP Erin O'Toole, who in turn had been briefed by CSIS that this was exactly what had been attempted. Johnston told the CBC he hadn't had time to review all the pieces of information out there. I wish he had taken more time.
Whoever replaces Johnston, they must do the job thoroughly, painstakingly and completely. Do it right. Talk to everyone. No arbitrary timelines. Don't allow politically driven deadlines to be imposed.
Politicians must reset too. Instead of behaving like petty, juvenile reptiles, they must choose to work together to protect, maintain and preserve our elections, the most basic form of Canadian democracy.
No one — not the public, nor those caught up in unproven allegations, nor the politicians seeking answers, nor Johnston himself — has been well served in this mess. After the rain, there is a clearing of the air. It is up to our leaders now to sincerely respond to a saga that has made this country a laughingstock to those bad actors who are or who would wish to undermine our nation.
Get to work.
Shachi Kurl is President of the Angus Reid Institute, a national, not-for-profit, non-partisan public opinion research foundation.