Raging against the world's ills on Omens, singer Randy Blythe is also fighting climate change.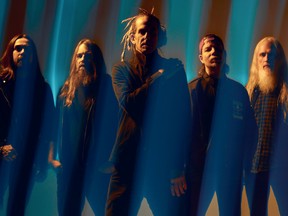 Lamb of God is releasing Omens in 2022. Singer Randy Blythe, middle with braids, has become involved in Ecuadorean reforestation projects.

Photo by TRAVIS SHINN PHOTOGRAPHY Travi

/

jpg
Reviews and recommendations are unbiased and products are independently selected. Postmedia may earn an affiliate commission from purchases made through links on this page.
Lamb of God: The Omens Tour
When: Oct. 9, 6 p.m.
Start your day with a roundup of B.C.-focused news and opinion delivered straight to your inbox at 7 a.m., Monday to Friday.
By clicking on the sign up button you consent to receive the above newsletter from Postmedia Network Inc. You may unsubscribe any time by clicking on the unsubscribe link at the bottom of our emails. Postmedia Network Inc. | 365 Bloor Street East, Toronto, Ontario, M4W 3L4 | 416-383-2300
Thanks for signing up!
A welcome email is on its way. If you don't see it, please check your junk folder.
The next issue of Sunrise presented by Vancouver Sun will soon be in your inbox.
Where: Doug Mitchell Thunderbird Sports Centre, UBC
Tickets/info: Ticketmaster.ca
Randy Blythe doesn't deny that he has had his share of ups-and-downs.
Since the heavy metal band he fronts began in 1994, originally as the hardcore unit Burn the Priest, there have been many career challenges. From a well-publicized 2012 court case in the Czech Republic stemming from a 19 year-old fan's injuries sustained in a concert to battling addictions to reach sobriety, arriving at album No. 9 is a win.
Now Blythe, bassist John Campbell, lead guitarist Mark Morton, rhythm guitarist Willie Adler and drummer Art Cruz are back on the road raging on the Omens Tour.
One thing that held true throughout is Blythe's devotion to surfing. During COVID-19, his love of catching a wave became the catalyst for riding into a rainforest renewal project in Ecuador.
"I met a guy from Ecuador surfing in North Carolina named Carlos who invited me down to Ecuador to check it out," said Blythe. "He's a big-time environmentalist and we had countless conversations about the challenges facing the country which has the highest annual rate or deforestation in the Western Hemisphere. There was a beaten-down piece of land bordering his family farm which he really wanted to acquire to begin to renew and I wanted to help."
By his own admission, Blythe describes the parcel as played-out brown, sad grazing land in 2019. There were plans to completely deforest the remaining area and plant cacao. The singer hit upon a way to come up with the funds to finance a purchase.
"I had been doing a lot of Cameo spots — everything from singing happy birthday to far more serious ones involving terminal folks — and was able to use that money to buy the land," he said. "So if you are one of the many people who had me do a Cameo for you, this is where your money went. This will be my and your legacy to the world."
Fenced-off and undergoing a locally driven rewilding process, a few years later the land is all green with indigenous fruit and highly sustainable balsa trees rising above the previously barren land. Blythe notes that one thing that happens quickly in equatorial zones when they are left alone is rapid healing.
Ultimately, the goal is to return the land to fully renewed forest where indigenous plants and animals can thrive, as well as sustainable businesses for the local people.
"I had an internal struggle to even mentioning the surfing in the video, because people do go to places for killer waves and see nothing else, which I see as irresponsible," said Blythe. "It's a privilege to travel and see other places and you should get more than just the tourist spots and learn about real life of the people and place. Surfing plays a part that is both good and problematic, because it can lead to developing a strong ecotourism infrastructure as it has in Costa Rica."
Being able to create a legacy for the planet that really isn't about him puts a smile on Blythe's face. As he notes in his Instagram video about the Ecuadorean project, it isn't a case of us running out of time to heal the planet: "We are out of time."
Naturally, another way of working out the tension and terror that accompanies this fact is letting go to thundering tandem guitars, machine-gun drumming and pummelling bass with a banshee howling over it all. As one of the most important bands in the new wave of American heavy metal movement, Lamb of God certainly delivers the goods.
From its title track to the other nine songs on the set, Omens is pure, unadulterated adrenalin riffage that sees the band playing at the top of its game. Blythe says the pandemic provided a period for the members to really get back into their own selves and also their enduring creative connection to each other.
Songs like Ditch straddle hardcore punk and heavy metal, and read like a kind of therapy rant. Blythe says he gets that comparison a lot, but his lyric writing is a combination of things.
"I look back at notebooks of things I wrote over 20 years ago, and a lot of it is a kind of message to me in either direct or more subliminal ways," he said. "Certainly, before I got sober, some of these are not so nice and pretty clear: 'Hey dumb-ass, wake up.' Today, it's much more about an awesome form of collective communication."
Taking the studio sheen into the live setting and releasing it remains a cathartic experience. The best moments come when the barrier between the band and the audience breaks down and a single living, breathing organism emerges.
It's a forest of humanity rewilding itself for an evening.
The Omens Tour features opening acts Killswitch Engage, Fit for an Autopsy and Motionless in White.
sderdeyn@postmedia.com
twitter.com/stuartderdeyn