Community representatives, entrepreneurs and scholars seek out the "three families of solutions" to the crisis, says Mayor Laval's Stephane Boyer.
Article author:

La Presse Canadienne
Stéphane Blais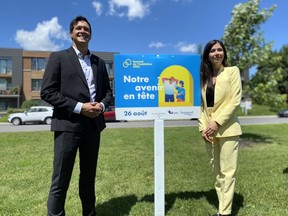 Laval Mayor Stéphane Boyer, left, Longueuil Mayor Catherine Fournier, right, summit on Monday Announced. The summit also includes the Mayor of Montreal's Valerie Plante and the Mayor of Beauport's Bruno Marchand.

Photo: Stephane Blais

/

Canadian Press
LONGUEUIL — Mayor of Longueu announced by Catherine Fournier and Stephane Boyer, Mayor of Laval On Monday, the Housing Summit will be held in Laval on August 26th to find a solution to the current accommodation crisis.
The summit will be held about a month before the local elections. Approximately 300 people will gather, including the Mayor of Montreal's Valerie Plante and the Quebec City counterpart Bruno Marchand.
Participants seek ways to resolve the housing crisis affecting many parts of the state.
"It can be found everywhere in Quebec. Where housing prices are skyrocketing, for example Laval, rent prices rose 30% between 2016 and 2021. The price of access to ownership has risen 66. Boyer said at a press conference in front of Longueuil City Hall on Monday.
"The summit is immediately felt by Quebec residents. We sincerely believe that we will provide the necessary impetus for the transition to collaborative action, "Frunier added. "This is our hope."
The elected civil servants will work with community representatives, entrepreneurs, and scholars to create "three families of solutions." Explore Regulatory strategies, that is, the regulations that municipalities can adopt to influence housing and affordability. And financial lever.
"Is there a way to fund unusual projects such as innovative business models, such as co-operatives?" Boyer asked.
With the move on July 1st approaching, many municipalities are taking steps to help families struggling to find a home.
For example, the city of Laval has created a service that lists all available homes in the area to help find households. If you cannot find a home on July 1, the city can pay for the hotel room and temporarily store your family's belongings.
Created in 2020, Laval was able to help 131 families last year. As of June 19, Laval received 191 accompaniment requests this year. "Therefore, we can see that there is an increase," Boyer said.
In Longueuil, Mayor Fournier said that as July 1 approached, 11 families sought "concrete support" due to lack of housing.
The Housing Summit will be held a few weeks before the state elections. This allows local governments to properly communicate their demands to the leaders of various states.
"Do we repeat our request? Yes. That is the main purpose. No," Boyer said. He said the main purpose of the summit is to create coordinated efforts at the federal, state and local levels.
"If the federal and state governments don't talk to each other, it will affect our city and we need better coordination between the three levels to resolve the crisis," Boyer added. rice field.
Representatives of major municipal associations such as Quebec, Quebec, Montreal Metropolitan Community, Canadian Mortgage Housing Corporation, Vivre en ville, Center de Transformation du Mortgage Communities and Urban Development Institutes are all summits Attend at.
Sign up for daily headline news from Montreal Gazette, a division of Postmedia Network Inc. By clicking the
By sign-up button, you agree to receive the above newsletter from Postmedia Network Inc. You can unsubscribe at any time by clicking the unsubscribe link at the bottom of the email. Postmedia Network Inc. | 365 Bloor Street East, Toronto, Ontario, M4W 3L4 | 416-383-2300
Thank you for registering.
A welcome email has been sent. If you don't see it, check your junk folder.
The next issue of Montreal GazetteHeadlineNews will arrive in your inbox shortly.