Après des années d'attente et de rumeurs, Ford a dévoilé le nouveau Bronco 2021. Pour ceux qui en doutaient encore, la guerre à Jeep est officiellement déclarée.
Fortement inspiré du Bronco de première génération (1966 à 1978), le Ford Bronco 2021 est un véhicule 4x4 pur et dur, pensé et conçu pour voler la vedette au Jeep Wrangler.
Ford propose un Bronco à deux portes ainsi qu'un modèle à quatre portes, jouissant tous deux d'un design à la fois rétro et moderne qui ne peut faire autrement que de rappeler leur héritage. « Nous avons sondé des milliers de gens à propos de ce véhicule et ils ont tous été clairs. Si l'on ramène le Bronco, il faut le ramener pour vrai », a indiqué Mark Grueber, directeur marketing pour le Bronco chez Ford. À voir le résultat final, il faut croire que le constructeur a bien fait ses devoirs.
Un vrai Bronco
Peu importe sous quel angle vous le regardez, le Bronco 2021 ne peut pas nier ses origines. Les designers de Ford nous ont d'ailleurs confirmé que le Bronco original a été analysé sous toutes ses coutures durant le développement du nouveau modèle.
La ressemblance la plus frappante est probablement le devant du véhicule, où les phares ronds et la calandre rectangulaire dominent. L'ajout d'une version à quatre portes est une première dans l'histoire du modèle, mais il n'y a pas de quoi être surpris. Les ventes du Jeep Wrangler à quatre portes sont largement supérieures à celles du modèle à deux portes, et Ford s'attend à ce que la même chose se répète avec le Bronco.
À bord, l'habitacle du Bronco est lui aussi pensé pour l'aventure, avec des planchers caoutchoutés facilement nettoyables et plusieurs boutons physiques gros et faciles d'accès. Cela dit, le Bronco ne crache pas non plus sur la technologie. Il comprendra un immense écran tactile de 12 pouces (en option) qui intégrera SYNC 4, la plus récente génération du système d'infodivertissement de Ford. La connectivité avec Android Auto et Apple CarPlay se fera sans fil et le véhicule sera livré avec l'ensemble de technologies d'aide à la conduite Co-Pilot360.
Deux moteurs turbo
Sous son capot, le Ford Bronco 2021 sera offert avec un choix de deux moteurs turbocompressés déjà bien connus chez Ford.
Le premier est un bloc à quatre cylindres de 2,3 litres, le même que l'on retrouve dans le Ranger, la Mustang EcoBoost et même la défunte Focus RS. Ford annonce une puissance de 270 chevaux et un couple de 310 livres-pied.
Il sera également possible d'opter pour un Bronco muni d'un moteur V6 de 2,7 litres, lui aussi turbocompressé. On parle alors d'une puissance de 310 chevaux et d'un couple de 400 livres-pied. Ça promet!
Les acheteurs seront ravis d'apprendre que le Bronco sera livrable avec une transmission manuelle à sept vitesses ou une automatique à 10 rapports.
Le Bronco pourra remorquer des charges allant jusqu'à 3500 livres, ex æquo avec le Wrangler Unlimited.
Pensé pour passer partout
Comme son ancêtre, le nouveau Ford Bronco est construit pour s'aventurer à peu près n'importe où. La comparaison avec Jeep étant inévitable, Ford a fièrement souligné que le Bronco aura une garde au sol ainsi que des angles d'attaque et de sortie supérieurs à ceux du Wrangler.
Les portes et le toit du véhicule pourront être retirés, encore une fois à la manière d'un Wrangler. Ford a d'ailleurs noté que les portes du Bronco ont été pensées pour pouvoir être rangées dans le coffre du véhicule, un point qui a souvent été reproché au Wrangler dans les analyses menées par le constructeur.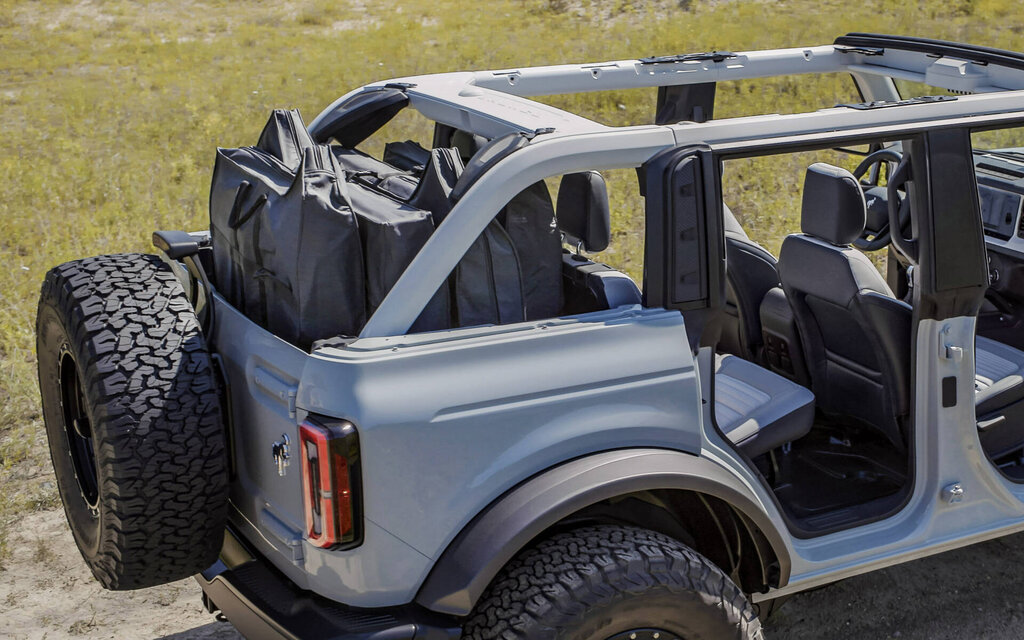 Photo: Ford
Tous les Bronco viendront avec un système 4x4 de série, mais deux types de systèmes seront proposés selon la version choisie. Alors que le 4x4 de base est équipé d'une boîte de transfert avec sélection électronique en marche à deux rapports, le système « évolué » offert en option est équipé d'une boîte de transfert électromécanique à deux rapports dotée d'un mode automatique pour une prise sur demande permettant de passer entre les modes 2H et 4H. Les deux différentiels pourront être bloqués électroniquement.
Ford a également mis la technologie au profit des aptitudes hors route avec un sélecteur de mode de terrain baptisé G.O.A.T., pour Goes Over Any type of Terrain. Un beau clin d'œil à l'expression anglophone qui signifie habituellement Greatest of All Time. On y retrouve jusqu'à sept modes de conduite qui permettent une adaptation optimale selon les circonstances dans lesquelles vous vous retrouvez.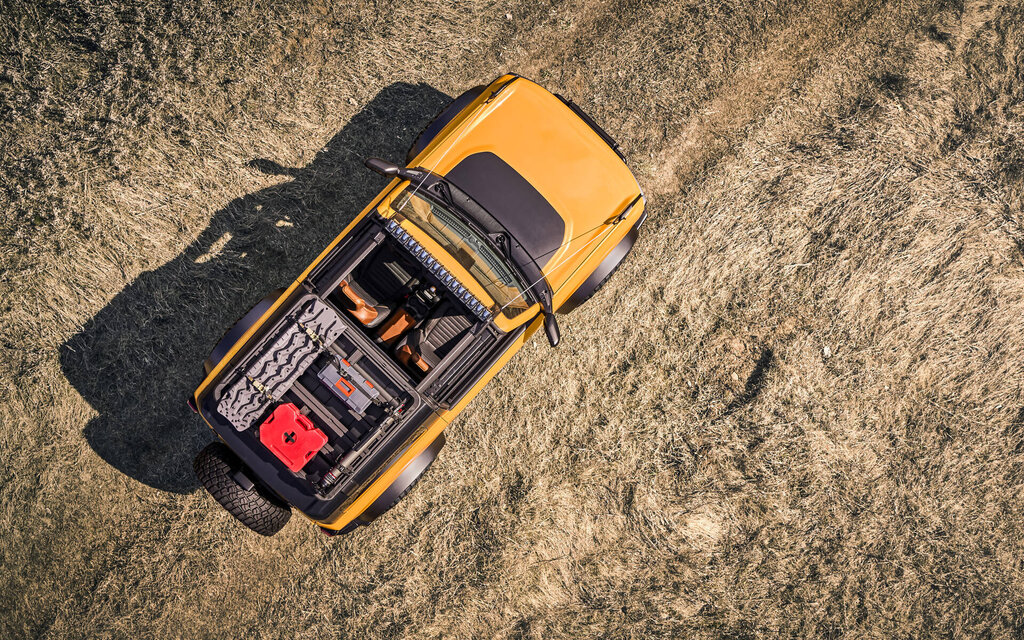 Photo: Ford
Le Ford Bronco 2021 se déclinera en six variantes différentes :
Peu importe la version choisie, il sera possible d'opter pour l'ensemble Sasquatch, lequel intégrera le système 4x4 évolué ainsi que des roues de 17 pouces chaussées d'immenses pneus de 35 pouces.
La gamme de prix complète n'a pas encore été révélée, mais Ford précise que le Bronco 2021 se vendra au Canada à partir de 40 499 $. C'est plus cher qu'un Wranlger, mais attendez-vous à un équipement de série nettement plus complet.
Le Bronco 2021 arrivera chez les concessionnaires du Québec au printemps 2021. Il est possible de commander son exemplaire au coût de 100 $ dès maintenant sur le site de Ford Canada.