Readers speak out on the issues of the day, including civil service performance, and proper teaching attire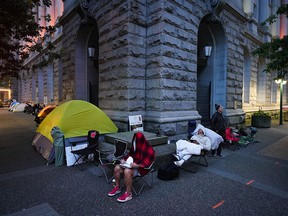 People camp out overnight in a lineup outside a Service Canada passport office in Vancouver on June 22, 2022.
Photo by Darryl Dyck / The Canadian Press
Civil service bonuses 'a national disgrace'
Re: 'Completely unjustifiable': Feds paid out $190 million in bonuses to public servants, Christopher Nardi, Sept. 27
The NP Comment newsletter from columnist Colby Cosh and NP Comment editors tackles the important topics with boldness, verve and wit. Get NP Platformed delivered to your inbox weekdays by 4 p.m. ET.
By clicking on the sign up button you consent to receive the above newsletter from Postmedia Network Inc. You may unsubscribe any time by clicking on the unsubscribe link at the bottom of our emails. Postmedia Network Inc. | 365 Bloor Street East, Toronto, Ontario, M4W 3L4 | 416-383-2300
I worked through my entire professional career and never received a bonus, nor did I expect one. A bonus is given by for-profit businesses to employees who are responsible for that profit. It is a national disgrace and a gross insult to taxpayers that a failing government filled with incompetent employees has the chutzpah to give their so-called civil servants bonuses. Did somebody responsible for the ArriveCAN fiasco get a bonus? Did a senior executive who approved $500K to an anti-Semite for anti-racist advice get a bonus? Shame on this government and their wasting of our hard-earned money.
Seymour Epstein, Toronto
In the private sector, if you achieve only 45.7 per cent of your performance goals, you are shown the door. In the public service, you are shown a big fat bonus cheque totalling $190 million. One can only imagine what the bonuses would have been like if the public service executives had met even 50 per cent of their objectives.
Les Shinder, Nepean, Ont.
Political suicide in Quebec?
Re: Legault says more immigration would be 'suicidal,' creating a flashpoint with Quebec businesses, Sept. 28
His sovereigntist dream in tatters and his wardrobe in need of sprucing up, the PQ house leader under René Lévesque's government, Claude Charron, stole a sports jacket from Eaton's. Asked why he did it, the destitute and destituted house leader said he wanted to commit an act of political suicide.
Today, the province's premier talks of suiciding the Quebec nation by allowing too many immigrants. In a sane Quebec, that statement would have been an act of political suicide. But in today's Quebec, François Legault will be lionized, and in time, canonized.
Howard Greenfield, Montreal
CBC News' 'lack of journalism'
Re: The CBC's hypocritical attack on Ben Shapiro, Jamil Jivani, Sept. 23
According to the Merriam-Webster dictionary, journalism is "writing characterized by a direct presentation of facts or description of events without an attempt at interpretation." The CBC does little of this, preferring bias, opinions, left-ism and state-ism in its publications. The CBC is not being persecuted for its journalism, as CBC News Editor in Chief Brodie Fenlon purports, it is being persecuted for its lack of journalism. (The Ben Shapiro episode is simply another example of the CBC's broken compass.)
John P.A. Budreski, Vancouver
Prosthetics, gender rights and teaching attire
Re: Defence of teacher with oversized prosthetic breasts the logical conclusion of gender ideology, Jamie Sarkonak, Sept. 26; and Oakville teacher's attire warrants professional standards review: Lecce, Sept. 23
Jamie Sarkonak protests too much the prosthetics without just moral or legal cause. According to her thinking, "donning fetish wear in the classroom is very bad." But her value judgment that it's "very bad" is not in sync with the "school community." If the local sensibility is willing to tolerate the sexualized dress code of one of their own, why should an outsider's prejudicial taste override their esthetic preferences? Instead of criticizing them she should respect their autonomy and authenticity. She should be updating Voltaire with "I wholly disagree with what you wear and will contend to the death for your right to wear it."
To live and let live freely should be the communal call to all. A free society should contain multitudes. The fact that this community tolerates such a unique personal sexualized expression is a sign of moral advancement rather than a sign of moral collapse in society.
Surely serious people have outgrown such prejudices, based on superficial appearances, when judging the character and moral worth of others.
Tony D'Andrea, Toronto
The article quotes school board chair Margo Shuttleworth as saying they are protecting gender rights. The logic, therefore, is that in the name of gender, people can do anything, including what once would have been regarded as unprofessional and bizarre behaviour. What does wearing monstrous plastic body organs — breasts with erect nipples in these case, and see-through tops — have to do with gender rights?
To gain a perspective, change the gender to a cisgender female. The teacher walks into her classroom one day wearing a see-through blouse so that her breasts and nipples are readily seen by her students, or perhaps, she wears prosthetic breasts of the kind in question. By what period in the day would she be called to the principal's office and sent home? If that is true, then why does changing the gender change the situation? If a cisgender teacher cannot exhibit herself as such, then all things being equal, neither can a transgender teacher.
Anthony Dayton, Thornhill, Ont.
Letters to the editor: Long live the King — and the monarchy

Letters to the editor: 'We will never forget this Queen'
Defining cis
Re: How StatsCan is contradicting its own data on trans Canadians, Barbara Kay, Sept. 24
I read with interest Barbara Kay's article on StatCan and would like to elaborate on a statement she made with regard to the term cisgendered. She stated that the "seemingly anodyne modifier, cis, is an importation from queer theory … cis is code for a belief system …"
Cis, is, in fact, a legitimate prefix from the Latin meaning "on this side." It is used in chemistry to denote arrangements of molecules; historically to indicate geographical proximity; and more recently to refer to people whose personal identity and gender corresponds with their birth sex.
Liola Limeback, Bowmanville, Ont.
The science of alcohol
Re: Temperance makes a comeback, David Clement, Sept. 16
The Canadian Centre on Substance Use and Addiction was created by an act of Parliament in 1988 and is Canada's only agency with a legislated national mandate to improve health around alcohol and other drugs.
Canada's Low-Risk Alcohol Drinking Guidelines are being updated because Canadians have a right and desire to know what science says on alcohol. To do so, CCSA convened an executive committee with members from federal, provincial and territorial governments, and several national organizations to provide project oversight and advice. Three scientific expert panels, with 23 experts representing 15 research organizations and universities, reviewed the evidence for updating the guidelines and made recommendations on how best to effectively mobilize this new knowledge. This process did not receive funding from the alcohol industry in order to maintain transparency and neutrality.
The experts' global evidence review considered 5,915 systematic reviews assessing the relationship between alcohol and health. They then built upon the rigorous and systematic work previously done in the U.K. in 2016 and in Australia in 2020 to revise their guidelines to reduce health risks.
The guidelines update is evidence-based and far closer in line with current guidelines in France, the U.K. and Australia.
We conducted an open consultation, and we look forward to thoroughly reviewing the feedback, which will help us make the final guidelines relevant, clear, and valid. Careful thought will be required as to how to spread and disseminate messaging in a way that can give people hope and motivation as opposed to fear and stigma. Above all, we believe people have a right to know.
Dr. Alexander Caudarella, CEO, Canadian Centre on Substance Use and Addiction
National Post and Financial Post welcome letters to the editor (150 words or fewer). Please include your name, address and daytime phone number. Email letters@nationalpost.com. Letters may be edited for length or clarity.