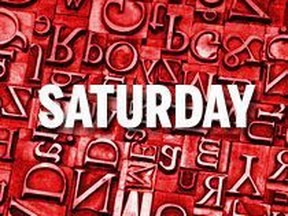 Saturday letters

Photo by Ilustration

/

Toronto Sun
FUREY FOR TORONTO
I hope Anthony Furey can win the race to the mayor's office. He is trying to bring some sanity and common sense within a sea of sharks — and not smart ones at that. Our city will die if we continue on the downward spiral created by the left. If they want Toronto to be like San Francisco and Vancouver, then move there. They will fit right in with their ilk. I'm always against career politicians like Olivia Chow. Go get 'em, Anthony … with a fury.
From our newsroom to your inbox at noon, the latest headlines, stories, opinion and photos from the Toronto Sun.
By clicking on the sign up button you consent to receive the above newsletter from Postmedia Network Inc. You may unsubscribe any time by clicking on the unsubscribe link at the bottom of our emails or any newsletter. Postmedia Network Inc. | 365 Bloor Street East, Toronto, Ontario, M4W 3L4 | 416-383-2300
Thanks for signing up!
A welcome email is on its way. If you don't see it, please check your junk folder.
The next issue of Your Midday Sun will soon be in your inbox.
Bill Jamieson
Toronto
(He has indeed been gaining some traction with his straightforward and common sense policy announcements)
I DON'T BLAME CANADA
To my dear Canadian neighbours with whom I've lived in Toronto and Vancouver, I am so very sorry for the fires that you're currently enduring and want you to know I do not blame you. The climate change that the cumulative mass of humanity has rained down upon our shared Earth is the fault of all of humanity — past and present. I'm as guilty as the rest.
Candace Drimmer
Northampton, Mass.
(Thank you)
BUY CANADA
In three weeks' time it will be Canada Day, and motorists will be proudly flying Maple Leaf flags from their cars (even more than usual!). In light of current issues with China, it might be time to examine these flags more closely — they seem to all be made in China. Do we really want to support this in the name of national pride? Please buy Canadian flags that are actually made in Canada (that's if you can find any!).
Frances Smith
Toronto
(We should be making them here and fly our Canadian flags proudly)
MONEY OVER MORALITY
Re "McIlroy still LIV-id" (Jon McCarthy, June 8): Many years ago, Tom Watson said 'golf is a gentleman's game.' There was nothing gentlemanly about the merger/not-a-merger announcement on Tuesday. Bob Costas hit the nail on the head with his comment: It was money over morality. Sad. Supposedly Mr. Big Ego Greg Norman knew nothing about it and wasn't consulted. That in itself would make Rory very happy.
Patrick Callaghan
Bobcaygeon
(The golf wars. Some players made their choice, others didn't)