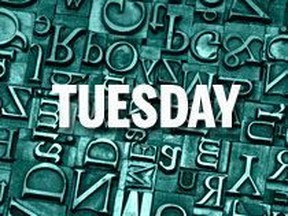 Tuesday letters.

Photo by Illustration

/

Toronto Sun
CHANGE IN ATTACK
Have we underestimated Putin? Possibly blowing up the two pipelines was a smart move for him. But annexing more of Ukraine means Ukraine will now be attacking Russia instead of defending itself. This will justify Putin even more using nukes, which might be the only sure and early way to eliminate Zelensky and his chiefs, guaranteeing a complete takeover. That's what I see. What will others do after?
Nick Bird
Richmond Hill
(Putin is losing and is now offering up nothing but threats to go nuclear. We should, however, take someone this unhinged seriously)
TIME FOR CHANGE
Yes, the government is going to double our GST rebate starting in November. On Sept. 27 on Power Play, I heard the great Evan Solomon debate this issue with Liberal MP Jonathan Wilkinson, who continues to lead us to believe that we the taxpayers are going to be far better off with this rebate. I have heard this debate for months now, but none of the pundits want to ask the obvious question. Why take the taxes in the first place just to give it back. Someone's not coming clean. Also, it has been checked and Canada's carbon taxes have not reduced our contribution to global greenhouse gases — in fact, we are losing ground. The U.S.A.'s contribution has lowered with no carbon taxes. This is exactly why we need a new government.
Merle Gingrich
Cobourg
(This and many other reasons are why we need a new government)
CRIME THE NORM
It's no wonder crime, especially brutal and gruesome murders, is on the rise over the past several years. There are absolutely no deterrents anymore. The criminal laws have been amended and rewritten over and over to the point where well-being and safety concern is now focused towards the criminal instead of the victim. What the hell happened to us as a society? Since when did the well-being of a murderer or a sex fiend become the norm? "Faint hope" clauses, early release for good behaviour, out-of-touch parole officials, fantasyland psychiatrists, and judges who either have their hands tied or are living in a different reality than the rest of us, all contribute to maniacs being released into the streets while, in some cases, their victims live in fear of being slaughtered out of revenge for getting them locked up. And it will never, ever get any safer for society as long as the justice system continues to ignore the blatant fact that there are no meaningful punishments anymore. Life is not "life," 20 years is not 20 years, and if a "youth" kills, viciously attacks someone, or is a serial rapist, they should automatically be tried as an adult and their identity revealed to the public. Enough hiding behind the societal joke called the Youth Criminal Justice Act. Better yet, bring back the death penalty. Some monsters are simply too vile to be allowed to live amongst us.
John Williams
Ajax
(Punishments do not fit the crime in this country anymore, and it has become a joke)
From our newsroom to your inbox at noon, the latest headlines, stories, opinion and photos from the Toronto Sun.
By clicking on the sign up button you consent to receive the above newsletter from Postmedia Network Inc. You may unsubscribe any time by clicking on the unsubscribe link at the bottom of our emails. Postmedia Network Inc. | 365 Bloor Street East, Toronto, Ontario, M4W 3L4 | 416-383-2300
Thanks for signing up!
A welcome email is on its way. If you don't see it, please check your junk folder.
The next issue of Your Midday Sun will soon be in your inbox.