Natural disasters in multiple provinces have overwhelmed government resources. Response is largely local, backed up by neighbouring communities.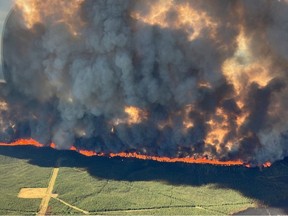 Aerial view of the Donnie Creek Wildfire is shown in this handout image provided by the B.C. Wildfire Service.

Photo by BC Wildfire Service.

/

The Canadian Press
Over the past few years, natural disasters in multiple provinces have overwhelmed the resources of communities and provinces. Disaster response is largely local, backed up by neighbouring communities and the province. The exceptions are relatively predictable risks such as wildfires, which is a provincial responsibility. Federal involvement is ad hoc and reactive. Further assistance is drawn from other municipalities, provinces, and countries as required.
The deficiency of this approach in terms of the federal response, was apparent in the cases of Lytton and Merritt, where the need to arrange federal funding has slowed down the recovery process. Furthermore, there is the implicit assumption that multiple, large-scale natural disasters don't occur in Canada at the same time.
Sign up to know what's really happening by reading daily editorials and commentary by British Columbia's opinion leaders
By clicking on the sign up button you consent to receive the above newsletter from Postmedia Network Inc. You may unsubscribe any time by clicking on the unsubscribe link at the bottom of our emails or any newsletter. Postmedia Network Inc. | 365 Bloor Street East, Toronto, Ontario, M4W 3L4 | 416-383-2300
Thanks for signing up!
A welcome email is on its way. If you don't see it, please check your junk folder.
The next issue of Vancouver Sun Informed Opinion will soon be in your inbox.
Using the Canadian Armed Forces as a fire brigade is a problem. Regular and reserve force personnel are neither trained nor possess the equipment for fire suppression. Fighting wildfires, particularly the big ones, is a specialized, skilled task. Furthermore, short-notice reallocations of military personnel for fire suppression disrupts their training and leaves them unavailable for deployment.
This ad hoc system functioned in the past as most emergency response was for natural disasters of limited scope and multiple ones rarely occurred simultaneously in Canada. Unfortunately, the increasing incidents of extreme weather events around the world suggests that what was sufficient in the past becomes increasingly inadequate in the future.
A heat dome over multiple provinces, for a protracted period, could easily overwhelm the capacity of multiple provinces to respond with their internal resources. The ability to allocate resources between provinces or even access resources from other countries, becomes less feasible.
A planned and fully resourced federal program, prepared in partnership with the provinces, is needed. Franklin D. Roosevelt, in his Lend Lease speech, used the illustration of lending you a garden hose if a neighbour's house was on fire. This approach does not work if your house is already burning.
John Shepherd, Richmond
Problem is lack of housing affordability
Re: These 10 B.C. municipalities are now required to hit housing targets
A lack of housing density in Vancouver and the other nine municipalities, now required by the provincial government's new Housing Supply Act to speed up new-home construction, is not the problem. The problem is a lack of housing affordability.
Vancouver currently has the highest population density of any city in Canada, with 5,700 people per square kilometre. If increasing housing density resulted in affordable homes, Vancouver would already be the most affordable city in the country, but it is in fact the least.
And along with increased density will come more pressure on already overcrowded and understaffed hospitals and schools. More patients in hospital hallways, more students in portables.
A better plan than increasing density, which will do nothing to address affordability, would be for the government to give more than lip service to its 2018 Building B.C. initiative, which promised $6 billion over 10 years for tens of thousands of affordable housing units.
Richard Hoover, Delta
Shot at religion uncalled for
Re: Vancouver Whitecaps feeling fines, and lots of them
The quote from Vanni Sartini in J.J. Adams's story — "Luck, like religion, is a senseless concept" — manages to insult a wide swath of fans — those who buy lottery tickets and those who pray and expect practical results. I sincerely hope that an apology will be forthcoming from the Whitecaps.
Donald Kydd, Vancouver
A pitfall of blanket upzoning
Re: Gibsons mayor calls for faster action by Victoria on Sunshine Coast water woes; and Douglas Todd: B.C.'s blanket upzoning comes with 10 problems
From 2002 through 2022, the population of the Sunshine Coast Regional District increased 22 per cent, from 27,050 to 32,850.
As Mayor Silas White, of Gibsons, remarked, the Sunshine Coast has experienced two successive years of Stage 4 water restrictions and a state of emergency in 2022.
Business-as-usual population growth boosted by the blanket upzoning proposed by the provincial government will simply make this situation intolerable, and life-threatening.
As columnist Douglas Todd presented in his Opinion piece, the provincial government needs to build critical infrastructure, such as water supply reservoirs and mains on the Sunshine Coast, in order to support the additional population.
D.B. Wilson, Vancouver
Letters to the editor should be sent to sunletters@vancouversun.com. CLICK HERE to report a typo.
Is there more to this story? We'd like to hear from you about this or any other stories you think we should know about. Email vantips@postmedia.com.