The two political leaders had much different weekends with Poilievre being celebrated and Trudeau ignored.
Get the latest from Brian Lilley straight to your inbox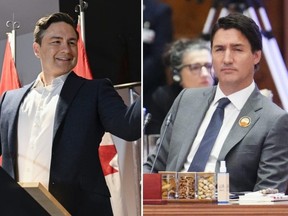 Left, Conservative Leader Pierre Poilievre gives the thumbs up to his caucus at the Conservative convention in Quebec City, Thursday, Sept. 7, 2023. Right, Prime Minister Justin Trudeau takes part in a plenary session at the G20 Summit in New Delhi, India, Saturday, Sept. 9, 2023.

Photo by Jacques Boissinot / Sean Kilpatrick

/

THE CANADIAN PRESS
For Pierre Poilievre, this weekend's events were the best of times while for Justin Trudeau they were the worst of times.
As Poilievre basked in the glow of high polls and high praise at his party's convention in Quebec City, Trudeau was in New Delhi, India trying to be relevant with world leaders who seemed to ignore Canada.
Poilievre wowed the crowd and his critics with a speech that offered Canadians hope on the most pressing issues facing the country. He pointed to housing costs doubling – both mortgage and rent payments – since Trudeau took office and highlighted the rising cost of food, fuel and energy.
"The good news is that life was not like this before Trudeau and it won't be like this after he's gone," Poilievre said.
"Which proves we can turn the hurt he has caused into the hope that Canadians need."
Former Conservative Prime Minister Brian Mulroney told his son Mark via text that he's seen a lot of convention speeches since his first convention in 1956 and Poilievre's was "probably the best."
Your noon-hour look at what's happening in Toronto and beyond.
By clicking on the sign up button you consent to receive the above newsletter from Postmedia Network Inc. You may unsubscribe any time by clicking on the unsubscribe link at the bottom of our emails or any newsletter. Postmedia Network Inc. | 365 Bloor Street East, Toronto, Ontario, M4W 3L4 | 416-383-2300
Thanks for signing up!
A welcome email is on its way. If you don't see it, please check your junk folder.
The next issue of Your Midday Sun will soon be in your inbox.
"Pierre's command of such a large amount of information in both official languages for an hour and half was extremely impressive," Mulroney wrote in the message posted to X.
"The only speech that may have challenged his was his wife Ana's."'
High praise from the former PM who still holds the record for the biggest majority in Canadian history.
The convention came as Poilievre's personal popularity has been rising in the polls. An Angus Reid poll shows twice as many Canadians view him as the best prime minister compared to Justin Trudeau while an Abacus Data poll shows Poilievre with a positive personal approval rating among Canadians.
Both polls also have Poilievre and his Conservatives with a commanding lead as Liberal support bottoms out.
Trudeau's different kind of weekend
On the other side of the planet, Trudeau was in India for the G20 Summit, not that anyone was noticing.
Trudeau and Indian Prime Minister Narendra Modi have a tense relationship at best. Just prior to leaving for the summit, Trudeau's government announced they were pausing trade talks with India without offering an explanation.
"We know the negotiations around free trade are long and complex and I won't say any more," Trudeau told reporters travelling with him.
While Trudeau wouldn't elaborate on that issue, he did say that he would raise foreign interference with Modi. Trudeau won't have much time to raise the issue given that Modi has denied Trudeau's requests for an official bilateral meeting.
While Trudeau was snubbed by Modi, Joe Biden had a bilateral meeting and Australian PM Anthony Albanese had one on the schedule. Modi also held official meetings with the leaders of Italy, Japan, the United Kingdom, Mauritius and Bangladesh.
"We will have really important conversations while we are there," Trudeau said when asked about the lack of a meeting with Modi and saying the schedule was still being worked out.
In the end, what was agreed to was a "pull aside," a very informal kind of meeting that can happen in hallways, even in kitchens in the past. It's definitely a meeting on the margins.
The Trudeau government recently launched an Indo-Pacific strategy for expanding trade and influence in the region. That's going to be difficult to do when Canada is barely talking to China and in a rocky relationship with India.
It's understandable that relations with Beijing would be strained given the last several years but that Canada is alienated from both of the largest countries in the region with growing economies is completely on Trudeau.
Like he has done with Canadian voters, Trudeau has alienated himself from many world leaders. They likely are looking forward to a change in Ottawa as much as the convention goers in Quebec City were this weekend.
KINSELLA: Tips for Conservatives to finally end Trudeau's reign

EDITORIAL: Poilievre takes aim at the Bloc in Quebec

Conservatives close convention voting on policy changes, stance on gender issues