Don't expect Trudeau's resignation after caucus meeting
Get the latest from Brian Lilley straight to your inbox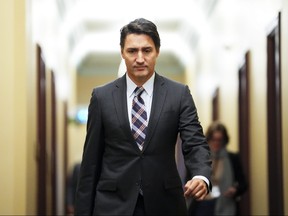 Prime Minister Justin Trudeau arrives for a cabinet meeting on Parliament Hill in Ottawa on Tuesday, Sept. 26, 2023. THE CANADIAN PRESS/Sean Kilpatrick
When you need to call a late-night caucus meeting, things generally aren't good.
On Tuesday, the Trudeau Liberals called their caucus together for an "information session," according to the invitation obtained by the Toronto Sun.
Article content
Conservative MP Brad Redekopp posted a photo of government cars waiting outside West Block to carry ministers home at the end of the event.
To understand how odd this is, you need to understand the pace of Official Ottawa. Late-night meetings like this aren't common, especially not the night before the regularly scheduled weekly caucus meetings.
Article content
The government is reeling from a series of bad mistakes that resulted in House Speaker Anthony Rota resigning over the invitation and recognition of 98-year-old Yaroslav Hunka during Ukrainian President Volodymyr Zelenskyy's address to Parliament. Hunka, as we all now know, served in a Nazi SS division during the Second World War.
His presence in the gallery has caused no end of embarrassment for Canada and headaches for Ukraine. Vladimir Putin's Russia has justified his invasion of Ukraine by saying there are Nazis there who must be eradicated, Zelenskyy cheering on a man from an SS division has given Putin the propaganda tools he craves.
Already, the Russian government is spreading false claims that the Ukrainians have issued a stamp honouring Hunka.
By signing up you consent to receive the above newsletter from Postmedia Network Inc.
Thanks for signing up!
A welcome email is on its way. If you don't see it, please check your junk folder.
The next issue of Your Midday Sun will soon be in your inbox.
Article content
Article content
As of late Tuesday, the PMO had confirmed that there had not been a call between Trudeau and Zelenskyy since the incident in Parliament. While it's understandable why Trudeau wouldn't want to go before the cameras and apologize to Canadians, the fact that he hasn't called his "good friend" Zelenskyy since the story broke is shocking.
Ukraine is far from the only headache hitting Trudeau and his team at the moment.
Subrahmanyam Jaishankar, India's foreign minister, subtly accused Canada of harbouring terrorists at a speech at the United Nations. In an interview, he later repeated claims that the Trudeau government has offered up no proof nor evidence to support the claim that India was involved in the execution of Hardeep Singh Nijjar in Surrey, British Columbia in June.
Article content
The Modi government has weaponized Indian media to continually attack Trudeau at home and around the world. In a PR battle, Trudeau, and by extension Canada, is getting clobbered.
On Tuesday, the Trudeau government received a letter from the Hindu Forum of Canada's lawyer saying they are concerned about safety and requesting the government not allow Nijjar ally Gurpatwant Singh Pannu into Canada. At around the same time, Trudeau was also called out by the Muslim Association of Canada for his comments regarding parental protests over gender issues in school last week with MAC denouncing Trudeau's position.
Recommended from Editorial
EDITORIAL: Trudeau owes Canadians and our allies an apology

GUNTER: Under Trudeau, Canada fades from world stage

BISHOP: Saying sorry not enough, time for Canada to do better
Article content
He really is in a position of angering all the people all the time these days.
That said, don't expect Trudeau to go anywhere, he's staying on unless he is pushed out and the meeting on Tuesday night was about that. MPs heard plans for how the Liberal government will attempt to fight back, change the channel and reverse their declining poll numbers.
One item floated Tuesday that many Liberals didn't like was the idea of backing New Democrat Carole Hughes as Speaker to shore up NDP support and keep the coalition alive to fight another day.
The latest poll from Leger shows not only a 12-point lead for Pierre Poilievre's Conservatives over Trudeau's Liberals, it shows growing support for the Conservatives in Quebec.
In some ways, this is both Trudeau's nightmare and his dream scenario. Trudeau isn't interested in governing and objectively, he's very bad at it, but he loves to fight and he loves to campaign and right now, against the ropes, he thinks he has what it takes to come back and beat Poilievre.
It might be difficult to imagine Trudeau coming back at this point, but a week is a lifetime in politics and as the past few weeks have shown, things can change quickly.
Stay tuned.
blilley@postmedia.com
Article content