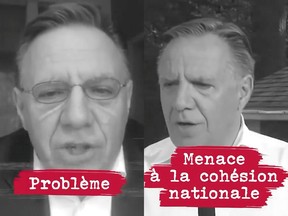 Screengrab of a video posted on social media by Monsef Derraji, a Liberal candidate and the incumbent MNA for Nelligan on the West Island. The video attacks François Legault's immigration policies.
Sign up to receive daily headline news from the Montreal Gazette, a division of Postmedia Network Inc.
By clicking on the sign up button you consent to receive the above newsletter from Postmedia Network Inc. You may unsubscribe any time by clicking on the unsubscribe link at the bottom of our emails. Postmedia Network Inc. | 365 Bloor Street East, Toronto, Ontario, M4W 3L4 | 416-383-2300
Thanks for signing up!
A welcome email is on its way. If you don't see it, please check your junk folder.
The next issue of Montreal Gazette Headline News will soon be in your inbox.
Top updates
Legault dismisses 'negative' Liberal attack ad focused on CAQ's 'divisive, exclusionary' immigration stance
Monsef Derraji, a Liberal candidate and the incumbent MNA for Nelligan on the West Island, has posted a stark attack ad on social media.
"From the start, François Legault has held a discourse based on contempt for immigrants," Derraji, who was born in Morocco, said on Twitter. "His politics flirt with division."
Asked about the video at a press conference, Legault said he had not watched it.
"He's starting to be even more negative than (Dominque) Anglade so that's a lot," the CAQ leader said.
Depuis le début, François Legault tiens un discours basé sur le mépris des immigrants.
Sa politique flirte avec la division.

Le réélire c'est l'encourager dans sa dérive.

Le 3 octobre il faut lui dire un NON claire et net.#qc2022 #polqc pic.twitter.com/iwKiDdrFFv

— Monsef Derraji (@monsefderraji)

September 28, 2022
At a press conference in Rouyn-Noranda, Coalition Avenir Québec Leader François Legault was asked about Jean Boulet, the CAQ candidate and immigration minister who .
Will Boulet remain a CAQ candidate?
Yes, Legault said.
But Boulet "disqualified himself from being immigration minister" in a second mandate, he added.
Could he be tapped for a cabinet post if the CAQ is re-elected on Oct. 3?
"We'll look at the cabinet on Oct. 4 if we're re-elected," Legault answered.
The CAQ leader noted that Boulet "is sad about what he said" and has apologized.
"Everyone who knows Jean Boulet knows that it's not him, what he said in that debate," Legault said.
Watch the press conference:
Noon
Dominique Anglade calls on voters to look deep inside themselves, vote for their values
Liberal Leader Dominique Anglade today called on Quebecers to look inside themselves and vote their conscience in the wake of comments denigrating immigrants and painting immigration as a threat made by incumbent premier François Legault and his immigration minister, Jean Boulet.
Read our full story, by René Bruemmer.
Noon
Éric Duhaime makes a 'final pitch' to anglos
Éric Duhaime said his Conservative Party of Quebec is making a final pitch to anglophones to abandon the Liberals and vote for his party during the Quebec election.
Read our full story, by Jason Magder.
Protesters target François Legault in Rouyn-Noranda over arsenic emissions
"We want to send a message that our lives are worth more than profits," says protestor Émilie Robert as debate rages over future of Horne smelter. pic.twitter.com/Qpsoef3aZE

— Philip Authier (@PhilipAuthier)

September 29, 2022
Boulet should not be a CAQ candidate, Duhaime says
In an interview on CHOI FM radio in Quebec City this morning, Conservative Leader Éric Duhaime said Jean Boulet should be dumped as a candidate by the Coalition Avenir Québec over .
Duhaime said that in a controversial statement during a local radio debate, Boulet made it clear that he doesn't know that most immigrants have jobs and that more than one-third of them do not live in Montreal.
"I don't understand how this guy is still a CAQ candidate this morning," Duhaime said.
François Legault, the CAQ leader and incumbent premier, yesterday said Boulet will not remain immigration minister in if his party wins a second mandate.
In a radio interview this morning, Boulet would not say what Legault told him about the possibility of being given a different portfolio.
Legault tours ventilation company
Duhaime jogs with supporters on Plains of Abraham
11 a.m.
'You're saying things that are false' – Legault loses patience in interview about arsenic emission
Legault 'should be embarrassed to walk the streets of Rouyn-Noranda, Nadeau-Dubois says
Boulet apologizes again, won't say what Legault told him about possible cabinet post
Jean Boulet says he's very sorry and he understands why he won't remain immigration minister.
But he wouldn't say whether François Legault told him he could get a different portfolio if the Coalition Avenir Québec government wins a second mandate.
In an interview on 98.5 radio this morning, Boulet, a CAQ candidate in Trois-Rivières and the current immigration and labour minister, apologized again for comments that derailed the CAQ campaign on Wednesday.
In a radio debate that occurred a week earlier but was not widely reported at the time, Boulet said: "80 per cent of immigrants go to Montreal, do not work, do not speak French or do not adhere to the values of Quebec society."
"I hurt immigrants in Quebec and from the bottom of my heart, I'm sorry for that."
He added: "It doesn't reflect my thinking, my actions nor what I did as minister."
Boulet said he uttered the words in the heat of a debate in which "time was extremely limited."
"It's a statement made in a few seconds in a 90-minute debate and it's not at all a reflection of what I do and what I think."
Host Paul Arcand asked Boulet repeatedly why he said it in the first place, but Boulet did not answer directly.
He said what he wanted to say was "that we have to improve regionalization and that's what" he has done as minister.
"What I should have said was that there are a certain number (of immigrants) who don't speak French, a certain number who don't work and a certain number who may not adhere to Quebec values."
He added: "Immigration is an asset for Quebec. We are an extremely open society. I have visited all of Quebec's regions and we want to welcome them, we need them and they contribute not only to economic vitality but (they help) make Quebec an inclusive and humane society."
Boulet was asked about critics who say he was trying to court anti-immigrant voters.
"Absolutely not," he responded. "Everyone who knows me knows that I'm an extremely open person."
Yesterday, François Legault, the CAQ leader and incumbent premier, told reporters that Boulet had "disqualified himself" as immigration minister and would lose the portfolio should the party win re-election.
Boulet said he spoke to Legault yesterday.
"I understand the decision he took to disqualify me as immigration minister," Boulet said. "I made one statement that was unacceptable."
Did Legault tell him he would not hold any portfolio in a second CAQ mandate?
Boulet did not answer, noting the conversation was "personal and private." He added that he and Legault "remain on excellent terms."
He said he has no intention of quitting politics.
"No, because I love politics, I do politics in a sincere, authentic and human manner. And I work with integrity and rigour. And people can judge. It's not a few seconds that reflect an entire professional and political career."
A labour lawyer, Boulet was first elected in 2018.
It's not the first time Boulet has stirred controversy with a statement about immigration.
In a December 2021 tweet, Boulet implied asylum seekers were bringing COVID-19 into the province.
At the time, he was worried about the arrival of refugees via Roxham Road in the midst of a pandemic and asked the federal government to close this route of entry into the country.
Conservatives lead in one Beauce riding and are in tight race with CAQ in another, poll suggests
The Beauce region south of Quebec City is one of the areas where the Quebec Conservatives hope to make inroads on Oct. 3.
A new poll, by Segma Recherche, suggests the party led by Éric Duhaime is leading in one of the ridings (Beauce-Nord) and in a tight race in another (Beauce-Sud) with the Coalition Avenir Québec, led by François Legault.
The CAQ won both ridings in 2018.
The poll was conducted for Le Soleil and FM93.
Opinion: By bashing immigrants, CAQ bites the hand that feeds Quebec
"Quebec badly needs the very immigrants the party leading in the polls is disparaging and depicting as a problem.
"The blatant politicization and polarization of this sensitive issue only undermine prosperity, plays Quebecers for fools and harms the social fabric François Legault pledges to be so concerned about."
Read Allison Hanes' latest column.
'Don't let the premier's remarks shake your Quebec identity,' QS candidate tells immigrants
Ruba Ghazal, a Québec solidaire candidate and the incumbent MNA in Mercier in Montreal's Plateau borough, has posted a video attacking François Legault and Jean Boulet over their controversial statements about immigrants.
«Je veux m'adresser aux jeunes qui arrivent ici et qui se sentent attaqués par les propos de François Legault. Si vous vous sentez Québécois, vous l'êtes. Ne laissez pas les propos du premier ministre ébranler votre identité québécoise.» — @RubaGhazalQS#PolQc #Qc2022 pic.twitter.com/BgMD9AvjZc

— Québec solidaire (@QuebecSolidaire)

September 28, 2022
CAQ warns of scam text messages
The Coalition Avenir Québec is indeed offering to deliver money to Quebecers if the party is re-elected.
But it's not sending out text messages.
The party has issued a warning to Quebecers, saying scammers are using its name in a phishing campaign.
🚨Un message texte frauduleux circule présentement disant qu'un montant de 600,00 $ vous a été envoyé de notre part. Il s'agit d'une fraude.

Veuillez ne pas cliquer sur le lien‼ pic.twitter.com/G4NG4CsIKk

— Coalition Avenir Québec (@coalitionavenir)

September 28, 2022
Rouyn-Noranda copper smelter is safer than people think, Legault says
François Legault is downplaying potential health hazards caused by arsenic emissions at the Horne copper Smelter in Rouyn-Noranda in northwest Quebec.
One day before his election campaign caravan pulls into the region, Legault reacted to an open letter published by three local doctors who questioned the remarks Legault made about the foundry Sunday when he appeared on the Radio-Canada talk show Tout le monde en parle.
Read our full story, by Philip Authier.
Quebec should target Aboriginal reserves in fighting illegal guns trade: Duhaime
Conservative Leader Éric Duhaime says authorities need to crack down on the proliferation of illegal arms, suggesting that they raid Aboriginal reserves to do so.
Read our full story, by Jason Magder.
Québec solidaire would increase welfare payments and hike minimum wage
A Québec solidaire government would fight poverty by raising welfare payments by 45 per cent, increasing the minimum wage from $14.25 to $18 an hour, and temporarily subsidizing small businesses and community groups to help them adjust to higher payroll costs, according to that party's candidate for premier.
Read our full story, by Michelle Lalonde.
What are the five major parties taking part in Quebec's provincial election?
Here's a look at the five parties vying to form Quebec's next government.
Read our full story.
Election Guide: What you need to know about the campaign and voting
How do you check if you're on the electoral list? Are you allowed to vote? When can ballots be cast?
Read our full story.
Sign up for our free Quebec election newsletter
Follow all the action along Quebec's 2022 provincial election campaign trail with coverage and analysis from the experts at the Montreal Gazette.
Delivered Tuesdays, Thursdays and Saturdays at 7 p.m.
You can sign up here.
ariga@postmedia.com
Read my previous live blogs here.
Quebec election, Sept. 28: PQ leader defends candidate who wondered why 'visible minorities resist so much when they are arrested'

Quebec election, Sept. 27: Sovereignty isn't a priority but independence would be 'viable,' Legault says

Quebec election, Sept. 26: High turnout in early voting a 'good sign' Quebecers want change, Duhaime says

Quebec election: What you need to know about the campaign and voting