Abbotsford Police said the man was "non-compliant" during the arrest. The incident is under review.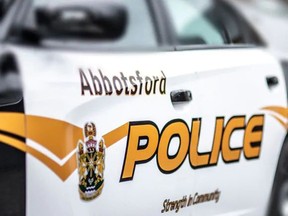 The incident occurred Saturday night after the Offspring concert at Abbotsford Centre.
Photo by PNG Files
The Abbotsford Police Department is investigating one of its officers after a violent arrest outside Abbotsford Centre on the weekend.
Officers were dealing with a person after the Offspring concert outside the arena on Saturday night when a bystander began to interfere, said police.
Start your day with a roundup of B.C.-focused news and opinion delivered straight to your inbox at 7 a.m., Monday to Friday.
By clicking on the sign up button you consent to receive the above newsletter from Postmedia Network Inc. You may unsubscribe any time by clicking on the unsubscribe link at the bottom of our emails. Postmedia Network Inc. | 365 Bloor Street East, Toronto, Ontario, M4W 3L4 | 416-383-2300
Thanks for signing up!
A welcome email is on its way. If you don't see it, please check your junk folder.
The next issue of Sunrise presented by Vancouver Sun will soon be in your inbox.
The man ignored police's directions to disengage and was told he was under arrest for obstruction.
The man was uncooperative during the arrest, said police, "resulting in the officer using force on him, striking him twice in the face before taking him into custody and placing him in handcuffs."
The incident was captured on video and posted on social media.
In the video, a man could be seen on the ground with officers around him. Someone could be heard saying the man was put in a head lock.
The video shows the man getting to his feet. Two officers appeared to be trying to handcuff him, holding his arms. Then, one officer could be seen punching him twice on the face, causing him to fall onto the roadway.
Abbotsford police said it is aware that a video of the arrest is on social media.
It said the use-of-force incident is being reviewed by the department's professional standards section. The Office of the Police Complaint Commissioner was also notified Sunday.
chchan@postmedia.com
twitter.com/cherylchan