Killers Dellen Millard and Mark Smich are appealing, but already expect reduced sentences thanks to last year's Supreme Court decision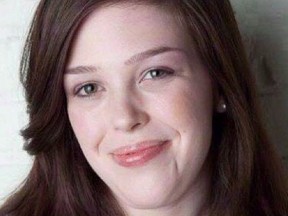 Murder victim Laura Babcock is shown in a Toronto Police Service handout photo.
Each life deserves equal justice. But Laura Babcock has had hers stolen, her life taken with no repercussions at all.
When thrill killers Dellen Millard, 37, and Mark Smich, 35, appeal their convictions in March for murdering the beautiful young Toronto woman, it's inevitable that Ontario's highest court will reduce their sentences.
From our newsroom to your inbox at noon, the latest headlines, stories, opinion and photos from the Toronto Sun.
By clicking on the sign up button you consent to receive the above newsletter from Postmedia Network Inc. You may unsubscribe any time by clicking on the unsubscribe link at the bottom of our emails or any newsletter. Postmedia Network Inc. | 365 Bloor Street East, Toronto, Ontario, M4W 3L4 | 416-383-2300
Thanks for signing up!
A welcome email is on its way. If you don't see it, please check your junk folder.
The next issue of Your Midday Sun will soon be in your inbox.
Inevitable, but "disgusting," says Babcock's mother Linda.
Found guilty first of murdering Ancaster dad Tim Bosma, then Babcock and finally his own father Wayne, Millard was sentenced in 2018 to the longest known term in Ontario history — a life sentence with no eligibility for parole for 75 years.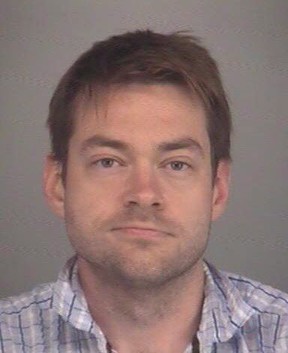 Dellen Millard is shown in a police handout photo.
Convicted of killing Bosma and Babcock, his former best friend and partner in crime was sent away for life with no parole eligibility for 50 years.
But thanks to a controversial ruling by the Supreme Court last May striking down consecutive periods of parole ineligibility as "cruel and unusual punishment," these heartless killers will no longer have to appeal their sentences.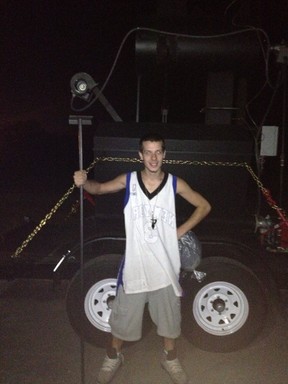 Supplied court exhibit image of Mark Smich from the Dellen Millard and Mark Smich first-degree murder trial in the death of Laura Babcock from the proceedings on November 9, 2017 at the court house at 361 University Ave. in Toronto, Ont.

Photo by Court Exhibit

/

Toronto Sun/Postmedia Network
Their terms will invariably be reduced to what they would have received if they'd murdered just one person — life with the ability to apply for parole in 25 years.
"As far as we understand, it's become a moot point since the Supreme Court decided Bissonnette," said Smich's appeal lawyer Richard Litkowski, referring to the deciding case involving Quebec mosque shooter Alexandre Bissonnette. "It's a done deal."
He believes public outrage is misplaced.
"A person is sentenced to life; people only have one life to give," the lawyer explained. "I think the common misconception is that the sentence is 25 years. The sentence is not 25 years, it's a life sentence."
And the 25-year mark isn't an automatic get out of jail free card.
"As we know from experience in many of these cases, it's highly unlikely," Litkowski added. "People are not routinely granted the opportunity to be released after 25 years."
MANDEL: Dellen Millard a serial killer after conviction for murdering his dad

MANDEL: Crown wants triple killer Dellen Millard jailed until at least age 102

MANDEL: Dellen Millard allegedly emotionless after discovering dead father in bedroom

MANDEL: Throw away the key for double killers Dellen Millard and Mark Smich
Millard and Smich have been in custody since their arrests in May 2013, so the pair have 15 years to go before they can make their first attempt. But Linda Babcock thought she'd never have to face her daughter's killers at a parole hearing. Now that slim comfort is being ripped away.
"Whenever I see the Kristen French and Leslie Mahaffy families when Bernardo comes up for parole, my heart breaks for them. And now we'll be going through the same thing, which is so unfair," she says in an interview.
"That's what the Supreme Court has done to us; it's made the rest of our lives about waiting for parole hearings. So our torture continues.
"And in our minds, Millard got a life sentence for Tim Bosma's murder and ours was a freebie, so was his dad's."
More than 10 years ago, her 23-year-old daughter dropped off her dog at her parents' Etobicoke home. And then she vanished. Couch-surfing for months, the beautiful but troubled U of T grad had worked part-time as an escort and struggled with mental health issues, so Toronto Police paid little attention to the worries of her family and friends.
Or to their concerns that eight of Babcock's last phone calls had been to Millard, the sketchy playboy aviation heir she'd dated.
Together with his drug-dealing, wannabe rapper buddy, Millard almost got away with her murder but for the duo's high-profile slaying the following year of Bosma, a popular Ancaster family man who disappeared in May 2013 after giving two men a test drive of the truck he'd listed for sale.
Descriptions of the potential buyers eventually led investigators to Millard and Smich.
But Babcock was their first kill.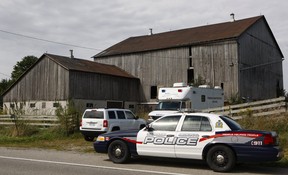 Toronto Police detectives, Forensics officers and members of the Waterloo Regional Police Drug Squad returned to accused killer Dellen Millard's farm west of Cambridge Monday. CHRIS DOUCETTE/TORONTO SUN
Millard wanted her dead because she was complicating his love life — still infatuated with him after a short romance, she'd told his current girlfriend, Christina Noudga, that they were still sleeping together.
Millard assured the jealous Noudga in texts from April 2012 that "first I am going to hurt her. Then I'll make her leave."
In another, he promised he'd "remove her from our lives."
And so he did. On the evening of July 3, 2012, GPS signals showed the phones of both Millard and Babcock were together at Kipling TTC station and then at his Etobicoke home, where the Crown argued the young woman was shot to death.
He and Smich then cremated her body in The Eliminator, Millard's newly-purchased industrial animal incinerator that he hooked up outside his hangar at the Waterloo airport. Smich later wrote a horrifying rap about it on Babcock's iPad: "The b—- started off all skin and bone, now the b—- lay on some ashy stone …"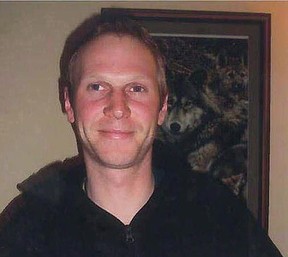 Tim Bosma is seen in an undated handout photo.

Photo by Handout

/

Hamilton police
The Bosma trial was held first and after their convictions in Hamilton, Millard and Smich were tried in Toronto for Babcock's murder. In his appeal, the rich kid complains that he was unfairly forced to represent himself because Justice Michael Code refused his many requests to delay the trial to allow Millard to access his frozen funds and hire a lawyer who'd have enough time to prepare his case.
The Babcock appeal, prepared by lawyer Ravin Pillay, also claims Millard has "fresh evidence" of a second witness who spotted Babcock in the fall of 2013 at an Etobicoke bulk food store, long after Millard was supposed to have killed her.
When it comes to appealing his convictions for murdering his father and Bosma, the serial killer is apparently representing himself — as he did at the Babcock trial.
"How could he miss out on another chance to grandstand?" says his victim's mother. "He gets his name and face in the paper, he's a somebody again."
For his appeals, Smich insists the two trial judges made many legal errors, including using evidence against him that only implicated his co-accused. He admits there's "strong evidence" he helped burn Babcock's body, but denies taking part in her murder.
"Part of the problem at trial from my perspective is both of the accused were dealt with almost as a single entity," his lawyer said. "We think the Crown's cases against our client at both trials was far weaker than the ones against Mr. Millard."
The appeals are scheduled to be heard during the week of March 13 by the same panel of judges, with both Millard and Smich seeking new trials. "It's emotionally draining and I'm not looking forward to it," says Babcock's mom. "I have two more months to suffer and I'm counting the days and we'll see what happens."
Before that grueling trip downtown to the Ontario Court of Appeal, there will be another painful visit in a few weeks to a bench they have in a local park to lay flowers to mark their daughter's birthday.
"She would have been 34," Babcock says softly, her voice catching.
"It's so unfair," she adds, that softness replaced by anger. "We have a life sentence. Theirs is not a life sentence anymore."
mmandel@postmedia.com