Get the latest from Michele Mandel straight to your inbox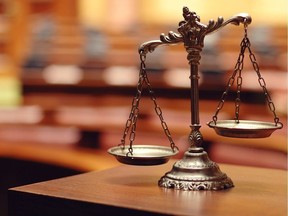 Scales of justice
Fotolia
At the Bay St. office of the Ontario Public Guardian and Trustee, many of Adellene Balgobin's co-workers knew about her turbulent affair with Toronto Police Const. Rob Konashewych.
What they didn't know, two witnesses testified, was that her boyfriend had inherited more than $830,000 from one of her elderly, incapacitated clients in 2018 or that Balgobin had helped him with his probate court application.
From our newsroom to your inbox at noon, the latest headlines, stories, opinion and photos from the Toronto Sun.
By clicking on the sign up button you consent to receive the above newsletter from Postmedia Network Inc. You may unsubscribe any time by clicking on the unsubscribe link at the bottom of our emails or any newsletter. Postmedia Network Inc. | 365 Bloor Street East, Toronto, Ontario, M4W 3L4 | 416-383-2300
Thanks for signing up!
A welcome email is on its way. If you don't see it, please check your junk folder.
The next issue of Your Midday Sun will soon be in your inbox.
Both Konashewych, 39, and Balgobin, 36, have pleaded not guilty to fraud over $5,000. Balgobin has also pleaded not guilty to breach of trust.
Balgobin worked as an OPGT senior client representative who took care of the financial affairs of people no longer capable of doing so – including Heinz Sommerfeld, who had come under the office's responsibility in 2008 after the retired draughtsman for the Ontario Ministry of Transportation developed Alzheimer's and was placed in a nursing home.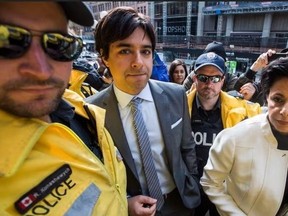 Toronto Police Const. Robert Konashewych — left and closest to the camera — is pictured in a May 11, 2016 photo. The photo is unrelated to Konashewych's current trial. The photo shows former CBC radio host Jian Ghomeshi as he makes his way to a Toronto courthouse where he signed a peace bond and apologized to a complainant. The Crown then withdrew a charge of sexual assault against Ghomeshi.

Photo by The Canadian Press

/

Toronto Sun
Former co-worker David Tripp told the jury that he'd often talk to Balgobin at her cubicle, where she had a photo of Konashewych on her desk.
"She discussed it (the relationship) very openly," he said.
Initially giddy about the romance that she told colleague Ben Pettigrew had begun in 2014, Balgobin became suspicious when Konashewych wouldn't let her come to his apartment.
She later found out why: he was living with another woman – Candice Dixon.
Pettigrew testified Balgobin told him Konashewych couldn't leave Dixon because he was in debt.
"She explained to me that Rob and Candice lived together out of necessity," he testified. "Rob couldn't afford to leave, there were common-law implications if he were to leave and they were not having a loving relationship."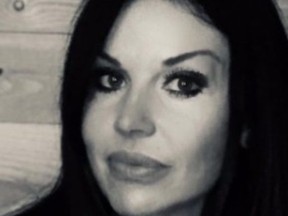 Candice Dixon.

Photo by Candice Dixon

/

Facebook
But he said Balgobin would become distraught every time she'd find new social media photos of the smiling, happy couple together. In 2017, she wrote Pettigrew, "I'm not doing this anymore. I'm ready to move on with my life."
She didn't leave, he said.
Pettigrew would continually tell her the relationship wasn't good for her, especially after Dixon found out about the affair through Tripp's wife, who worked at a Yorkville hair salon.
But Balgobin stood by her man, texting her colleague in December 2017: "He's leaving her in six months. We're going to move in together."
In her last text to Pettigrew, Balgobin wrote: "If anyone asks if I know Rob, say no. She's trying to get me fired."
The jury has heard it was Dixon's suspicions about Konashewych and his girlfriend that led police to investigate Sommerfeld's will.
The elderly Mississauga man was a loner with an estranged half brother living in Haliburton who had lost touch with him years earlier.
Three days after his brother died in 2017 at the age of 77, Peter Stelter said he got a call from the OPGT informing him of the death and telling him they'd be in touch. A few hours later, he said he was told a will had "popped up" from 2006 that listed Konashewych, who would have been 22 at the time, as Sommerfeld's executor and lone beneficiary.
MANDEL: Ex-girlfriend says she put clues together, went to police with suspected fake will

MANDEL: Ex testifies against cop on trial for defrauding recluse's estate

MANDEL: With lover's help, cop cashed fake $800,000 inheritance, Crown says
Stelter, who described his brother as a hermit and recluse, said he'd never heard of Konashewych.
"I was surprised," he testified. "It was a little suspect so we decided to get a lawyer and he did an investigation and as far as he was concerned, it looked fine."
Stelter said he didn't have any more money to pursue it further.
Prosecutors say it wasn't fine – they allege Konashewych had faked the will, right down to the supposed witnesses: "John David William Liminski" of Gerrard St. and "Jonathan Steven Aseltine" of Marguita Cres. in Mississauga.
Three federal civil servants testified Friday that they were asked to run the two names through their databases, including records of social insurance numbers, passport holders and people who have entered into Canada. The names, and variations of the names, didn't turn up in any of them, the jury heard.
Not even in the SIN database.
"I did many searches and I was not able to find anyone by those names," testified Jean Michel Whissell, of the social insurance program. "There is nothing close to those names in our database."
The Crown is expected to close its case Monday.
mmandel@postmedia.com