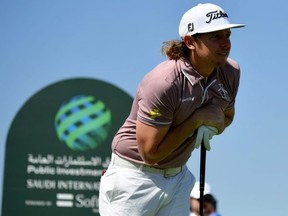 Australian Cameron Smith says his fellow LIV golfers should become eligible for points, otherwise world rankings won't matter. Getty Images
Are golf's world rankings doomed?
That's what the world No. 4 apparently thinks. The truth, however, is that the Official World Golf Rankings have never seemed as important. In the fight over the future of golf at it's highest level, the world rankings — along with major championships — find themselves tasked with sorting out the gloves and helmets left scattered on the ice.
From our newsroom to your inbox at noon, the latest headlines, stories, opinion and photos from the Toronto Sun.
By clicking on the sign up button you consent to receive the above newsletter from Postmedia Network Inc. You may unsubscribe any time by clicking on the unsubscribe link at the bottom of our emails or any newsletter. Postmedia Network Inc. | 365 Bloor Street East, Toronto, Ontario, M4W 3L4 | 416-383-2300
Thanks for signing up!
A welcome email is on its way. If you don't see it, please check your junk folder.
The next issue of Your Midday Sun will soon be in your inbox.
It was LIV golfer and Open Champion Cameron Smith who said Wednesday that the rankings were on their way to obsolescene unless he and his LIV brethren become eligible for points. For the record, Greg Norman's tour has applied for status but he and his players aren't happy waiting for a process that works in months or years, rather than days. And nobody on Four Aces or Majestiks seems interested in understanding that it's a rather complicated question considering LIV Golf plays 54-hole, limited field events, with no cuts.
"For sure it hurts. I feel as though I was really close to getting to No. 1, and that was definitely something I wanted to tick off, but kind of the longer that this stuff goes on, I think the more obsolete those rankings become," Smith said from the Saudi International.
For the moment, the Australian has little to complain about compared to other LIV golf headliners. Smith still finds himself world No. 4 on the strength of a monster 2022 when he won the Players Championship and the Open Championship. Compare that to Dustin Johnson, Brooks Koepka, and Bryson DeChambeau who since leaving the PGA Tour have tumbled to 46th, 66th, and 96th respectively.
These golfers all find themselves in a situation more common than they think. They aren't the first people to leave the relative comfort of a popular and successful company or platform only to be shocked to discover that their relevance and status in the industry isn't what it used to be. It happens in the media business, show business, probably your business too.
It seems there are a number of golfers who are in the process of finding out the hard way that it was the PGA Tour platform that made them stars. Being really, really, really good at golf is a great thing, but it doesn't guarantee you a place in golf's professional hierarchy once you leave the game's long-established ecosystem.
All that money didn't come without risk.
GOLF IS A NUMBERS GAME
"I think when you walk up to a tournament, you know who you have to beat, whether there's a World Ranking or not," Smith said in Saudi Arabia. "There's generally seven or eight guys that are in that field that you know are going to put up a pretty good fight."
This is what the best players in the world tend to get wrong. Looking at LIV Golf's winners from last year, four of the guys who won the fight were Charl Schwartzel, Henrik Stenson, Branden Grace, and Eugenio Chacarra.
This idea is also what seems to have, in a different way, caught the attention of PGA Tour star Jon Rahm. The world No. 3 called the current world ranking system laughable. Actually, late last year in Dubai he called it, "Laughable, laughable, laughable."
Rahm seems to have since simmered a bit, but his objections were to the new method of calculating the rankings that puts a greater emphasis on field size compared to the number of top players in the tournament. The Spaniard's win at the Sentry Tournament of Champions over 38 of the world's best earned him nearly exactly the same amount of ranking points as Canadian Adam Svensson earned by winning the RSM Classic against a much weaker, albeit far larger field.
The reality is that wining a golf tournament has always been a numbers game. For every Jon Rahm or Rory McIlroy win, you'll see a trophy raised by a Svensson or Trey Mullinax, or J.J. Spaun. Unless you are Tiger Woods, the best players in the world win less than 10% of the time.
Speaking of Tiger, the 15-time major champ is ranked 1281st in the world, but doesn't seem to be complaining.
CAM STILL THE MAN
We shouldn't be too tough on the man with the golden mullet, because it has to be a little bit different as an Australian when Greg Norman comes asking for you. If Mike Weir had endless money and a new golf tour, I don't think we'd be surprised if Corey Conners, Mackenzie Hughes, and Adam Hadwin at least heard the Masters champ out.
Also, Smith is 29 years old, coming off a massive breakout year, and his greatest strength is his putter, golf's most finicky club. Tough to fault him for cashing in.