There's a good chance of snow flurries on the first day of December Thursday, with temperatures expected to drop to - 6 C that night.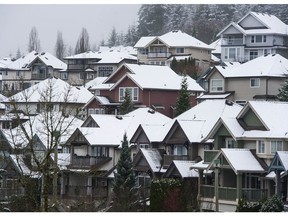 File photo of snow in Port Moody. Photo by Jason Payne.

Photo by Jason Payne

/

PNG
Some Metro Vancouver residents could be walking in a winter wonderland for the start of December this week.
Environment and Climate Change Canada is forecasting colder temperatures and possible snow beginning overnight Monday at higher elevations.
Start your day with a roundup of B.C.-focused news and opinion delivered straight to your inbox at 7 a.m., Monday to Friday.
By clicking on the sign up button you consent to receive the above newsletter from Postmedia Network Inc. You may unsubscribe any time by clicking on the unsubscribe link at the bottom of our emails. Postmedia Network Inc. | 365 Bloor Street East, Toronto, Ontario, M4W 3L4 | 416-383-2300
Thanks for signing up!
A welcome email is on its way. If you don't see it, please check your junk folder.
The next issue of Sunrise presented by Vancouver Sun will soon be in your inbox.
Periods of snow or rain are expected Tuesday and Wednesday, with daytime highs around 5 C and overnight lows dipping down to – 3 C.
On Thursday, the first day of December, there's a good chance of snow flurries in the morning, and at night when the mercury is expected to drop to – 6 C.
That means Vancouver will be opening five extreme weather response shelters (for temperatures that feel like zero or colder) in addition to the five temporary shelters that open every night from Nov. 1 to March 31. If the temperature feels as low as – 5 C, the city will also open five warming centres.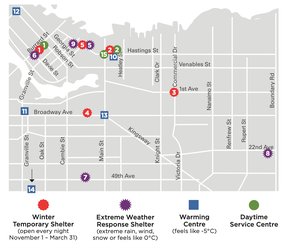 Source: The City of Vancouver.
Elsewhere in B.C., Environment and Climate Change Canada has issued a dozen snowfall warnings or winter storm watches for communities in the southeast and the northern parts of the province.
A Pacific frontal system is expected to sweep through the B.C. Interior this weekend, bringing heavy snow and strong winds before it tapers off on Sunday.
Snowfall warnings have been issued for parts of the Boundary, East Columbia, Kootenay Lake, Shuswap, West Columbia and West Kootenay and Peace River regions.
Winter storm warnings have been issued for parts of Fraser Canyon, Fraser Valley, Nicola region, the Okanagan Valley, Similkameen and South Thompson areas.
The weather office says the storm is expected to bring up to 25 centimetres of snow.
The agency warns drivers that heavy snow is also expected in the coastal passes and combined with gusting winds, it will create poor driving conditions.
The most challenging drives this weekend will be for those travelling from the Interior to the coast, according to Kelly Sonnenburg, a meteorologist at The Weather Network.
Sonnenburg said the Coquihalla Highway is expected to receive between 20 to 40 centimetres of snow with some icy precipitation mixed in.
"With temperatures well below the freezing mark most, if not all, precipitation will fall as snow," said Sonnenburg. "It will have been over three weeks since Vancouver and the lower elevations had received snow, and this event could be much more significant than the last."
This week, daytime highs will be in the minus double digits for many parts of central and northern B.C. and in the minus single digits in the south, the network said.
B.C. Housing announced earlier this month that the province would have 2,080 temporary winter shelter spaces and more than 480 extreme weather response shelters.
With the new spaces, more than 4,910 shelter spaces are open in 50 communities throughout the province, including permanent, temporary and emergency shelters, according to B.C. Housing.
ticrawford@postmedia.com
—with files from The Canadian Press