While the linebacker portrayed it as lacking a killer instinct in 32-31 loss to the Elks in July, it has improved under defensive co-ordinator Noel Thorpe's tutelage.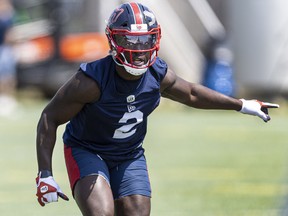 "This is the most unique defence I've been on," says Alouettes middle-linebacker Micah Awe as Montreal prepares to battle the Elks at Commonwealth Stadium in Edmonton on Saturday, Oct. 1, 2022.

Photo by Pascal Ratthe

/

jpg
EDMONTON — Micah Awe's first game at middle-linebacker with the Alouettes — on July 14, against Edmonton — must now seem like a distant memory.
That night, which coincided with Danny Maciocia's first game as interim head coach and Noel Thorpe's as defensive co-ordinator, Montreal squandered a 19-point third-quarter advantage, losing 32-31 to the Elks.
Since the Montreal Canadiens making the Stanley Cup finals for the first time in 28 years, this newsletter is the dedicated Montreal Canadiens fan's source for exclusive Habs content, insight and analysis.
By clicking on the sign up button you consent to receive the above newsletter from Postmedia Network Inc. You may unsubscribe any time by clicking on the unsubscribe link at the bottom of our emails. Postmedia Network Inc. | 365 Bloor Street East, Toronto, Ontario, M4W 3L4 | 416-383-2300
Thanks for signing up!
A welcome email is on its way. If you don't see it, please check your junk folder.
The next issue of HI/O: Montreal's Road to the Cup will soon be in your inbox.
Awe said then the Alouettes' defence lacked a killer instinct.
While the unit is still seeking to play the perfect game, and might never, it has improved under Thorpe's tutelage, allowing only 26 points and two touchdowns in consecutive victories against B.C. and Hamilton.
"This is the most unique defence I've been on," Awe said. "I call myself the fifth defensive-lineman sometimes. I always felt I had versatility as a linebacker. Lots of times I'm on the line of scrimmage, or I'm covering a man. I'm doing everything. I blitz now and am working on my pass rush.
"I have a huge responsibility and can't be the weak link. As long as I'm strong, everyone else can make plays. It's the first time in my career I've felt that responsibility. It's a challenge."
The Alouettes will attempt to win a season-high third consecutive game Saturday afternoon (4 p.m., TSN1, TSN3, RDS, TSN690.ca, 98.5 FM) when they battle the Elks at Commonwealth Stadium. Montreal (6-7) can reach the .500 mark for the first time this season with a victory, while Edmonton (4-10) hasn't won at home since Oct. 12, 2019. Another loss would tie a CFL record with the 1988 Ottawa Rough Riders at 15.
Last Friday, Montreal defeated a Tiger-Cats team looking for its first road win this season. Montreal doesn't want the dubious distinction of becoming the first team to lose to the Elks at Commonwealth since the Lions.
"They're a good team," Maciocia said. "Don't let the record fool you."
The Elks certainly appeared good against Montreal back in July — quarterback Taylor Cornelius in particular. He passed for 230 yards and one touchdown that night, while also gaining 20 yards on four carries. Edmonton outscored the Alouettes 14-0 in the fourth quarter.
"We played some good football in that game," Thorpe maintained. "We had opportunities to close out the game. Give them and Cornelius credit. He made plays with his legs. They made plays, continued to grind away and gave themselves an opportunity to win at the end.
"But our defence has evolved since then," Thorpe added. "I think you've seen it from the course of that first game to where we are now. I think we're miles ahead. We see areas we've improved in and areas we have to continue to improve in. Being in the system, the defence and the scheme for a longer period of time, the guys have a deeper understanding of what we're trying to do, accomplish and what our goals are. That takes a period of time in the beginning because things were new."
Thorpe wants his defence to be physical and run to the ball, while remaining disciplined around the pocket. Thorpe frequently relies on a three-man front that, at times, doesn't appear to get much pressure on the quarterback. But it also allows him to drop nine players into coverage — something required in the CFL because of the larger field dimensions and the affinity for passing in the three-down game.
Thorpe maintains the three-man line is becoming a trend throughout the league.
"You're weighing things, coverage-wise, with nine dropping, but you also have the ability to have versatility in what you do," he explained. "You can attack offences in different ways … because of who can rush. It depends on the opponent, down and distance, position on the field, their personnel grouping and offensive tendencies."
While the Alouettes have lost rush-end Nick Usher indefinitely with a knee injury, they have depth at the position following the recent return of Jamal Davis from the Los Angeles Chargers. He teams with Mike Moore and Thomas Costigan.
hzurkowsky@postmedia.com
twitter.com/HerbZurkowsky1
Inside the CFL: Former Alouettes GM Reed sheds light on Montreal ouster

'A lot to prove this week,' Alouettes QB Harris says of Elks rematch

Moore-Sewell combo clicks for Alouettes' defence