Notice for the Postmedia Network
This website uses cookies to personalize your content (including ads), and allows us to analyze our traffic. Read more about cookies here. By continuing to use our site, you agree to our Terms of Service and Privacy Policy.
The chorus goes: Sunny, sunny, sunny, sunny, sunny ...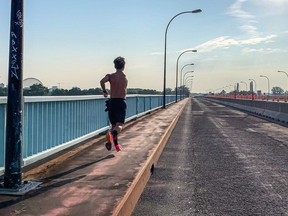 A man jogs across a Montreal bridge, unfazed by construction cones.

Photo by Dave Sidaway

/

Montreal Gazette
The long-range forecast looks like a copy-paste situation with a few tweaks. Highs between 22 and 25 C, lows around 12 and nothing but sun over it all.
MétéoMédia promised us a break from the rain and they weren't kidding around.
Article content
Expect a mainly cloudy high of 23 C during the day, with a UV index of 5, or moderate. At night, a low of 11 C.
Article content
Article content