Most cultures drink coffee, and where there is a coffee cup there is a beautiful symbol of life.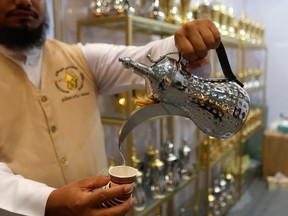 A vendor pours coffee during the 2023 International Doha Coffee Fair in Qatar's capital on Sept. 15, 2023. Most cultures drink coffee.

Photo by KARIM JAAFAR

/

AFP VIA GETTY IMAGES
Our modern addiction to coffee is something worth exploring.
The daily ritual of a "mandatory" (although optional, but addiction wins) morning coffee at home, a café, or in a restaurant, is becoming a tyranny that few can shake off.
I am one of them! In the United States, 49 per cent of people drink three to five cups of coffee a day. Thirty-two per cent purchase it from a coffee shop one to three times a week. More than 2.25 billion cups of coffee cups are consumed in the world daily.
Why is coffee so popular all over the world? It offers enjoyment, connection, an energy boost, a companion to solitude, and a feeling of aliveness?
The coffee we consume daily has an alluring beauty.
First, it generates a morning, or daily ritual of predictability and comfort. You know how the day is going to begin without further thinking. We are creatures of habit and routine. This continuity grants us the time to start planning the rest of that day, the week, or family and events unfolding around us.
It is a refuge for sanity after reading the newspaper, listening to the news, or watching the unfolding drama in Trump's America, or Putin's war in Ukraine, or climate change devastating the landscape.
Second, the coffee ritual builds, sustains and establishes social connection and family bonding. Here is the heart of the matter. Many drink coffee, tea, Mati, or other caffeine types to be with other people or to chat, to connect, and fight loneliness and despair. There is more to coffee than a cup of coffee. It builds relationships, establishes bridges, entices business cooperation ("let's meet for a coffee"), rekindles romance, helps neighbours talk and know each other, and fosters inter-generational understanding, and ethnic and diversity integration through shared simple moments of the universal love of coffee.
Moreover, coffee is a peaceful-oriented drink, symbolizing a moment of reflection and get-togetherness.
Third, coffee table talk means we're going to chat and understand what is going on. Mortgage debates are often discussed at the kitchen table in most households. Separation, divorces, child care and money matters are often settled over a table where coffee is served as we figure things out. Coffee is becoming the bond for politics, love, business, and peaceful cooperation.
Most cultures drink coffee, and where there is a coffee cup there is a beautiful symbol of life.
Fourth, coffee is the mother of imaginative writers, artists, innovators, entrepreneurs, builders and energy. Christopher Hitchens depended on Scotch, cigarettes and coffee for his writing prose that was second to none. Novelists and journalists write masterpieces in the cafes of Europe, Paris, Rome — or Starbucks or another local coffee shop. Coffee has a secret power to enlarge the imagination, produce boundless stamina for a task, and strengthen one's resolve and discipline, albeit temporarily.
Personally, I finished my latest book, Gates and Walls: Stories of Migration in Modern Times, at a Starbucks near our residence after the editor demanded serious revisions. The task was made easier by my coffee input, which focused my mind and expanded imagination. All in all, let us salute the universal love affair with coffee, and appreciate its social, cultural, personal, and artistic benefits.
Elie Mikhael Nasrallah, author of Gates and Walls: Stories of Migration in Modern Times, lives in Ottawa.
Pellerin: Public transit is a public service. Treat it that way

Martin: The great gerrymander of 1917 — when Canada's government chose the voters