"This is increasing population problems, mainly due to age."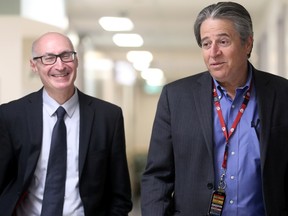 The new chair of the research committee is named after Dr. Thierry Mesana on the right and Dr. David Meshika Zeitoun, a cardiologist on the left. Is jointly held.

Photo: Julie Oliver

/

Post Media
Dr. Thierry Mesana, who heads the Otawa University Heart Institute Dedicated his professional career to the treatment and understanding of heart valve disease. Named in honor of him, the new chair of the research committee will help improve the treatment and care of what Mesana calls the next epidemic of heart disease.
Dr. T.G. Mesana Endowed Team Chair in Heart Valve Disease, initially for $ 4 million, is one of Canada's largest dedicated cardiovascular studies chairs.
Mesana's ex-valve disease patient, Otawa businessman J ohn Bassi, helped lead the funding of the team chair. It will be co-sponsored by one cardiologist and one heart surgeon, including cardiologist David Messika-Zeitoun and heart surgeon Vincent Chan. Both are internationally recognized as specialists in valvular heart disease.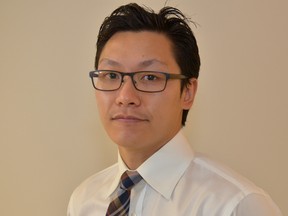 Cardiac surgeon Dr. Vincent Chan collaborates on the new Dr.T.G. I'm holding it. Mesana Donation Team Chair for Cardiac Valve Disease at Otawa University Heart Research Institute

Photo by Otawa University Heart Research Institute

/

Handout
Mesana, The President and Chief Executive Officer of the Otawa University Heart Research Institute is recognized as one of the world's leading cardiac valve surgeons.
He said there was an urgent need for research to help advance the treatment of heart valve disease.
Twenty-five years ago, coronary artery disease dominated heart disease, Mesana said. However, advances in medicine mean that arterial aging can be better controlled through prevention, for example by treating cholesterol and diabetes and reducing smokers.
On the other hand, valve disease is increasing as the population ages and is often undetected until late, which can lead to further heart damage and heart failure. There have been no similar advances in early detection or prevention of heart valve disease.
"This is a growing problem, mainly due to age," said Mesana.
However, there was a technological revolution in valve surgery. Replacing or repairing a valve used to mean open heart surgery, but now up to half of the surgery and treatment can be done with a catheter. This means that the patient's recovery time will be significantly reduced. This treatment also allows surgeons to operate on patients who are not suitable candidates for open heart surgery due to their age and health.
Vascular heart disease affects nearly 25% of patients hospitalized for cardiovascular reasons. Most are treatable.
Mesana not only focuses on heart valve disease, but also makes the newly donated team chair an important part of his legacy because his co-chair needs to work as a team. Said that it was considered. His approach. Under
Mesana, the Heart Institute pioneered a team approach to heart valve therapy. In this approach, a cardiologist and a heart surgeon work together to determine the optimal approach for each patient.
The chair "crystallizes my two heritage," Mesana said — focusing on teamwork and working to improve the treatment of heart valve disease.
One of the chair's focus shared with heart surgeon Chan, cardiologist Meshika Zeitoun, who heads the Valve Membranous Heart Disease Center of the Heart Institute, is to improve screening for heart valve disease. Said there is.
Part of his study is to allow some primary caregivers in Otawa, with the support of the Heart Research Institute, to allow patients to screen for possible heart valve disease in the clinic. Includes providing technology to do.
Screening means that patients can be tracked to allow timely intervention rather than waiting long.
He said there are also potential medical therapies aimed at preventing or slowing the progression of heart valve disease during work. One drug trial is scheduled to begin this summer.
Sign up for daily headline news from Ottawa Citizen, a division of Postmedia Network Inc.
Click to sign up and agree to receive the above newsletter from Postmedia Network Inc. You can unsubscribe at any time by clicking the unsubscribe link at the bottom of the email. Postmedia Network Inc. | 365 Bloor Street East, Toronto, Ontario, M4W 3L4 | 416-383-2300
Thank you for registering.
A welcome email will be sent. If you don't see it, check your junk folder.
The next issue of Ottawa CitizenHeadlineNews will arrive in your inbox shortly.