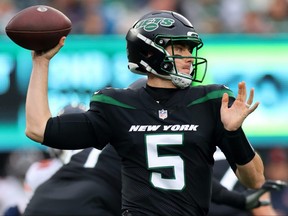 New York Jets quarterback Mike White.

Photo by Mike Stobe

/

Getty Images
BEST BETS
PITTSBURGH STEELERS (4-7-0) AT ATLANTA FALCONS (5-7-0)
Don Brennan's daily hit on the world of sports betting. Whether you're new to sports gambling or an experienced wagerer, this newsletter offers trustworthy insights into the odds game. 19+. Please gamble responsibly.
By clicking on the sign up button you consent to receive the above newsletter from Postmedia Network Inc. You may unsubscribe any time by clicking on the unsubscribe link at the bottom of our emails. Postmedia Network Inc. | 365 Bloor Street East, Toronto, Ontario, M4W 3L4 | 416-383-2300
Thanks for signing up!
A welcome email is on its way. If you don't see it, please check your junk folder.
The next issue of Closing Lines will soon be in your inbox.
LINE: Pittsburgh -1
CHEWABLE: Kenny Pickett is going to love Georgia at this time of year. Especially this year. Particularly northwestern Georgia. The Steelers rookie QB completed 20 of 28 passes in Monday's win over the Colts and would have connected on three more had George Pickens not decided it was a good night to experiment with a different catching technique and Diontae Johnson not reverted back to his old fumble fingers form. Pickett is growing every week and should have a hey-day against a Falcons team that may be a half game out of first in the NFC South, but is really quite bad … With little to no rush, Falcons are 28th against the pass, 21st against the run and 28th in overall yards allowed. They also have the 31st-ranked passing offence and are 27th in average yards gained. About now you must be thinking a team of nuns could compete in the NFC South … Atlanta has lost three of its last four, with a 27-24 win over Chicago two weeks ago as the only positive result … Last week Falcons were down 19-13 with less than a minute to go and in possession inside the Washington five. That's when Marcus Mariota threw an interception that sealed their fate … Falcons were the favourites in this one before Steelers beat the Colts, an outcome that caused a 2-point swing in the spread … These teams have met just three times since 2010 and Steelers have walked away from each with a victory … If Najee Harris (oblique) can't go, Steelers will want to turn to veteran Benny Snell, who is also dealing with a knee injury. Snell averaged 5.2 yards a carry on 12 attempts as Harris' replacement last week … Atlanta offence will be muffled by a Pittsburgh defence that is closer to being among the league's elite than the dregs now that T.J. Watt is regaining his stride. Falcons will be trying to move the ball along the ground against the sixth-ranked run defence. Don't like their chances.
TAKING: PITTSBURGH -1
SCORE (O/U 41.5): Steelers 28, Falcons 15
MIAMI DOLPHINS (8-3-0) at SAN FRANCISCO 49ERS (7-4-0)
LINE: San Francisco -4
CHEWABLE: This would be a tougher call if Dolphins OT Terron Armstead wasn't questionable (unlikely) with a pectoral problem. That would leave a backup to block Nick Bosa, who is third in the league with 11.5 sacks and has at least one in every game except Week 6 against Panthers … San Fran's 'D' remains No. 1 in total yards and rushing yards allowed, which is also going to make it more difficult former Niners RBs Raheem Mostert (who is trying to come back from a knee injury) and Jeff Wilson in their desire to issue "I told you so" points against their former team … The Dolphins are tough to run against but their pass defence is 22nd. In other words, you're safe to use George Kittle, Brandon Aiyuk and/or Deebo Samuel on your fantasy team … How much is it going to help the Dolphins that their coach, Mike McDaniel, was the Niners offensive coordinator last year? … One streak is going to snap, as Dolphins have won five in a row and Niners are riding a four-game winning streak … Great test for Tua Tagovailoa, whose rise to a MVP candidate in the last five weeks has seen him feast on pass defences that aren't among the top half in the league. Niners are a different animal.
TAKING: SAN FRANCISCO -4
SCORE (O/U 46.5): Niners 28, Dolphins 20
LOS ANGELES CHARGERS (6-5-0) AT LAS VEGAS RAIDERS (4-7-0)
LINE: L.A. Chargers -1.5
CHEWABLE: Love the chances of the Chargers and their star-studded cast every week – when they're healthy. They're not that now, and they haven't been for awhile. The only two teams they have beaten in the last five games are a combined 9-15 … Raiders have won two in a row and are trying to salvage the season. Two matchups that will work in their favour this week: League-leading rusher Josh Jacobs against the 28th-ranked run defence and Davante Adams against anybody Chargers care to put on him … Raiders are 5-1 ATS in their last six games versus a team with a winning record … Vegas doesn't defend against the pass very well either. Chargers can air it out even with Mike Williams shelved. That's a hint to go with the over, which is 7-1-1 in Raiders last nine games versus a team with a winning record and 5-1 in Chargers last six versus a team with a losing record.
TAKING: LAS VEGAS +1.5
SCORE (O/U 50.5): Raiders 37, Chargers 33
And the rest …..
NEW YORK JETS (7-4-0) AT MINNESOTA VIKINGS (9-2-0)
LINE: Minnesota -3
CHEWABLE: Is Mike White for real, this time, or was he simply the benefactor of a brutal Chicago defence last week? If he can complete all but six of his 28 passes for 315 yards, three TDs and zero interceptions in a steady downpour, what is White capable of inside the comfortable U.S. Bank Stadium confines, against a Vikings pass defence that is last in the NFL? … Want to know what's really bad? Vikings are averaging 23.8 points for and 23.4 points against, and they have a five-game lead in the NFC North. Yes, the NFC North is really bad … At the same time, Vikings are looking for a sweep of the AFC East. They already have won in Miami and Buffalo, and they defeated New England at home … Like most teams, Jets have had success against the NFC North, winning in Green Bay and defeating Chicago on home turf … Vikings prevailed by seven last week because the Patriots made a couple of gigantic special teams mistakes. They won't be so lucky against the Jets, whose defence will apply plenty of pressure to the often shaky Kirk Cousins.
TAKING: N.Y. JETS +3
SCORE (O/U 45.5): Jets 20, Vikings 17
DENVER BRONCOS (3-8-0) AT BALTIMORE RAVENS (7-4-0)
LINE: Baltimore -8.5
CHEWABLE: Clearly, the season can't end soon enough for the Broncos, who reached a low point last week when they needed a late TD to make their loss to the Panthers a little less laughable at 23-10. They now have dropped seven of their last eight as their offence, which has been hit by injuries and an obvious memory loss when it comes to blocking, is the lowest-scoring attack in the NFL. Their defence was one of the best in then league before Bradley Chubb was traded to Miami. Now much less so … Ravens had their winning streak halted at four last week because they couldn't stop the Jaguars from rolling 75 yards with 122 seconds left and no timeouts for a game-tying touchdown, then the gutsy two-point conversion to win it. That slap in the face will wake Baltimore up for the stretch drive, starting with this lay-up.
TAKING: BALTIMORE -8.5
SCORE (O/U 38.5): Ravens 21, Broncos 10
TENNESSEE TITANS (7-4-0) AT PHILADELPHIA EAGLES (10-1-0)
LINE: Philadelphia -5.5
CHEWABLE: This will be an "I told you so" game for A.J. Brown, who was traded to the Eagles when the Titans wouldn't give in to extension demands by the tough and talented receiver … Eagles missed DT Jordan Davis (ankle) when Green Bay's A.J. Dillon was able to average eight yards a run against them last Sunday. They're really going to miss Davis this week when Derrick Henry tries to get back on track after two straight games of less than 100 ground yards and the rushing title still very much in sight … Titans covered eight straight ATS before losing 20-16 to the Bengals (-1.5) last Sunday … Mike Vrabel is 21-7 ATS when getting three or more points … Since 2010 Eagles are 6-15 ATS the week before playing their fiercest rival, the New York Giants. Philly hits the road to take on the G-Men next Sunday.
TAKING: TENNESEE +5.5
SCORE (O/U 44.5): Eagles 28, Titans 25
JACKSONVILLE JAGUARS (4-7-0) AT DETROIT LIONS (4-7-0)
LINE: Jacksonville -1
CHEWABLE: Last season the Jags and Lions finished tied at the very bottom of the NFL's overall standings at 3-14, and now they're deadlocked in 20th (with the Raiders, Browns and Steelers), so the turnarounds are in full swing … Lions have had a little longer break after their 28-25 Thanksgiving Day loss to the Bills, but the Jags probably would have played a doubleheader after their dramatic come-from-behind win over the Ravens on Sunday … Jacksonville coach Doug Pederson says Travis Etienne, his emerging star RB, should be able to play this week after a foot injury took him out of the Baltimore game. Either way, I like the Lions, who were a field goal and positive OT result from taking a four-game winning streak into this one.
TAKING: DETROIT +1
SCORE (O/U 51.5): Lions 30, Jaguars 28
WASHINGTON COMMANDERS (7-5-0) AT NEW YORK GIANTS (7-4-0)
LINE: Washington by 2.5
CHEWABLE: If we know that Taylor Heinicke reacts well to the blitz (27-of-40 for 286 yards, two TDs, no interceptions), do you think the Giants, who blitz a league-high 40 percent of the time, know it too? And if so, what are they going to do about it? … Must be tricky to come up with a schedule that makes sense for all 32 teams happy, but to have these two long-standing division rivals meeting both this week and on Dec. 18 is just senseless … Still without Chase Young, Washington is playing excellent defence across the board. It's the main reason the Commanders have won six of their last seven, and it's the main reason they'll win again Sunday.
TAKING: WASHINGTON -2.5
SCORE (O/U 40.5): Commanders 20, Giants 13
CLEVELAND BROWNS (4-7-0) AT HOUSTON TEXANS (1-9-1)
LINE: Cleveland -7
CHEWABLE: When last we saw Deshaun Watson, he and the Texans were riding out their 4-12, 2020 season with five straight losses, the last three of which had the well-massaged QB throwing for 1,062 yards, eight TDs and one interception. He won't need to perform anywhere near that well in his first game since, this time with the Texans as the opponents. All he'll need to do to be successful is turn around and hand the ball to Nick Chubb, who should be able to chew up and spit to the ground the Texans league-worst run defence. Houston's own QB issues aside, what's going on with Dameon Pierce? The outstanding rookie running back has been the Texans' best player for most of the season, but in the last two games he has totalled 15 carries for 16 yards … Watson will be booed all day, right up to and including his post-game walk down the tunnel with a lopsided win in his pocket.
TAKING: CLEVELAND -7
SCORE (O/U: 47.0): Browns 33, Texans 11
GREEN BAY PACKERS (4-8-0) AT CHICAGO BEARS (3-9-0)
LINE: Green Bay -4
CHEWABLE: With Week 14 being a bye for both these non-playoff teams, it's for the best that they sit their banged up starting QBs and let the backups take over. But Aaron Rodgers, who seemingly doubles as the Packers GM/coach, has already decided he's going to play, so expect him to strengthen his grip on the ownership papers (23-5, 63 TD passes, 10 picks) of a Bears team that has lost starters at almost every key position … Should be a big day for the RBs, as Packers have the 31st run defence while Chicago's isn't much better at 27th. The edge here is towards the Packers tandem of Aaron Jones and A.J. Dillon, if only because Khalil Herbert is on IR, which leaves David Montgomery as the only proven ball-carrier in the Bears backfield.
TAKING: GREEN BAY -4
SCORE (O/U 42.5): Packers 27, Bears 10
SEATTLE SEAHAWKS (6-5-0) AT LOS ANGELES RAMS (3-8-0)
LINE: Seattle -7.5
CHEWABLE: What better way for any team to get back on track than a meeting with the Rams, who have lost five straight and seven of their last eight? The defending champs were pushovers even before Cooper Kupp, Matthew Stafford and now Aaron Donald were sidelined by injuries. Now they are, as Lionel Richie would say, as easy as a Sunday morning … Rams, whose offence is 31st in overall yards and rushing yards, are a league-worst 2-7-2 ATS. Seattle is 6-5-0 … Seahawks have dropped two in a row and, while trying to keep pace with the division-leading Niners, will not snooze on this opportunity. Geno Smith, D.K. Metcalf, Tyler Lockett and Kenneth Walker are going to light it up in L.A.
TAKING: SEATTLE -7.5
SCORE (O/U 41.5): Seahawks 37, Rams 15
KANSAS CITY CHIEFS (9-2-0) AT CINCINNATI BENGALS (7-4-0)
LINE: Kansas City -2
CHEWABLE: Counting last year's AFC championship game, Joe Burrow is 2-0 against the Chiefs with 696 passing yards and six TD passes against one interception. And now he's expected to get Ja'Marr Chase back from a hip injury. You may remember Chase burned the Chiefs with 11 catches for 266 yards and three TDs in a 34-31 regular season victory 13 months ago. Chiefs may be the best team in the NFL, but the division title is essentially in their pocket already. In the game of the week, give me the points and the home team as it tries to move past Baltimore for first in the AFC North.
TAKING: CINCINNATI +2
SCORE (O/U 52.5): Bengals 33, Chiefs 30
INDIANAPOLIS COLTS (4-7-1) AT DALLAS COWBOYS (8-3-0)
LINE: Dallas -11
CHEWABLE: Only one team has defeated the Colts by double digits this season, and that was when Indy thought it a good idea to give rookie Sam Ehlinger the start in what was a 26-3 loss to the Patriots. Matt Ryan can keep things close if he gets any time at all to work, and that's a big if behind an O-line that has watched him get sacked more any QB but four (and that's with Ryan sitting out a game) against the Cowboys' exceptional pass rush … Watch for Jonathan Taylor to have a big day against a Dallas run defence that ranks 24th — and the Cowboys to have its hands full versus a Colts team that sits sixth in yards allowed per game — but in the end the home side is too good for this visitor.
TAKING: INDIANAPOLIS +11
SCORE (O/U: 43.5): Cowboys 24, Colts 15
NEW ORLEANS SAINTS (4-8-0) AT TAMPA BAY BUCCANEERS (5-6-0)
LINE: Tampa Bay -3.5
CHEWABLE: Saints were very good against Tampa Bay even before Tom Brady became a Buc, winning 17 of the last 23 meetings. But since moving to Florida Brady is 2-4 against New Orleans, and who can forget the thrilling 9-0 duel The Goat lost to Taysom Hill 54 weeks ago? … Saints were shut out by the 49ers last week, but in the race for a NFC South title nobody appears to really want, they can pull into a first-place tie with the Bucs. Tampa Bay lost last week to Cleveland and has only a couple of close wins against the Rams and Seahawks as positive results in the last six weeks. Bottom line: It's hard to trust Bucs as a favourite by more than a field goal against anybody this season. Even a team of nuns.
TAKING: NEW ORLEANS +3.5
SCORE (O/U 40.0): Bucs 21, Saints 20