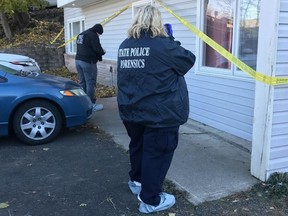 Police and forensics teams investigating murders of four University of Idaho students found dead on Nov. 13, 2022.

Photo by City of Moscow Police Department

/

Facebook
It's been two weeks and law enforcement in Idaho still don't have a suspect, a weapon or a motive for the brutal slayings of four university students.
The Moscow Police Department said officers continue to receive tips and 911 calls on the murders of Madison Mogen, 21, Kaylee Goncalves, 21, Xana Kernodle, 20, and Ethan Chapin, 20, who were found dead in a rental house on Nov. 13.
As the Canadian national soccer teams head to their respective FIFA World Cups, Derek Van Diest is on the scene to cover all the action. Expect expert insights and analysis in your inbox daily throughout the tournaments, and weekly on Thursdays for the rest of the season.
By clicking on the sign up button you consent to receive the above newsletter from Postmedia Network Inc. You may unsubscribe any time by clicking on the unsubscribe link at the bottom of our emails. Postmedia Network Inc. | 365 Bloor Street East, Toronto, Ontario, M4W 3L4 | 416-383-2300
Thanks for signing up!
A welcome email is on its way. If you don't see it, please check your junk folder.
The next issue of Corner Kicks with Derek Van Diest will soon be in your inbox.
"We understand there is a sense of fear within our community," officials said in a news release on Sunday.
"There have been numerous media inquiries about a 1999 double stabbing in Pullman, Wash., and the 2021 double stabbing (with one death) in Salem, Oregon," police detailed.
RECOMMENDED VIDEO
"While these cases share similarities with the King Street homicides, there does not appear to be any evidence to support the cases are related."
As of Friday, 113 pieces of physical evidence have been collected and sent to the Idaho State Police crime lab for processing and analysis, police said.
Candlelight vigils will be held on Wednesday — one at the Moscow campus, the other at the University of Boise — to honour the four victims.
University of Idaho students are back on campus after the U.S. Thanksgiving break, but CNN reported that it is unclear how many will actually return for the last two weeks of classes before winter break, with a killer still on the loose.
"Faculty have been asked to prepare in-person teaching and remote learning options so that each student can choose their method of engagement for the final two weeks of the semester," the school's president, Scott Green, wrote in a statement.
Law enforcement in Idaho can't figure out how killer stabbed four students without others in house knowing

CRIME HUNTER: What monster slaughtered four Idaho university students?

No suspect, weapon yet in slaying of 4 University of Idaho students
Investigators believe Mogen, Goncalves, Kernodle and Chapin were "targeted" and "isolated" and all killed with a fixed-blade knife.
While officers initially said there was no threat to the public, they've walked back that assurance.
"We cannot say there's no threat to the community," Police Chief James Fry said days after the killings.
Authorities also have not ruled out the possibility that more than one person may be involved in the stabbings.
Those cleared in the slayings include the two surviving housemates, other people in the home when 911 was called, the person who drove Mogen and Goncalves home after their night out downtown, a man seen on surveillance video from a food truck Mogen and Goncalves visited, and a man the two women called "numerous times" in the hours before their death.