Our streets are becoming more dangerous as we witness a rise in random acts of violence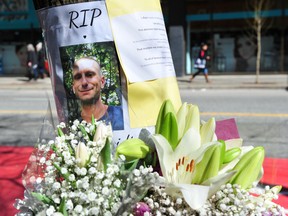 A memorial is set up in remembrance of stabbing victim Paul Stanley Schmidt, 37, outside a Starbucks coffee shop in downtown Vancouver on March 28.
Photo by NICK PROCAYLO/PNG
When Toronto mother Andrea Magalhaes initially heard that a man had been stabbed at a subway station last weekend, she didn't think much of it. Her 16-year-old son, Gabriel Magalhaes, was out of the house, but he had gone out with friends. And anyway, "He's not a man, he's a kid," she thought.
Heartbreakingly, she later found out that it was her son who had been killed after being stabbed three times in the chest while sitting on a bench on a subway platform, in what appears to be a random, unprovoked attack. The person accused of his murder, 22-year-old homeless man Jordan O'Brien-Tobin, has a long rap sheet in both Newfoundland and Ontario.
There had been an outstanding warrant for his arrest in Newfoundland for the past two years, but he nevertheless managed to commit a string of crimes in Ontario. In the intervening time, he was convicted of sexual assault, attacking someone with scissors, assaulting a man with a boxcutter and breaching his release conditions, but he never received more than a 150-day sentence.
The justice system went easy on O'Brien-Tobin, time and again, prioritizing his mental health and addiction issues over ensuring he no longer posed a danger to the community. The result, should he be proven guilty, was an innocent life cut short.
It's all too easy to blow tragedies like this out of proportion, but it was not an isolated incident. According to a Toronto Transit Commission (TTC) report released in February, there were 1,068 violent incidents on the city's public transit system last year. That's a 60 per cent increase over the 666 incidents in 2019, which is all the more astonishing considering that ridership was only 60 per cent of pre-pandemic levels.
Violent incidents include physical and sexual assaults, robbery, harassment and indecent exposure, but some are more horrific than others. Last year, numerous TTC passengers and employees were stabbed and assaulted, a student was shot, a woman was pushed onto the tracks, another was set on fire and a homeless man was killed in a swarming attack. A recent Abacus poll found that 40 per cent of TTC users feel the system is unsafe.
Elsewhere in Canada, the trends are much the same.
"Nobody should ever feel unsafe walking around (our) city," tweeted Vancouver Mayor Ken Sim after a man was stabbed to death on Sunday in front of his fiancée and three-year-old daughter outside a downtown Starbucks, after simply asking another man not to vape around his child.
That Canadians have a right to feel safe in their own cities should go without saying. Yet it needs to be said, because too many judges, politicians and left-wing voters have leaned so far into the soft-on-crime, defund-the-police rhetoric, they fail to see that the lack of deterrence in our justice system is contributing to a culture of lawlessness on our streets.
As in Toronto, there appears to be a general sentiment in parts of Vancouver that public safety is on the decline. When a non-profit surveyed people walking along Granville Street, nearly nine out of 10 reported feeling unsafe in the area. Province-wide, a 2022 poll found that over half of respondents believed the downtown cores of British Columbia's big cities were in decline, with 98 per cent citing increased crime as a reason.
This is borne out by Vancouver Police Department statistics, which show that violent crimes increased 4.1 per cent year-over-year in 2022, and have risen by 12.1 per cent compared to the pre-pandemic average from 2017-19.
In Toronto, too, police data shows that major crimes increased 18 per cent between 2021 and 2022. And 2023 looks to be even worse, with the number of major crimes reported to police rising by nearly 21 per cent compared to this time last year.
There have also been a rash of police officers who have died in the line of duty recently. Throughout the country, at least nine officers have been killed since September.
This includes Sgt. Maureen Breau, a mother of two who was stabbed to death on Monday while attempting to make an arrest in Louiseville, Que. The suspect in her murder also had a long history of violent crime dating back 10 years, but, as is all too typical in Canada's catch-and-release justice system, was not kept behind bars for various reasons.
Whether we're witnessing a reversal in Canada's downward trend in per capita crime rates between 1991 and 2014 will not be known for some time. Yet even if the current "crime wave" ends up being a mere blip, it could have important political ramifications.
The federal Liberals and the courts have spent the past seven years dismantling the Harper government's criminal justice reforms, including doing away with many mandatory minimum sentences.
Declining public safety and heightened dissatisfaction in a justice system that is seen as being too soft on crime led to a major swing during last fall's municipal elections in B.C., which were dominated by law-and-order candidates, including Mayor Sim, who ran on a platform of hiring 100 additional police officers.
Given the heightened fear and growing awareness of the inadequacies of our police forces and criminal justice system, there is now a significant opportunity for a political party to pull a similar feat at the federal level.
Adam Zivo: Canadians see what governments and activists won't admit — homeless crime is a real threat

NP View: Vancouver voters don't want the left's soft-on-crime policies