Article author:
The Canadian Press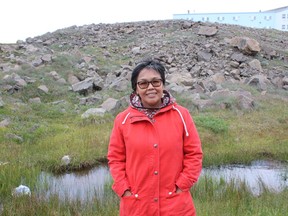 Nunavut Member of Parliament and NDP representative Lori Idlout said voters After raising the issue, he said: Housing, Aged Care, Mental Health, and Languages ​​are next on the list. Her Idlout poses in Iqaluit, Nunavut on Thursday, August 19, 2021.

Photo by Emma Tranter

/

The Canadian Press
OTTAWA — New data from Statistics Canada show suggests a slight decline in the number of people who speak the language of
However, the agency noted that the COVID-19 pandemic hampered its ability to fully enumerate First Nations and other Indigenous communities, so census year comparisons were limited to He said it should be done with caution.
According to 2021 Census data released by Statistics Canada, approximately 243,000 people reported being able to speak an Indigenous language, compared to approximately It's down from when it was 251,000.
The data release came as the liberal government, led by Prime Minister Justin Trudeau, described the promotion and protection of indigenous languages ​​as a priority.
According to Statistics Canada, the main Indigenous languages ​​spoken at home are Cree and Inuktitut.
As in other census years, more people reported being able to speak an Indigenous language than those reporting having it as their mother tongue, It shows that you are learning the language of your tribe.
Her Lori Idlout, Member of Parliament for Nunavut and NDP representative, said language was next on the list after voters raised issues about housing, elder care and mental health. says there is.
"We all know that we are rapidly losing our language," she said of Inuktitut.
This report by The Canadian Press was first published on August 17, 2022.
Sign up to receive daily Top Stories from National Post, a division of Postmedia Network Inc.
By clicking the Sign Up button, you agree to receive the above newsletter from Postmedia Network Inc. You can unsubscribe at any time by clicking unsubscribe. Link at the bottom of our email. Post Media Networks Inc. | 365 Bloor Street East, Toronto, Ontario, M4W 3L4 | 416-383-2300
Thank you for registering.
Sending welcome email. If you don't see it, please check your spam folder.
The next issue of NP Posted will arrive in your mailbox shortly.