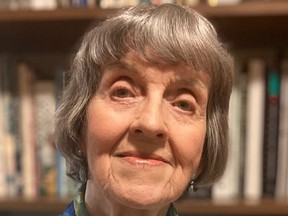 Jackie MacDonald.
Photo by Supplied Photo
Jackie MacDonald's first attempt at an autobiography wasn't exactly one for the record books.
"A couple or three years ago I thought about doing it, so I started writing about my family and this and that," MacDonald, 89, said earlier this week from her home in Ottawa. "And I thought, 'oh my god, this is dull.'"
From our newsroom to your inbox at noon, the latest headlines, stories, opinion and photos from the Toronto Sun.
By clicking on the sign up button you consent to receive the above newsletter from Postmedia Network Inc. You may unsubscribe any time by clicking on the unsubscribe link at the bottom of our emails. Postmedia Network Inc. | 365 Bloor Street East, Toronto, Ontario, M4W 3L4 | 416-383-2300
Thanks for signing up!
A welcome email is on its way. If you don't see it, please check your junk folder.
The next issue of Your Midday Sun will soon be in your inbox.
MacDonald's life was anything but; as she won silver and bronze medals in the shot put at the British Empire and Commonwealth Games of 1954 and '58 respectively; finished 10th in shot and 19th in discus at the 1956 Olympics in Melbourne, Australia; fifth in discus at the 1955 Pan Am Games in Mexico City; and sixth in shot put at the 1957 World Youth Games in Moscow.
She cut a striking figure back in the day and became something of a media darling at the 1954 Games in Vancouver. She was also a competitive swimmer and diver and took up rowing in her 60s. She was a schoolteacher, mother, and is the wife of Bill Gelling, retired from the Canadian forces.
There was obviously more than enough to fill a book of memories, and at the urging of friend and University of Alberta professor emeritus Ann Hall, MacDonald stepped back into the circle last spring, but only after settling on a new tactic.
She knew she had to approach writing the way she did strength training to become the Canadian shot put champion for a decade. That meant she needed a coach, the same way she needed Lloyd Percival back in the day. This time, both Hall and historian and biographer Charlotte Gray gave her invaluable guidance through the writing process.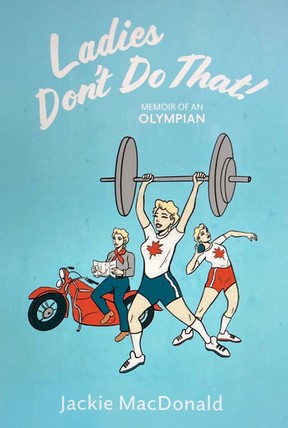 The cover of "Ladies Don't Do That: Memoir of an Olympian" by Jackie MacDonald.
Photo by Supplied Photo
MacDonald also decided she needed to write the book her way, which is to say analytically, rather than the way other Olympians had crafted their memoirs. Because her career was long over, her story was different than those of recent medal winners.
And just as it often worked out for her in the shot put circle, the second attempt was a winner.
"This time it seemed like I dropped absolutely everything else in my life and became obsessed with it," said MacDonald. "I knew I couldn't make a book out of just those five international games and the other sports I had been in. So I looked at it as an analysis of my life and it just came. It flowed. Well, it didn't flow at times and some of it still doesn't flow. But I just went ahead and changed and revised and it has come out in the end quite well. I'm quite happy with it.
"It's not going to be a bestseller, but I do hope it will have an appeal for some people."
Ladies Don't Do That: Memoir of an Olympian is, or rather will be soon, self-published labour of love for MacDonald, who has invested 58,000 words and about $8,000 to put her story onto 205 pages. She's working with FriesenPress on the project and the layout is still being finalized.
The book's title is a nod to the way things were for female athletes back in the day. Percival wanted the Toronto-born MacDonald to build strength by lifting weights.
"So I phoned the YMCA in Toronto and said I want to train with weights, can I do that there? There was a pause and the lady said, 'you mean you want to lose weight?' I said no, I want to train with weights. Another puzzled pause, and then: 'ladies don't do that.'"
It was 1953.
"It was indicative of the feeling of the times, and included the shot put and driving a Harley Davidson," MacDonald said in an email. … "The attitude of the high school Phys. Ed. program was that girls and women weren't suited for strenuous or competitive sports either physiologically or physiologically. We played a watered-down version of basketball and had no inter-school competition. There were some sports available outside of school, but not many available to women."
She explores that topic in the book and is grateful for the advancements that have come since then. And, as she writes in the book's introduction, she is also grateful that the writing process was a bit cathartic.
"As I look back over the years, memories come flooding back about teaching, sewing, learning languages, studying linguistics, volunteering and travelling. By identifying the people, places, events and experiences that have influenced me to choose the paths I have taken throughout the years, I hope to understand how I achieved what I did and how I became the person I am today, starting with my earliest memories."
As she waits for the book to come out in the next month or so, she is happy to have done it, and to be done with it.
"I was 88 and 89 as I was writing it. I'm sure it's going to be my first and only book. I haven't got another one in me."
dbarnes@postmedia.com
Twitter.com/sportsdanbarnes