The nuclear plant accounted for 14 per cent of electricity generation in the province last year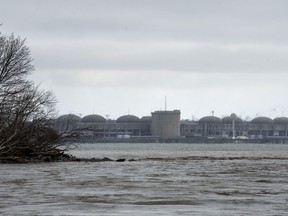 The Pickering Nuclear Generating Station, in Pickering is seen Jan. 12, 2020.

Photo by Frank Gunn

/

THE CANADIAN PRESS
Ontario plans to extend the life of the Pickering Nuclear Generating Station by one year and is looking to see if it can refurbish the plant to run for another 30 years in order to fill an expected energy gap.
Energy Minister Todd Smith said he has asked Ontario Power Generation to keep the plant going until September 2026.
From our newsroom to your inbox at noon, the latest headlines, stories, opinion and photos from the Toronto Sun.
By clicking on the sign up button you consent to receive the above newsletter from Postmedia Network Inc. You may unsubscribe any time by clicking on the unsubscribe link at the bottom of our emails. Postmedia Network Inc. | 365 Bloor Street East, Toronto, Ontario, M4W 3L4 | 416-383-2300
Thanks for signing up!
A welcome email is on its way. If you don't see it, please check your junk folder.
The next issue of Your Midday Sun will soon be in your inbox.
"Earlier this year at the government's request, OPG reviewed their operational plans and concluded that the station could continue to safely generate emissions free, reliable low-cost electricity," Smith said outside the plan.
The nuclear plant accounted for 14 per cent of electricity generation in the province last year.
The plan needs approval from the Canadian Nuclear Safety Commission.
The province has also asked OPG to to examine whether Pickering is worth refurbishing, a process that can see a plant produce power for another 30 years.
Smith said OPG will be completing a feasibility study exploring a long-term extension that would require a complete refurbishment. That study will be completed over the next year, he said.
He said demand for electricity is high and will only get higher with investments in electric vehicles, electric arc furnaces in steel plants and investment in general that would require more electricity.
Without the extension of Pickering Nuclear, there would be an electricity gap, he said.
"When we were exploring opportunities on how we fill that gap is we've got an existing asset here that has a proven track record of providing safe and reliable electricity and affordable electricity everyday, why not look at extending that through September 2026," Smith said.
He also said keeping the plant operational will save thousands of jobs in the interim.
RECOMMENDED VIDEO
Ontario's Independent Electricity System Operator has sought procurements of energy generation sources to address supply as electricity demand increases.
Smith said the government has put out requests for proposals to secure those much-needed energy generators and that the process remains ongoing.
The additional generation in the medium term relies heavily on natural gas and there are also some natural gas proponents on the IESO's list of qualified long-term proponents — even as the government seeks to end reliance on it.
Due to natural gas, greenhouse gas emissions from the electricity sector are set to rise for at least the next two decades and it isn't until about 2038 that the IESO projects that net GHG reductions from electric vehicles will offset the electricity sector emissions.
Smith has asked the IESO to report back to him this fall on exploring a moratorium on new gas generation and a plan to get to zero emissions in the electricity sector.