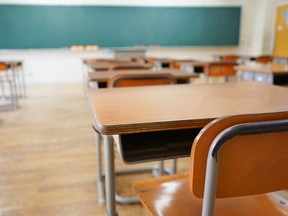 School classroom
Photo by Getty Images
Ontario students' math and literacy scores are either flat or up slightly compared to last year.
The Education Quality and Accountability Office has released its annual standardized test results.
Article content
The agency says 60 per cent of Grade 3 students met the provincial standard for math, up from 59 per cent the year before.
Reading and writing results for that grade remain unchanged from the year prior.
The agency says 50 per cent of Grade 6 students met the provincial standard in math, up from 47 per cent the last school year, while reading is up one percentage point to 85 per cent.
Education Minister Stephen Lecce says the government's approach of getting back to basics is achieving results.
Article content
Article content