New rules for students of parents who come to the province on temporary permits are too restrictive and should be amended.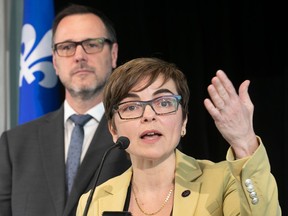 Immigration Minister Christine Frechette and French Language Minister Jean-François Roberge recently announced the creation of a new agency — Francisation Québec — to encourage people to learn French.

Photo by Pierre Obendrauf

/

Montreal Gazette
Bill 96 — "An Act respecting French, the official and common language of Québec" — received royal assent on June 1, 2022, one year ago today. We at the Quebec Association of Independent Schools (QAIS) mark this day with sadness.
With its pre-emptive use of the notwithstanding clause and its override of the Quebec Charter of Human Rights and Freedoms, Bill 96 does not reflect the inclusive Quebec we are trying to build together and is promoted at our member schools.
Sign up to receive daily headline news from the Montreal Gazette, a division of Postmedia Network Inc.
By clicking on the sign up button you consent to receive the above newsletter from Postmedia Network Inc. You may unsubscribe any time by clicking on the unsubscribe link at the bottom of our emails or any newsletter. Postmedia Network Inc. | 365 Bloor Street East, Toronto, Ontario, M4W 3L4 | 416-383-2300
Thanks for signing up!
A welcome email is on its way. If you don't see it, please check your junk folder.
The next issue of Montreal Gazette Headline News will soon be in your inbox.
This major reform of the Charter of the French Language is having a significant impact on all aspects of Quebec society, from employment to access to justice and government services as well as our education system.
Much has been written about the changes to the CEGEP curriculum and the requirement for students to take more courses in French, which in turn is having a ricochet effect on programming in elementary and secondary schools.
Less attention has been paid to the impact on children of parents here on temporary permits. These students, in public and private schools, are now allowed to study in English only for three years — it used to be six. This provision is having a devastating impact on students and on Quebec's business community, and we are calling on the government to reinstate the six-year limit.
Studies suggest the quality of education is a key factor in professionals' decision-making when pursuing a job opportunity. Whether it is for senior executives in the corporate sector, health care professionals or uniquely specialized university professors or religious leaders, the competition for top talent is now global. Many prospective candidates for leadership positions in Quebec have children who are studying in English elsewhere in the world. For the stability of the family and the well-being of the young person during a stressful period, these employees have often selected English schools as a reasonable form of continuity when they move to our province.
Many professional work contracts for foreigners are for five years, and family stability is critical in the initial decision to accept important leadership positions in Quebec. Not surprisingly, our member schools are already experiencing a decline in applications for next September from foreign nationals as much sought-after people opt to pursue their careers elsewhere.
Students currently enrolled in English schools for the most part chose this educational pathway prior to the passing of Bill 96. Changing schools in midstream, abandoning their friends and teachers and being forced to adjust to a new setting is not in the individual student's best interest. They are more likely to flourish in their existing environment.
Not surprisingly, many of these families are applying for an exemption to the law. As these requests are reviewed by government officials, we urge that empathy be their watchword. Let's put student success at the forefront of our decision-making.
After discussing the situation with parents, member schools of the QAIS are reporting that foreign nationals are considering leaving the province due to the restricted access to educational opportunities. This, too, represents a significant loss of talent for our province.
Our proposal? In the short term we are calling for empathy. We are asking the government to return to the status quo and delay the implementation of the temporary permit provisions of Bill 96. This would allow the children of foreign nationals currently enrolled in English schools to continue their studies in these schools for up to six years of schooling.
In the midterm we are urging the government to amend the legislation and allow the three-year temporary permits of children of foreign nationals to be renewable for an additional three years, as was previously the case.
By moving forward with our approach we would be prioritizing the needs of our young people while making our province more attractive to the talent that our businesses and universities are competing for. This is a win-win for everyone.
Marnie Stein is president of the Quebec Association of Independent Schools.