A deeply flawed narrative has cropped up over the planned closing of Mount Royal's Camillien-Houde Way to car traffic.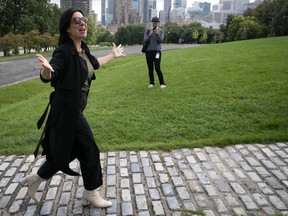 Mayor Valérie Plante arrives for a news conference on her administration's plans for Mount Royal. Restoring a landmark park to its natural, unpaved state can hardly be qualified as an "elite" move, writes former city councillor Justine McIntyre.

Photo by Pierre Obendrauf

/

Montreal Gazette
A new narrative surrounding environmentalism seems to be emerging, one that frames environmental protection as the purview of the elite. Sure — so it goes — we'll think about the environment once we've got food on our plates and a roof over our heads.
The problem with this narrative is that the environment is the food on our plates and the roof over our heads. To frame environmentalism as anything other than collective action for our common good is a seriously flawed posture, one that promotes a false opposition between issues that are, in reality, deeply interrelated.
This narrative has cropped up over the planned closing of Camillien-Houde Way to automobile traffic. An initiative that is meant to benefit us all while restoring the park to its natural state, entirely in keeping with the COP15 Montreal pledge for biodiversity, is being decried by some as elite political pandering.
If there is one valid aspect to the arguments put forth, it is regarding the public consultation process. Montreal has the reputation of a city that consults its citizens, while not necessarily heeding their recommendations. This makes for bad blood as we come away feeling we've wasted our time and energy without being heard.
As city councillor, I once tabled a motion asking that council, when tabling a decision, detail its responses to the recommendations of the city's public-consultation office (OCPM). The motion was rejected — by the previous administration.
Public consultations serve as tremendous forums for dialogue and can sometimes influence outcomes — but, like it or not, final decisions rest with elected bodies. And they, of course, are ultimately accountable for their decisions at election time.
By signing up you consent to receive the above newsletter from Postmedia Network Inc.
Thanks for signing up!
A welcome email is on its way. If you don't see it, please check your junk folder.
The next issue of Headline News will soon be in your inbox.
Beyond frustrations over process, restoring a landmark park to its natural, unpaved state can hardly be qualified as an elite move. What is elite about putting in place measures to encourage — not enforce! — soft mobility, shifting society from the dominant and dominating economic ideology that drives the oil and gas lobbies keeping us in cars toward options that are not only better for the environment, but better for our health and well-being?
It is no surprise that changes to our public spaces cause strong reactions ranging from fear and disappointment to anger. Change is difficult and requires effort from us all, as well as time to adapt. Unfortunately, that time is running out as we're well aware: Raging forest fires across Canada this summer are just one manifestation of where we're collectively headed — toward an ever-accelerating escalation of harrowing climate-related events around the globe.
The writing's on the wall. And yet here we are, fighting over a road.
Meanwhile, let's look at what we've got: a beautiful city with a beautiful mountain at its centre which, thankfully, the city's forefathers and mothers in 1859 had the wisdom to preserve as a protected park.
Long before the dominance of the automobile, access to Mount Royal Park was always intended to be inviting for Montrealers of all ages and abilities: horse and buggy, cable-car, walking and cycling were the modes of the era. It was only much later that the road was built, named posthumously (and somewhat ironically) after mayor Camillien Houde, an opponent to the road bisecting the park.
There is nothing either fundamental or historical about this misnomered road: Its construction was entirely contextual to the time in which it was built, a mid-20th century dominated by the political ideology of expanding road networks, sprawling suburbs and the social imprint of car culture on every aspect of modern life.
Likewise, the decision to remove it in favour of pedestrian and cyclist access and "greener" planning is entirely in keeping with our time. For if we are to make the changes necessary to climate adaptation, where better to begin than in our own parks?
I predict that Montrealers will continue to enjoy the beautiful spaces Mount Royal Park has to offer for walking, cycling and picnicking in summer and skating, sliding and cross-country skiing in winter. Automobile access will still be available via Remembrance Rd., and cross-park through-traffic will be a thing of the past. One day we may even wonder how we ever allowed that idea to take hold.
Justine McIntyre is a municipal political commentator and former Montreal city councillor.
Editorial: Mount Royal revamp, Take 2, faces a steep climb

Tom Mulcair: Valérie Plante, mayor of some Montrealers

Opinion: Why we support the plan for a 'new' Mount Royal

Josh Freed: City hall snubs Montrealers again and again