"They are going to throw several million dollars out the window," Ensemble Montréal says.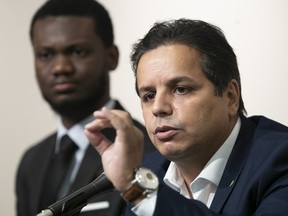 "It's bad management of public funds and bad governance.," says Ensemble Montréal's Abdelhaq Sari, right, seen in an August 2022 file photo with city councillor Philippe Thermidor.

Photo by Pierre Obendrauf

/

Montreal Gazette
City Hall is defending the award of a three-year, $28-million information technology contract to Microsoft Corp. that the official opposition predicts will end up costing Montreal much, much more.
The deal announced Friday includes the supply and maintenance of Microsoft Office 365 suite licences for municipal and police department employees from Nov. 1 to October 2025. It was awarded without a call for tenders.
Sign up to receive daily headline news from the Montreal Gazette, a division of Postmedia Network Inc.
By clicking on the sign up button you consent to receive the above newsletter from Postmedia Network Inc. You may unsubscribe any time by clicking on the unsubscribe link at the bottom of our emails. Postmedia Network Inc. | 365 Bloor Street East, Toronto, Ontario, M4W 3L4 | 416-383-2300
Thanks for signing up!
A welcome email is on its way. If you don't see it, please check your junk folder.
The next issue of Montreal Gazette Headline News will soon be in your inbox.
"This is the best business decision in the context that will offer the best tools to our employees," Marikym Gaudreault, a spokesperson for Montreal's executive committee, said Friday in a prepared statement. "Since the pandemic, our world has changed, as have our digital needs in the age of hybrid work. The renewal of our office automation solution was coming to an end, and the city carried out an exhaustive analysis of its needs and the solutions on the market."
Thanks to the agreement with Microsoft, "we will have more efficient and secure tools with a cloud-based office suite that has become an essential work tool for the employees of the city of Montreal," Gaudreault added.
This marks the second time in four years that Montreal is changing the office suite for its workforce of more than 30,000 employees. The switch from Google to Microsoft technology means that city staffers will need to be retrained — at a cost that's not included in the announced price tag, said Abdelhaq Sari, Ensemble Montréal's spokesperson for information technology.
"Simply put, this is a fiasco," Sari said in an interview. "They are going to throw several million dollars out the window. It's bad management of public funds and bad governance."
Switching to Microsoft may also result in conversion costs for existing municipal documents, warned Sari.
"We have a lot of documents that have been stored in Google Docs, a lot of meetings that have been recorded in Google Meet," he said. "All of that will need to be transferred to the Microsoft environment, which will carry an additional cost."
Municipal employees worked on Microsoft products until the city struck a deal in 2018 with Onix Networking Canada to use Google's G Suite cloud service starting the following year. All bidders in the call for tenders were later deemed to be non-compliant, prompting the inspector general's office in January 2022 to recommend that the city terminate its pact with Onix.
In June, Montreal renewed its existing contract with Onix for two years "to ensure the best possible transition until the migration," Gaudreault said. The two-year extension, worth $5.9 million, boosts the value of the deal to $22.9 million, according to a document prepared by the city.
ftomesco@postmedia.com
'Major irregularities' in IT contract for city of Montreal, inspector general says

New Montreal Inspector General Brigitte Bishop promises to 'keep up the pressure'