More than 81,000 Quebec residents identified as Moroccan as of 2021. About 37,000 of them live in Montreal.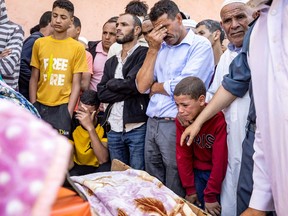 People mourn in front of the body of a victim killed in an earthquake in Moulay Brahim, Al Haouz province, on Sunday, Sept. 9, 2023. Morocco's deadliest earthquake in decades has killed at least 820 people, officials said on Sunday, causing widespread damage and sending terrified residents and tourists scrambling to safety in the middle of the night.

Photo by FADEL SENNA

/

AFP via Getty Images
Federal Foreign Affairs Minister Mélanie Joly has urged Canadians in Morocco to register with Global Affairs Canada after a deadly earthquake struck the country late Friday night.
In a tweet Saturday morning, Joly says Canada's thoughts are with all of those affected by the devastating quake.
She said Canadians in Morocco who need help should contact the federal Emergency Watch and Response Centre, which can provide emergency consular assistance.
Global Affairs Canada says it is working on an update about how many Canadians were in Morocco at the time of the disaster.
The rare, powerful earthquake has killed more than 1,000 people and injured about 1,200 people, but those numbers are expected to climb.
The 6.8-magnitude quake is the biggest to hit the North African country in 120 years.
About 100,000 residents of Canada claimed Moroccan heritage in the 2021 census.
In Quebec, home to the majority of the Moroccan-Canadian community, local leaders took to social media to share condolences and offer support to the Moroccan community.
"My thoughts are with the Moroccan people," Premier François Legault wrote on X, formerly known as Twitter. "Marrakech, Rabat, Casablanca, Agadir, Essaouira, all magnificent cities that I have visited."
More than 81,000 Quebec residents identified as Moroccan as of 2021, according to the census. About 37,000 of them lived in Montreal.
"The images coming in from Morocco, after the country was hit by an earthquake, are heartbreaking," Mayor Valérie Plante wrote in a statement on X Friday night. "Tonight, an entire community has been shaken. My thoughts are with Montrealers of Moroccan origin. Our hearts go out to you."
Abdelhaq Sari, a Moroccan Montreal city councillor, also offered his thoughts to Moroccans in affected regions.
In a phone interview, he said while he was able to verify members of his family in the capital city of Rabat are safe, members of the community have had difficulty getting information from rural areas of the country.
"What I know about the tragedy is in the urban places … we can have communication, we can have like information," he said. "However, when we go to the rural places it's very hard."
Sari is calling on Canada to come to Morocco's aid.
"Morocco is a is a friend of Canada," he said. "If we can help it will be very very appreciated."