Kelly Ashton fell twice in one day, broke her neck and died in hospital. Her family fears she was over-medicated, a rising problem in care homes.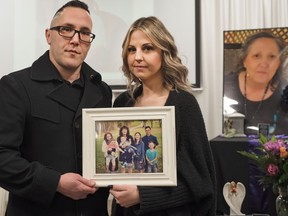 Jason Keller and Santaya Garnot with family photos at the memorial on Jan. 28 for their mother, Kelly Ashton, who lived in Prince George's Simon Fraser Lodge before falling twice and later dying.

Photo by Kim Feragen

/

jpeg
Kelly Ashton was down on her knees, unable to stand, facing a hallway corner in her Prince George care home, with a bump on her forehead and blood on the floor.
When staff found her there, at 4 a.m. on Nov. 9, they tried to help her up, but the dementia patient lashed out physically and verbally.
Start your day with a roundup of B.C.-focused news and opinion delivered straight to your inbox at 7 a.m., Monday to Friday.
By clicking on the sign up button you consent to receive the above newsletter from Postmedia Network Inc. You may unsubscribe any time by clicking on the unsubscribe link at the bottom of our emails or any newsletter. Postmedia Network Inc. | 365 Bloor Street East, Toronto, Ontario, M4W 3L4 | 416-383-2300
Thanks for signing up!
A welcome email is on its way. If you don't see it, please check your junk folder.
The next issue of Sunrise presented by Vancouver Sun will soon be in your inbox.
Ashton had been restless and agitated all night, since water from her neighbour's bathroom flooded into her room, forcing her to move to another unit. Just after 1 a.m. and again at 3 a.m., staff tried to calm her with

doses of medication she had been prescribed — a drug for schizophrenia and bipolar disorder patients that, according to
HealthLinkB.C.
, "is not approved for the treatment of dementia-related behaviour problems."
Ashton's family believes drowsiness from the medication played a role in that fall and a second one later the same day, which together led to serious injuries. She died less than three weeks later.
"We complained over and over and over again because of the level of intoxication based off these medications," said Jason Keller, who noticed the change in his mother's health in late October or early November.
The provincial seniors' advocate has repeatedly raised concerns about the potential overuse of antipsychotics in some care homes, and in a December report found the rates continued to climb, "with B.C. consistently above the national average."
Inside B.C.'s private seniors' homes, action had been taken to address this complicated issue and the situation was improving — before being set back by pandemic restrictions, said Terry Lake, CEO of the B.C. Care Providers Association: "I can assure anyone that operators are aware and concerned, and taking steps to try to get back to the progress that we had been making."
After Ashton's first fall on Nov. 9, staff treated a cut on her forehead, checked for other injuries and put her back to bed, according to the home's log of care notes, which was obtained by her family. Later that morning, her forehead was visibly swollen and she was given Tylenol for the pain.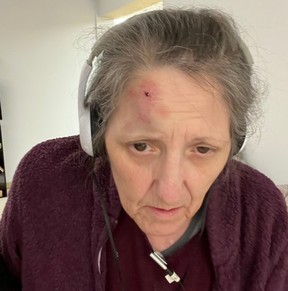 Kelly Ashton after her first fall at Prince George's Simon Fraser Lodge on Nov. 9, 2022.
jpg
One employee in Ashton's special care unit noted she was "drowsy pacing" that day and there was potential for another fall. It was an ominous foreshadow.
That evening, at 6 p.m., she was walking in the hallway while adjusting her headphones, which she often wore because music soothed her. She tripped over a yellow "wet floor" sign, hitting her head on the ground again. She was found "screaming" on her hands and knees.
Staff applied ice to her swollen forehead and gave her another dose of the antipsychotic drug, as she was very agitated. She was monitored over the next two days but no evidence of concussion or other concerns were detected, the care log says.
After each fall, Ashton's children and her family doctor were notified. Her daughter, Santaya Garnot, who visited the home and was worried about her mother after the first fall, returned the next morning to discuss the second fall with staff.
She was assured her mother didn't need to go to the hospital. But the siblings remained worried: Ashton's head drooped onto her shoulders, her mannerisms had changed and the black-and-purple bruises on her forehead began to spread to both eyes.
"I actually sat on the couch in the living room crying, talking to the nurse, because I was so concerned that she wasn't going to be OK. And they assured me she's fine," Garnot recalled.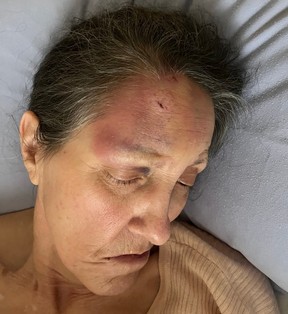 Kelly Ashton after her second fall at Prince George's Simon Fraser Lodge on Nov. 9, 2022.
jpg
The following day, Nov. 11, the siblings learned Ashton's family doctor wouldn't be free to examine her for three more days. Refusing to wait that long, they demanded an ambulance take her to the hospital, even though officials said it wasn't necessary, Garnot said. A Nov. 14 internal investigation report by the care home, Simon Fraser Lodge, notes: "Resident was transferred to hospital, unclear reason why."
At the hospital, a CT scan showed Ashton had fractured the C1 and C2 vertebrae in her upper neck. This type of spinal cord injury, most commonly caused by trauma, accidents or falls, is "a serious concern, possibly life-threatening, especially in the elderly," medical experts say.
It was a heartbreaking development for her family, and a frustrating one for Ashton, who hated the neck brace and being confined to a hospital bed. Over the next three weeks her condition deteriorated. She died on Dec. 1, at just 62 years old. No cause of death was provided to the family.
"That was terrifying. That was the worst thing I've ever seen in my entire life," said Keller. "Nobody should have to die like that — scared and frustrated and not knowing where they are and hurt for days."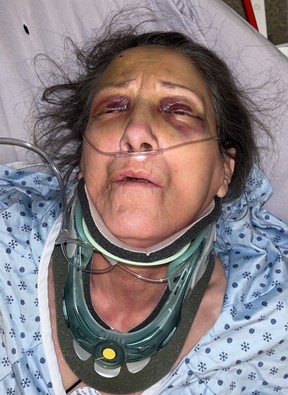 Kelly Ashton in the hospital with a broken neck, several days after falling twice at Prince George's Simon Fraser Lodge.
jpg
The family has filed a complaint with B.C.'s Patient Care Quality Office, raising concerns about procedures to avoid falls, when injured residents should be sent to hospitals and the use of medication to address problem behaviour.
At Simon Fraser Lodge, an internal probe made several recommendations for change, such as ensuring halls are free of any potential tripping hazards.
Michele Thomson, vice-president of Buron, which operates the lodge, wouldn't discuss the Ashton case for privacy reasons. She said, generally, that a decision to send a patient to hospital is made by the family physician, but added: "We will continue to review and assess clinical practices and make adjustments as required."
She also said staff are reviewing the PIECES program, the Health Ministry-funded training that focuses on managing the symptoms of dementia in long-term care homes.
"We are committed to the philosophy of least-restraint and limiting the use of antipsychotic drugs whenever possible," said Thomson. When a resident's medication needs to be changed, it's done in collaboration with the family doctor, a pharmacist and the family, she added.
Action is needed in care homes across B.C., said Isobel Mackenzie, the seniors' advocate. Her most recent report, released in December, found antipsychotic medications were administered to more than one-quarter of residents without a diagnosis of psychosis — a five per cent rise over the previous year and a 10 per cent jump since 2017-18.
"Our rates of the use of antipsychotics are high in British Columbia. They are definitely higher than Ontario and Alberta, and the overall Canadian average," Mackenzie said. "These are mood-modifying drugs, they're meant to dull you. And so, in the frail elderly, that often leads to falling because they're less attentive."
Mackenzie argues there is no big difference in the staffing levels or rates of aggressive behaviour in B.C. care homes compared with other provinces, so she continues to investigate why there is more reliance here on antipsychotic medication.
"It's a very difficult conversation to have," she said, adding she doesn't know if the challenge lies with doctors who often issue prescriptions over the phone, the care homes who make observations about the residents' behaviours or a combination of both.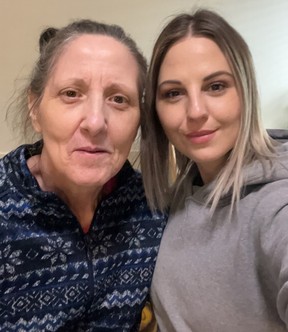 Santaya Garnot with her mother, Kelly Ashton, in happier times.
jpg
Lake was the health minister, under the former Liberal government, when Mackenzie started encouraging care homes to reduce these numbers more than eight years ago.
"A lot of effort," he said, went into pursuing non-pharmaceutical solutions, including the "hugs,-not-drugs" initiative: instead of offering pills to dementia residents, staff would try to manage early signs of agitation by distracting them with something that makes them happy.
But the gains made, between 2017 and 2020, were largely lost during the pandemic, Lake said, because of staff shortages, fewer physician visits and residents isolated from their families.
As COVID-19 restrictions lift, though, care homes recognize "that we need to double-down on those efforts" to reduce the reliance on antipsychotic drugs, Lake added. "All of our members are engaged in this."
The use of these drugs for people without a psychosis diagnosis is slightly higher in health-authority-run homes, compared with private facilities. The Health Ministry said in an email that it has several initiatives "to support long-term care residents with dementia and reduce potentially inappropriate use of antipsychotics," which include PIECES, regulations governing the use of restraints and loosening care home visitation rules.
Ashton's family members are angry, but hope that highlighting their mother's experience could lead to better policies.
In healthier times, Ashton was an "independent, strong lady" who worked in probation and as a camp cook while raising three children on her own. She loved line-dancing, true-crime novels and her six grandchildren, who she took skating and swimming, Garnot said.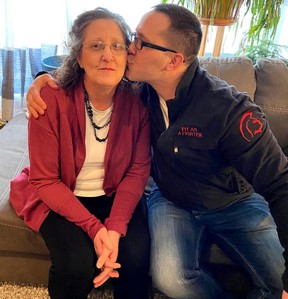 Jason Keller with his mother, Kelly Ashton, in happier times.
jpeg
All that ended in 2018 when, at just age 58, she was diagnosed with early onset frontotemporal dementia, which typically affects personality, behaviour and language. She moved into the Simon Fraser Lodge in summer 2020, when she could no longer stay in her own home.
Ashton's mind and ability to speak deteriorated, but physically she was strong and loved to walk.
"My mom was stable on her feet. She was not like a very elderly woman. The falls basically happened, in my opinion, from overmedication and obstacles on the floor," Keller said.
A couple of days before Ashton's falls, her children visited her in the home. She was dopey, Keller said. The patient log indicated Ashton had begun walking with her eyes closed.
Around the same time, a psychiatrist came to the home and said Ashton should be taken off three drugs prescribed by a different doctor, including two antipsychotic medications, Quetiapine and Haldol, which aren't approved for dementia-related behaviour problems, according to HealthLinkB.C.
The psychiatrist prescribed three new drugs, including Nozinan, which is also not approved for dementia-related behaviour problems, plus two others that don't come with that warning. The new drugs were started on Nov. 8, one day before her falls.
It's not the falls that upset Garnot, but the lack of answers about why they happened and what was done about it.
"We get that accidents happen. It's how they handled it from the moment she fell," she said. "Maybe it might not have changed the certain circumstances, but we could have got her proper care. To me, she suffered. She suffered until she died."
Now, all they can wish for is systemic change.
"I don't want this to happen to somebody else's mother or grandmother," Keller said.
lculbert@postmedia.com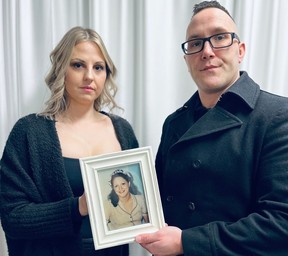 Jason Keller and Santaya Garnot with family photos at the memorial on Jan. 28 for their mother, Kelly Ashton, who lived in Prince George's Simon Fraser Lodge before falling twice and later dying.
jpg