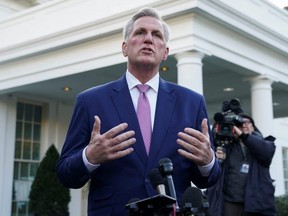 U.S. House Speaker Kevin McCarthy (R-CA) talks to reporters after he met with President Joe Biden to discuss the federal debt limit and spending, at the White House in Washington, D.C., Wednesday, Feb. 1, 2023.

Photo by Kevin Lamarque

/

REUTERS
As with so many of our national debates, the truth about the current debt limit fight is not just different from the narrative set forth by the corporate media; it's the opposite. The media narrative, to recap, is that the debt limit can and should be increased as a matter of course. Anything that veers from this automatic debt limit increase, the story goes, is just flat-out irresponsible.
This narrative is being pushed not just in the media, but by Wall Street, corporate America, the Democrats in Congress and even some Republicans. That's not surprising since those groups are increasingly allied. Unfortunately, since this issue is so much more important than most, this narrative is not just wrong but flat-out dangerous.
From our newsroom to your inbox at noon, the latest headlines, stories, opinion and photos from the Toronto Sun.
By clicking on the sign up button you consent to receive the above newsletter from Postmedia Network Inc. You may unsubscribe any time by clicking on the unsubscribe link at the bottom of our emails or any newsletter. Postmedia Network Inc. | 365 Bloor Street East, Toronto, Ontario, M4W 3L4 | 416-383-2300
Thanks for signing up!
A welcome email is on its way. If you don't see it, please check your junk folder.
The next issue of Your Midday Sun will soon be in your inbox.
Wall Street and corporate America are concerned, more than anything else, with next quarter's profits. This focus is so strong that anything that endangers next quarter's profits, like a fight over America's debt crisis, has to be avoided at all costs. This sort of short-sighted financial thinking is usually derided by those who should know better. Thinking only about the next financial quarter can result in some seriously horrible outcomes further down the road.
But the alignment between corporate America, the corporate media and the Democratic Party has grown so strong that there is virtually no dissent. The result is the near unanimity across the country that a clean debt limit increase must happen and those in the way are irresponsibly endangering the country's financial security.
The truth is that America is running straight into a debt crisis. Oddly, the voices who were warning of this impending catastrophe back when America had a $10-trillion national debt are now largely silent, even as America has surpassed a $30-trillion national debt.
The debt is now larger than the entire country's annual output. The obligations for Social Security and Medicare are growing. The interest payments on the debt are crowding out other priorities. It's no longer the situation that we had until recently, where the debt is just owed back to the U.S. Treasury. A huge chunk of the debt is now foreign-owned. America's bills are coming due.
The vast majority of Democrats' preferred answer on the nation's looming debt crisis is to ignore it. Most Republicans know better, but they are conflicted. First, the corporate world that dominates Washington is not focused on the issue and is instead hyper-focused on the near-term economic damage that a debt limit fight may endanger. Second, many Republicans view the imperative of defence spending, and currently of Ukraine military aid, as dwarfing the longer-term debt concerns. Finally, Republicans have been so hypocritical on the debt issue that it's now politically difficult to take a stand on principle.
In politics, doing the right thing is not always rewarded. With all the hypocrisy, posturing and even lying across party lines, a political reward for those willing to push hard on debt reform is definitely not a sure thing. It's therefore vitally important that the small band of Republicans pushing the issue the hardest be reasonable and smart about their goals.
What the debt issue needs more than anything today is principled leadership. This means not doing what's most popular, but leading the American people toward what's right for the country. This sort of leadership is, to understate things, in short supply in America. This is an opportunity to exert it. Many Americans are yearning for just that.
Saddling our children and grandchildren with a debt-ridden and weaker country is fundamentally un-American. People know that deep down. They just need to be reminded. Pulling that off would be a win in itself. Handling this moment in a smart way is a huge opportunity for anyone capable.
— Neil Patel co-founded The Daily Caller.