The patio program first started in 2020 as a temporary measure to help Vancouver eateries survive pandemic restrictions.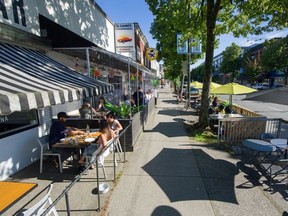 File photo of patios on Main Street in Vancouver. Photo by Arlen Redekop / Vancouver Sun / The Province.

Photo by Arlen Redekop

/

PNG
Up for public debate next month is Vancouver's decision to pursue the permanent installation of curb-side patios outside its bars and restaurants.
City council recently approved a staff motion, recommending a public hearing be held Feb. 14 before the municipal change is put in effect.
Start your day with a roundup of B.C.-focused news and opinion delivered straight to your inbox at 7 a.m., Monday to Friday.
By clicking on the sign up button you consent to receive the above newsletter from Postmedia Network Inc. You may unsubscribe any time by clicking on the unsubscribe link at the bottom of our emails or any newsletter. Postmedia Network Inc. | 365 Bloor Street East, Toronto, Ontario, M4W 3L4 | 416-383-2300
Thanks for signing up!
A welcome email is on its way. If you don't see it, please check your junk folder.
The next issue of Sunrise presented by Vancouver Sun will soon be in your inbox.
The patio program first started in 2020 as a temporary measure, helping local eateries serve more customers with an expansion of up to half of their current seating capacity outdoors. The year-round allowance has helped many small businesses rebound from the financial hardship of COVID-19.
However, not everyone thinks it's a fool-proof idea.
Vancouver city planning commission is worried having patios permanently outside some eateries will cramp accessibility.
"The addition of patios has added to and worsened the existing level of inaccessibility in the city overall as well as in specific areas," it reported to city council last year.
Elevated dining areas — without ramp access — don't allow wheelchair-users to partake as customers, and tables crowding sidewalks could force pedestrians to step onto roads in order to pass.
Several of the 700 patios erected by Vancouver business owners in 2021 currently extend in front of neighbouring establishments.
The commission also said ill consequences could come from turning public space into something only accessible by purchase.
"Privatization of public space contributes to increased surveillance of public space and harassment of people around those spaces, which disproportionately impacts unhoused, poor and racialized people," read its report.
The cost of the patios continues to fall on businesses. Applying for a permit costs $230, with additional charges for larger road space. Accessibility is a requirement for patio approval.
The proposed bylaw changes will allow the city discretion to enforce any conditions it deems "necessary" upon businesses, "with respect to adjoining sites, the hours of operation and the intent of this schedule."
A public hearing will be held Feb. 14, but those who wish to speak will need to register, starting Feb. 3 at 8:30 a.m. Speakers can register by phone at 604-829-4238 between 5:30 and 6 p.m. up to the day of the public hearing, or in person 30 minutes before the hearing starts at city hall.
sgrochowski@postmedia.com