Author of the article:
The Canadian Press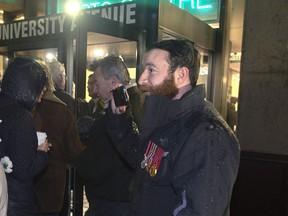 20220929130956-5b068259-7f63-4501-889d-671381f64d5d.jpg
CPL
The RCMP say Jeremy MacKenzie's arrest yesterday was not influenced by Conservative Leader Pierre Poilievre's request to have them look into comments MacKenzie made about sexually assaulting Poilievre's wife.
The founder of the online group "Diagolon" was arrested in Cole Harbour, N.S., on a Canada-wide warrant related to charges laid by the Mounties in Saskatchewan in July.
Sign up to receive the daily top stories from the National Post, a division of Postmedia Network Inc.
By clicking on the sign up button you consent to receive the above newsletter from Postmedia Network Inc. You may unsubscribe any time by clicking on the unsubscribe link at the bottom of our emails. Postmedia Network Inc. | 365 Bloor Street East, Toronto, Ontario, M4W 3L4 | 416-383-2300
Thanks for signing up!
A welcome email is on its way. If you don't see it, please check your junk folder.
The next issue of NP Posted will soon be in your inbox.
MacKenzie was charged with assault, pointing a firearm, mischief and using a restricted weapon in a careless manner after police received a report about an alleged assault near Viscount, Sask., in November 2021.
In a statement, the RCMP say a Saskatchewan-wide warrant for MacKenzie's arrest was changed to a Canada-wide warrant on Sept. 21, five days before Poilievre's request.
The RCMP say the process of extending that warrant to be Canada-wide took nearly two weeks because Crown prosecutors needed to collect documents from police in Quebec and Nova Scotia.
This report by The Canadian Press was first published Sept. 29, 2022.