Sixty-one victims were identified and helped in their communities, and another 60 children were "safeguarded," the OPP added.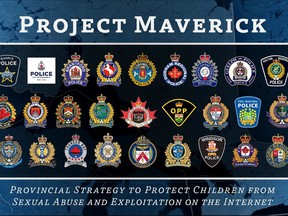 Logos of the police services involved in Project Maverick.
Photo by Handout
Ontario Provincial Police say hundreds of charges laid in October represent a "snapshot" of the efforts of investigators and analysts working on a provincial strategy to protect children from sexual abuse and exploitation on the Internet.
In all, 27 Ontario police forces conducted 255 investigations, executed 168 search warrants and seized 1,032 devices. Officers laid 428 charges against 107 people, the OPP said in a media release Wednesday.
Sign up to receive daily headline news from Ottawa Citizen, a division of Postmedia Network Inc.
By clicking on the sign up button you consent to receive the above newsletter from Postmedia Network Inc. You may unsubscribe any time by clicking on the unsubscribe link at the bottom of our emails. Postmedia Network Inc. | 365 Bloor Street East, Toronto, Ontario, M4W 3L4 | 416-383-2300
Thanks for signing up!
A welcome email is on its way. If you don't see it, please check your junk folder.
The next issue of Ottawa Citizen Headline News will soon be in your inbox.
Sixty-one victims were identified and helped in their communities, and another 60 children were "safeguarded," the OPP added. A total of 175 investigations continue with more charges possible from what was dubbed Project Maverick.
"These numbers are shocking, but they provide hope by showing the lengths our teams are willing to go to protect children," OPP Chief Superintendent Kari Dart of the Investigation and Support Bureau said in the media release. "I would like to express gratitude for the hard work of the provincial strategy members, and our partners, in keeping children in this province safe and holding those who want to harm them accountable."
The Ottawa Police Service had already reported laying charges against two Cornwall residents in connection with a case where investigators believed a 15-year-old from New Hampshire and an Ontario man were planning to meet for a sexual purpose. Police said Oct. 7 that a 23-year-old was charged with luring and child pornography offences, while a 22-year-old was charged with possession of child pornography.
As well, a 67-year-old Ottawa man was arrested Oct. 26 and charged with possession of child pornography and making child pornography, police said, and Wednesday's report also included a report of a 37-year-old Ottawa man being charged with possession of child pornography.
"Project Maverick is an excellent example of how police services work together across the province to stop online predators seeking out such a vulnerable sector of the population: our children," the Ottawa Police Service said in a statement to this newspaper. "According to Cybertip.ca, there has been a 150-per-cent increase in child sexploitation reports in the last year."
The statement also said that Ottawa police open approximately 50 new investigations each month and added that 70 devices seized during Project Maverick would now be examined.
"Because the Internet can cross jurisdictional boundaries, this project highlights the collaborative working happening with police services all over," the statement added.
The provincial strategy also included the Ontario ministries of the attorney general and solicitor general as well as police forces in Barrie, Belleville, Brantford, Chatham-Kent, Cornwall, Durham, Greater Sudbury, Guelph, Halton, Hamilton, Kingston, London, Niagara, North Bay, Peel, Peterborough, Sarnia, Sault Ste. Marie, Thunder Bay, Timmins, Toronto, Waterloo, Windsor, Woodstock and York.
They were aided by OPP digital forensic investigators, Royal Canadian Mounted Police, the Canada Border Services Agency and, in the United States, the Federal Bureau of Investigation and Department of Homeland Security.
Victims were referred to the Toronto-based BOOST Child and Youth Advocacy Centre, the Children's Aid Society and the Canadian Centre for Child Protection for help.
Police asked anyone with information about child exploitation to contact their local police service — call 911 if a child is being harmed — and to report any incidents of online child abuse to police or to cybertip.ca.
Two Cornwall residents charged with child pornography offences

LRT inquiry report finds fault with Kanellakos, Watson, Manconi conduct