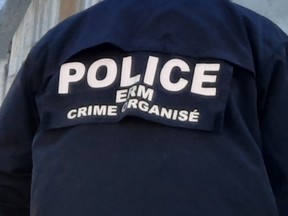 Project Centaure offices conducted the searches of the residences in Gatineau and L'Ange-Gardien on Thursday.

Photo by Sûreté du Québec

/

Handout
Searches of homes in Gatineau and L'Ange-Gardien resulted in weapons and drug-trafficking charges against two men, Quebec police announced Thursday.
The raids by the Regional Mixed Squad Outaouais, a collaboration of the Sûreté du Québec and police in Gatineau and the MRC des Collines-de-l'Outaouais, took place earlier in the day.
Sign up to receive daily headline news from Ottawa Citizen, a division of Postmedia Network Inc.
By clicking on the sign up button you consent to receive the above newsletter from Postmedia Network Inc. You may unsubscribe any time by clicking on the unsubscribe link at the bottom of our emails. Postmedia Network Inc. | 365 Bloor Street East, Toronto, Ontario, M4W 3L4 | 416-383-2300
Thanks for signing up!
A welcome email is on its way. If you don't see it, please check your junk folder.
The next issue of Ottawa Citizen Headline News will soon be in your inbox.
A 29-year-old man from Gatineau and a 39-year-old from L'Ange-Gardien, another Outaouais community northeast of Gatineau, appeared in court on Thursday afternoon to face charges, police said in a media release, adding that more charges could be added in the coming days.
Police also said that Thursday's searches had led to the seizure of 10 handguns, eight long guns, one assault weapon, a high-capacity magazine, ammunition, a bulletproof jacket, more than 25,000 methamphetamine pills, more than 40 litres of GHB, more than 10 pounds of cannabis and more than $15,000 in cash.
The searches were part of Project Centaure, a provincewide strategy targeting organized crime and armed violence.
People facing criminal charges are presumed innocent until proven guilty. It's our policy not to name those charged unless we plan to follow the case through the justice system or it's of significant public interest to identify them.
Psychiatrist 'ruled out' not-criminally responsible finding, automatism defence in assessing Tyler Hikoalok

Ottawa paramedics were at 'Level Zero' when call came in about 11-year-old with no vital signs