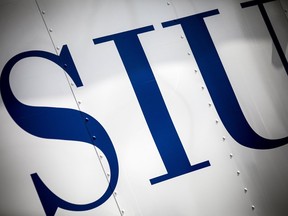 The Special Investigation Unit director released his report on the Pembroke incident in February on Friday.

Photo by Ashley Fraser

/

Postmedia
A police watchdog agency has ruled that Ontario Provincial Police officers will not face criminal charges in connection with the arrest of a 42-year-man in Pembroke in February, it was announced Friday.
On Feb. 10, OPP officers were dispatched to a call involving an assault at a residence in Pembroke.
When an officer informed the man he was under arrest for assault and uttering threats, the man surrendered and allowed himself to be handcuffed with his arms behind his back, the Special Investigations Unit report said, adding that the man was taken to the OPP detachment, held in custody for a brief period, and released.
However, the man went to a hospital on Feb. 11 and diagnostic imaging, though inconclusive, suggested he might have had a fracture of the left wrist.
On an assessment of the evidence, though, SIU Director Joseph Martino wrote Friday that there were no reasonable grounds to believe that an officer had committed a criminal offence in connection with the man's arrest.
Thus there was no basis for proceeding with criminal charges and the file was closed.
Carleton Place hospital again closing emergency department temporarily over staff shortage

NCC to consider Kichi Zibi Mikan as new name for Sir John A. Macdonald Parkway